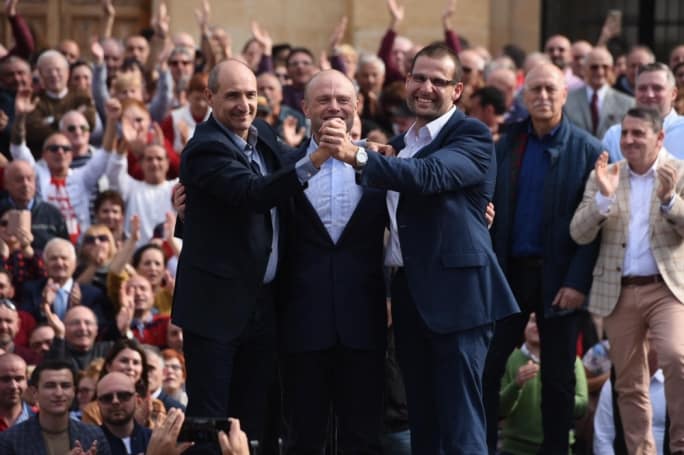 It would be amusing had the consequences not been so serious, to see Steward's reaction to a court decision that found they extorted money that did not belong to them, they enriched themselves unlawfully at the expense of citizens, that their behaviour is worthy of condemnation, that they showed contempt for their obligations, for the judicial process, and for acting fraudulently and possibly criminally.
Their reaction to that unflattering assessment of their business, their owners, and their employees, was to say that the court's decision had no merit, that the court put into question the rule of law, and that their experience was an intimidatory warning to potential future investors in this country.
There's an old saying that Malta would never reject wheat. That's a bit of an exaggeration. Even we won't eat spoiled wheat.
I will summarise in this post the court's findings on the conduct of Steward Health Care but you may have already read that in detailed reports all over the press. So before I do that, I'll write my conclusion to this piece to spare you the wait.
Steward Health Care did not invest in Malta. They did not even attempt to prove that they spent anything like what they claimed and certainly nothing like what they promised. It is not investment that is being turned away here but unkept promises and outright lies. If they actually invested anything remotely like what they committed to, we'd be having a different conversation.
Hospitals were privatised by the Labour government. Steward may have bought the hospitals but they did not relieve the Maltese state of its obligation to ensure that Maltese citizens get healthcare. The government cannot divest itself from its fundamental obligations and therefore the institutional scrutiny that government conduct is constitutionally subjected to remains even when the government brings in a private party to act on its behalf.
That's an important principle. It was restated by the court when they were treating Steward's argument that the hospitals belonged to them and Adrian Delia had no right to question what they did with them. The court disagreed. Scrutiny by the parliamentary opposition is not made redundant by the government giving its job to someone else.
Here's my conclusion from those remarks.
Throwing out Steward is not some signal that Malta is hostile to private profit and to foreign investment. But just because we're "open for business" does not mean we're open to be raped in silence much as Ali Sadr Hashemi Nejad is arguing we should have been at the investment arbitration institution where he's complaining about being stopped from running a money laundering shop in Malta.
Having said that, perhaps we also need to agree that the very idea of reducing the state's role in providing health care is something we should stay away from. What investment is worth compromising the guarantee, under clear public and institutional scrutiny, that is given by state-owned health care?
There should be room for private investment and for generating profits. There should indeed be room for private investment in private health care. But there should be no need for that private investment to replace public health provision.
I could say the same for education, for policing, for prison administration, for national security, for identity management, and for a few other core functions of the state.
I grant that not all investors are likely to behave quite as badly as Steward Health Care. They claimed they invested €60 million since they've been here but they only had a repaired toilet at the reception of the Gozo hospital to show for that claimed expense.
They presented no evidence that they increased the promised 50 beds at Karin Grech and 80 at St Luke's. The promised new building at Gozo General has not materialised and the refurbishment of the old building (save the receptionist's toilet) has not happened. The promised "health tourism" beds at St Luke's remain twinkles in Konrad Mizzi's sodden eye. All those claims and all those failures, without the offer of any form of justification, forced the court to "doubt Steward's good faith".
The court did not use so many words but in my paraphrasing the court found that Steward knowingly bought stolen goods from Vitals Health Care. They knew of the problems with the contract. They must have known the contract was secured before the tender was even published and that therefore they were setting themselves up to suck juice out of the fruit of fraud. They knew all that and yet they took it on, buying a shipment of spoiled wheat waiting outside Malta's harbour.
Then they used their position to force the government to do more than buy the spoiled wheat. They forced the government to guarantee €36 million in loans from a local bank to pay for the metaphorical wheat twice over as they buy out from Vitals and as they sell it to us. They used their position to obtain a €100 million exit bonus should they lose the court case brought by Adrian Delia and that's on top of paying the loans.
The court goes as far as presuming naivety of the government officials that allowed these things to happen to them and to the country. You and I will have many reasons to think that's a very timid assessment. But keep in mind that the court did not need to find collusion and corruption – which would be harder to prove – in order to do all it could: find the contracts were fraudulent and proceed to nullify them. The apportioning of responsibility of the people we paid to represent our interests is for another day and another court.
Quite apart from whether the government allowed Steward to exploit the country and its people because ministers were on the take, the fact is that "Steward's behaviour in this instance is truly worthy of condemnation and shows a clear lack of respect to the obligations it undertook when it bought Vitals' shares. It is also a clear lack of respect of the entire judicial process, because by using the agreement (of the €100 million exit bonus) it attempted to influence the final decision of the court with the ultimate aim of obtaining financial advantages without honouring the obligations they took on." (My translation of the court's ruling).
Steward's behaviour in Malta has fulfilled two stereotypes: the corporate monstrosity of American private health care providers and the extractive and exploitative behaviour of latter day colonisers.
Joseph Muscat, Konrad Mizzi, Chris Cardona, and, though they may object to their inclusion, Keith Schembri, Chris Fearne, Edward Scicluna, Robert Abela (then Joseph Muscat's attorney with a seat at the cabinet of ministers) and others fullfilled the stereotype of the ġakbin: whether because of their greed, their obliviousness, their complicity, or their desire to ingratiate themselves with the foreign masters, they betrayed their own people, even the sick and dying.