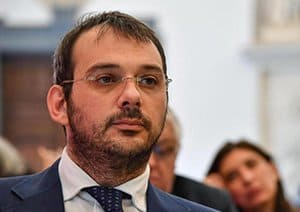 Paolo Borrometi is the winner of the 2019 Peter Mackler Award for Courageous and Ethical Journalism.
The Peter Mackler Award honours reporters and editors who have demonstrated a commitment to fairness in the story well told and a matching commitment to defending the right to publish and air that story. This is what Peter Mackler strived for daily in more than 33 years of practising and teaching journalism.
At the time of his death in June 2008, Peter Mackler was the chief editor for North America at Agence France-Presse. In 29 years at AFP, he also served as chief editor in Asia, desk chief in Paris, director for Southeast Asia and the South Pacific, senior correspondent for Europe, senior international correspondent, and Iraq war coordinator.
Paolo Borrometi will be honoured at a ceremony at the Craig Newmark Graduate School of Journalism on 25 September.
Paolo Borrometi's coverage of the Sicilian mafia has made him the target of death threats and personal attacks, including assault. Nonetheless, he has continued to report on organized crime for the Italian broadcasting network TV2000; La Spia, the news website he created in 2013; and Articolo 21, an association he heads that supports freedom of expression.
In a statement today Paolo Borrometi said he dedicates his award to the "unforgettable Daphne Caruana Galizia" among others. He also remembered Alessio and Simone D'Antonio, children killed by a mafia boss in the Vittoria massacre and Antonio Megalizzi, the Italian journalist killed in the Strasbourg bombing of last December.
Together with Sandro Ruotolo, another journalist who lives under armed guard in Italy, Paolo Borrometi is the sponsor of a change.org petition demanding Malta's government complies with the Council of Europe resolution for a public and independent inquiry into the killing of Daphne Caruana Galizia.
That petition has up to now reached 41,525 signatures.