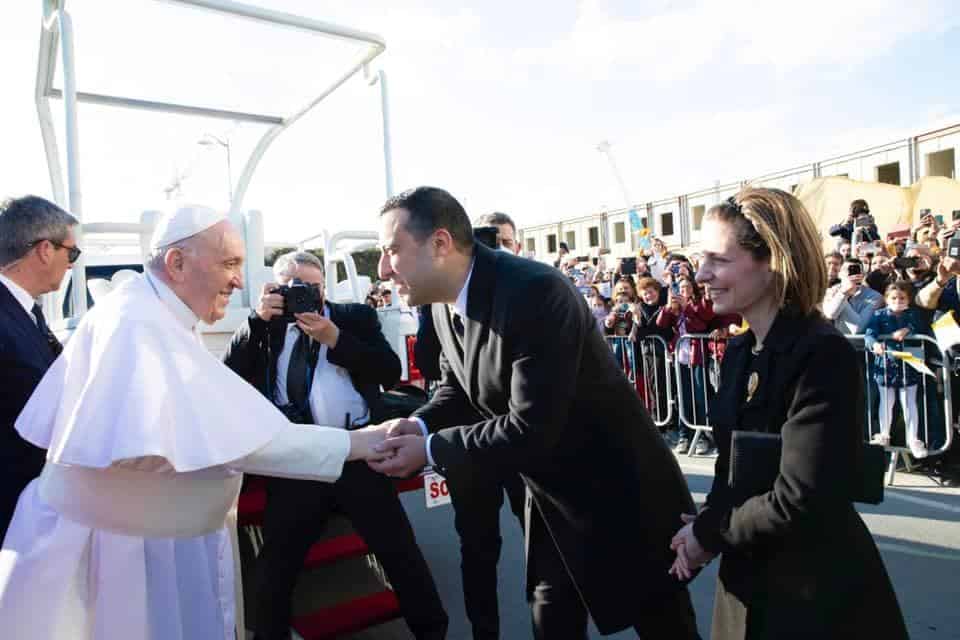 The Minister for Gozo, Clint Camilleri, stepped out in the middle of the main road into Victoria to greet the Pope on Saturday as Francis left his cinquecento to ride through Gozo's capital in the Pope Mobile.
The greeting was not in the program and was a snatched photo opportunity. Clint Camilleri and wife, unmasked, shook the Pope's hand while photographers snapped images for future use.
The Minister arrived late to the event in Ta' Pinu and while he was missing, whispers in the crowd were that Clint Camilleri had tested positive for covid. They hadn't seen the earlier stunt near the Arkadia shopping centre. Murmurs of surprise spread like wildfire as the Minister stepped onto the crowded Ta' Pinu parvis.
This morning, Clint Camilleri announced on Facebook that he was unwell and will need to stay away from work for some time.
I wrote to Clint Camilleri asking him if he had tested positive for Covid-19 and he replied that he hadn't. I also asked him when he took his test and when he first felt unwell, but he didn't reply to those questions. I asked him again if he had tested for Covid at all but again he didn't reply.
Clint Camilleri would not confirm, therefore, that he had tested to confirm that he was not indeed covid positive.
Last Thursday Chris Fearne said he had tested positive for Covid and like all government ministers sworn in the day before, Clint Camilleri had been close to him. People who have been near covid-positive patients are required to test themselves immediately they feel any symptoms.
Did Clint Camilleri chase a photo-op with an unmasked and unscheduled conversation and handshake with the Pope this Saturday despite being unsure of his covid status? At 85, Pope Francis is the very definition of a vulnerable person. It wouldn't have been nice.
This post will be updated if Minister Camilleri decides to provide further clarification.