The following is the second part of a series first published in Italian as a concluding chapter of Daphne Caruana Galizia, Un Omicidio di Stato (Strade Blu Mondadori, 2020), the Italian edition of Murder on the Malta Express: Who Killed Daphne Caruana Galizia(MidSea Books, 2019 and Silvertail Books, 2019).
Hurry Up and Kill Her (Part 2)
In prison, under preventative custody, the Degiorgios could no longer spend lavishly on cars and boats and gambling. But they were still flush with money and their spending was inexplicable. Why did the police never look into who was paying for their expensive defence in court? They filed dozens of constitutional complaints alleging this or that breach of human rights or insisting on inadmissibility of evidence brought against them. They also hired a Virginia consultancy called Cherry Biometrics to draw up a technical report about the evidence on their phone locations the morning of the murder. That would have cost them hundreds of thousands of euro. Consider that under Maltese law defendants (or the prosecution) cannot use technical experts as witnesses. Only the court can do that.
The answers to those questions could have led the police to the assassins' relationship with Yorgen Fenech, before and after their arrest.
But the police did not ask many questions the answers to which could be 'Yorgen Fenech'. They seemed adept at looking away.
Soon after the spectacular arrest of Yorgen Fenech, Sicilian prosecutors declared publicly that they had been trying for two years to deliver to him a court summons to answer charges of associating with the Sicilian mafia in a match-fixing racket. For two years the local police told their Sicilian colleagues they did not know where Yorgen Fenech lived. For two years they failed to find the most expensive address on the island, quite literally the tallest building on Malta, and instead sent the summons from the Sicilian authorities marked return to sender.
Clearly something worse than inertia was blocking police action. When Vincent Muscat spoke to the police in April 2018 he sought a deal. He told the police he was just a patsy dragged along by the smarter Degiorgios to do odd jobs for them. He accepted he played a part in a murder but his, he claimed, was a bit part. He did not want to go down with a life sentence given what he claimed was his very small role in the affair. And in order to get a reduced charge he was willing to help the police get to the bottom of this crime.
Under enormous pressure from the international press, then police Minister Michael Farrugia told Italian journalists in November 2018, just over a year after the murder, that fresh arrests were imminent.
And yet, by the following June, no one had been arrested. That is when whispers reached the ears of reporters about Vincent Muscat talking. In the midst of all the noise a few words were discernible: "Melvyn Theuma", "will", "taxi-driver", "Portomaso".
Separately, these hints would have been meaningless. But within the range of huge stories Daphne was working on when she was killed "Portomaso" clearly pointed towards "Electrogas", "corruption", "Keith Schembri and Konrad Mizzi", "17 Black" and, given that we now knew who owned 17 Black, Yorgen Fenech.
It was not just the local police who were getting impatient. On the second anniversary of Daphne's killing, the 16 October 2019 – two days after the first edition of this book was published – the US embassy in Malta issued a statement to mark the event.
But this was no ordinary thoughts and prayers statement. The US embassy said it was ready to support the investigation "if requested by Maltese authorities. It is not too late for Malta to bring Daphne's killer to justice in a credible manner."
The Americans did not do subtlety. Their statement betrayed deep irritation with the Maltese government who kept justifying its failure to arrest the mastermind or masterminds in the killing of Daphne by saying that not even the FBI had solved the crime. Now the US embassy exposed this failure by publicly offering help with the case if only the Maltese authorities would ask them for it.
The patience of Europol was also wearing thin. In April 2018 the outgoing Europol director Rob Wainwright lamented the lack of progress and called for "room for improvement" in the cooperation of Malta's police with his agency.
In November 2019, a decision was taken to break the deadlock. It would seem that the decision to act was taken by Europol in spite of Malta's police bosses and the government authorities rather than because of them.
On 5 November Melvyn Theuma was arrested along with several other people as part of a money laundering investigation. His lotto business was ostensibly the reason for his arrest.
But Melvyn Theuma had been waiting for those handcuffs for a very long time and he had rehearsed what he would say to the finest detail.
By the time his interrogators sat in front of him late at night at Police Headquarters, no one had yet used the words "Daphne" or "murder". Melvyn Theuma's first fear was that no one would know he was under arrest and that he would be done away with. After all, he understood, he was the only link between Daphne's assassins and the boss or bosses who had hired him to hire them.
Melvyn Theuma played his card. He did not deploy his right to remain silent. Instead he used his right to be assisted by lawyers of his choice. He asked the police to call Simon Busuttil, the former leader of the opposition, and Jason Azzopardi, the shadow minister for justice. He could not have asked for two more loyal supporters of Daphne if he tried.
Simon Busuttil had not represented anyone in a criminal case his entire life. Jason Azzopardi worked in the criminal court but his clients included the surviving family of Daphne Caruana Galizia. Neither one of them had ever met or spoken to Melvyn Theuma.
But as the police got on the phone to deliver the message they knew exactly what Melvyn Theuma was making them do. Even as Simon Busuttil and Jason Azzopardi turned down the brief they were never really expected to accept, two of the most prominent campaigners for justice for Daphne Caruana Galizia were now officially informed Melvyn Theuma was in police detention.
At that moment, prime minister Joseph Muscat lost control of the course of events. Police inertia was torn open. And the question 'who killed Daphne Caruana Galizia' was finally nearing an answer.
November 11 was the day Melvyn Theuma was arrested. Few people were aware of that fact or that this arrest would be the tsunami that would sweep away Joseph Muscat's house of cards. That very same day another, separate disaster opened a chasm under Joseph Muscat's feet and this time the wrecking happened in full public view.
The makings of this particular earthquake started a long time before, during the spring of 2016. Daphne Caruana Galizia had just outed Keith Schembri and Konrad Mizzi's secret Panama companies. The Panama Papers publication had just crushed their denials.
Simon Busuttil, then leader of the opposition, called a protest march in Valletta demanding their resignation or removal from government. "Barra!" – "Out!" was the slogan of that march. In his speech that day Simon Busuttil branded "Keith Schembri korrott!" – "Keith Schembri is corrupt". The prime minister's closest adviser sued Busuttil for libel.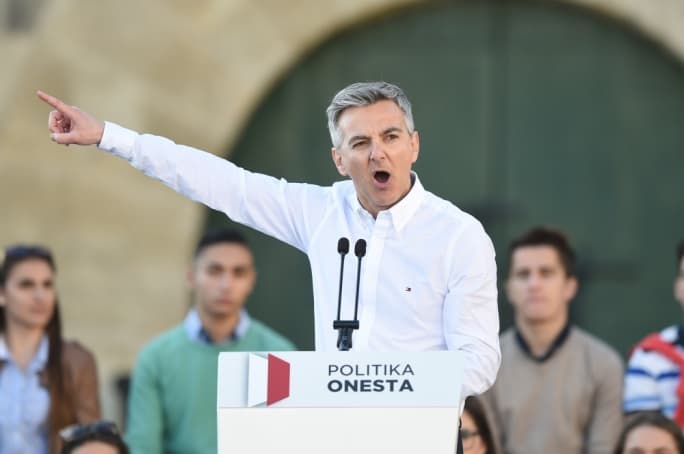 Continues tomorrow.