The following is the sixth part of a series first published in Italian as a concluding chapter of Daphne Caruana Galizia, Un Omicidio di Stato (Strade Blu Mondadori, 2020), the Italian edition of Murder on the Malta Express: Who Killed Daphne Caruana Galizia(MidSea Books, 2019 and Silvertail Books, 2019).
Hurry Up and Kill Her (Part 6)
Cabinet was called for an "urgent" meeting at the exceptional hour of 8 pm on a Thursday night. It was an evening when no protests were called in Valletta by civil society activists. Large demonstrations gathered on Tuesday and Wednesday that week sending out the message that the resignations of Konrad Mizzi and Keith Schembri were nowhere near enough. Joseph Muscat needed to quit: he above all.
While protesters met, Valletta became practically inaccessible for government ministers. They used the break that Thursday evening to debate the destiny of the government they were supposed to run.
When news of the cabinet meeting on Thursday spread, people at first suspected Joseph Muscat was giving up at long last. Things would prove far less clear cut soon after ministers sat for their conclave.
As the press gathered outside the prime minister's office, news emerged that Yorgen Fenech's lawyer had made a request for immunity from prosecution in order to turn state's evidence. He would give evidence against Keith Schembri he promised, certainly about corruption, probably also about the murder of Daphne Caruana Galizia.
But the real bombshell would come minutes later. For the first time since the week of Daphne's killing more than two years before, the police issued a statement in connection with the case.
"This evening Mr Keith Schembri has been released from arrest following thorough investigations conducted during recent days into allegations made against him in connection with the murder of Daphne Caruana Galizia. At this point the police does not feel Mr Schembri needs to be kept under arrest any longer."
Ministers in cabinet, faced by this news at the same time as the rest of the country, read it with incredulity. In spite of the late hour, protesters started gathering outside the prime minister's office and were held back by police barriers. Leading the crowds were Matthew and Paul Caruana Galizia, fuelled by righteous anger.
"They are probably in Castille discussing how to work things out either to give Keith Schembri his job back, or to get him to a country where he cannot be extradited back to Malta. It's outrageous," Matthew Caruana Galizia told reporters. It was now almost 2 am and ministers could still be seen shuffling behind curtains in the Cabinet Room in the front of the top floor of the Auberge de Castille.
They had been in session for seven hours. What could they possibly have to discuss for so long?
The press and protesters were not going to go away. They would have been even more determined to stay there had they known one of the things that were being discussed.
The police chief was invited to brief ministers about his force's decision to release Keith Schembri. Suffice it to say that not all ministers were entirely reassured when Police Commissioner Lawrence Cutajar also told them why Chris Cardona and a member of his staff had been arrested and interrogated the previous weekend.
The police chief explained that Keith Schembri and Yorgen Fenech, apart from several things, shared a GP, a Dr Adrian Vella. Dr Vella visited Yorgen Fenech several times in hospital where he was taken every time he complained of chest pains while under arrest.
At one of these visits the police intercepted a 4-page letter addressed to Yorgen Fenech with instructions on how to pin Daphne Caruana Galizia's murder on Chris Cardona. The police believed the letter to Yorgen Fenech came from Keith Schembri and their common doctor Adrian Vella was delivering messages back and forth. They even found that a "secure phone" was smuggled to Yorgen Fenech while he was under arrest and calls were made to and from it. But the calls were encrypted and they couldn't get to the source.
Keith Schembri denied he was trying to frame a government minister, Chris Cardona, in order to get off the hook. Somehow this denial was enough to convince the police to let him go. Not even the fact that upon his arrest earlier in the week, Keith Schembri told the police he had "lost" his phone gave them enough suspicion to look deeper. As far as is known the police did not look for Keith Schembri's "lost" phone in Joseph Muscat's home where he spent the last several hours before his arrest.
The marathon cabinet meeting adjourned after 3 am on Friday, November 29. By now the crowd outside Castille had grown considerably and the press made no sign of giving up and going. Officials from the prime minister's office called the press inside the Auberge de Castille for a briefing. It wasn't an easy task to filter reporters from protesters. Paul Caruana Galizia, Daphne's youngest son, was not a familiar face in Malta. Technically he was indeed a journalist as he worked for the UK's Tortoise Media but he had more reason to protest than anyone in that crowd.
But the bouncers at the gate did not recognise him and when they heard him say: "I'm a journalist," they let him through. His hands were in the front pockets of his sweater. He was not holding a notebook but a raw egg, the last of his protest arsenal. He clenched as he was frisked, hoping the egg would not be pressed against his body revealing the game too soon. After a half-hearted shakedown he was waved through.
Paul and another 60 or so reporters and cameramen were allowed into the magnificent Ambassador's Room, a large hall built for the self-important dignity of Spanish knights and now used for the cheap power plays of the tin pot rulers of Malta. All cabinet ministers stood in a line, most of them looking sullen and funereal, some of them visibly shaken and confused, the sillier among them still grinning stupidly more out of habit than any cause for hilarity.
Standing in front of them, behind his flashy steel and glass lectern, was Joseph Muscat. The room expected him to announce his resignation. But there would be none of that. Cabinet, he told the press, had been informed of Yorgen Fenech's request for immunity to testify in the case of the killing of Daphne Caruana Galizia. They discussed the request at length. They decided to deny it. Good night.
And out walked the prime minister followed by his ministers as if this was any given press briefing on any given day, rather than a 3.30 am press conference in front of the microphones of the world's press.
The authors wonder what reserves of self-restraint kept Paul Caruana Galizia's egg inside the pocket of his sweatshirt. Journalists tried to leave the Ambassador's Room to intercept the prime minister and ask Joseph Muscat questions he would not want to answer. But half a dozen muscle men, neither soldiers, nor policemen, wearing no uniform and bearing no identification, blocked the way out for reporters and for Paul Caruana Galizia who by now was probably regretting having held on to his egg.
After what seemed like a long time, when the bouncers were told Joseph Muscat had now left the building, the tall doors of the Ambassador's Room were opened again. Paul was the first one out. He ran down the sweeping staircase of the Auberge de Castille like the building was on fire. The fire was inside him. As he emerged from the main door of Castille, the prime minister's car was just leaving the square sheltered by dozens of policemen. Spotting a small gap in the crowd of guards Paul made a final lunge and in a beautiful throw worthy of the very best of cricket he flung the egg with all his power. It landed smack on the window of the passenger door of the prime minister's limo. It was a bloody good shot.
Daphne's youngest son had made his point.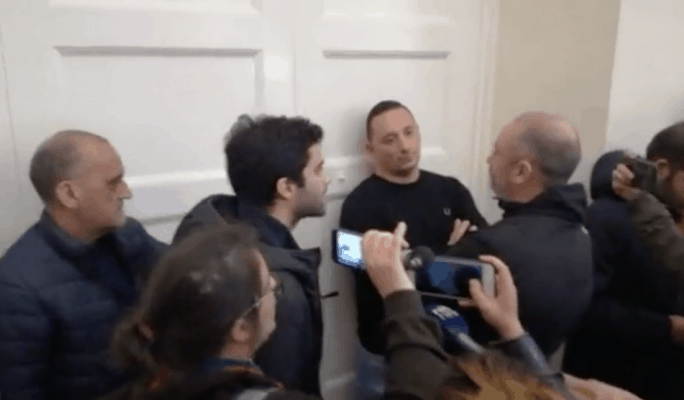 Continues tomorrow.