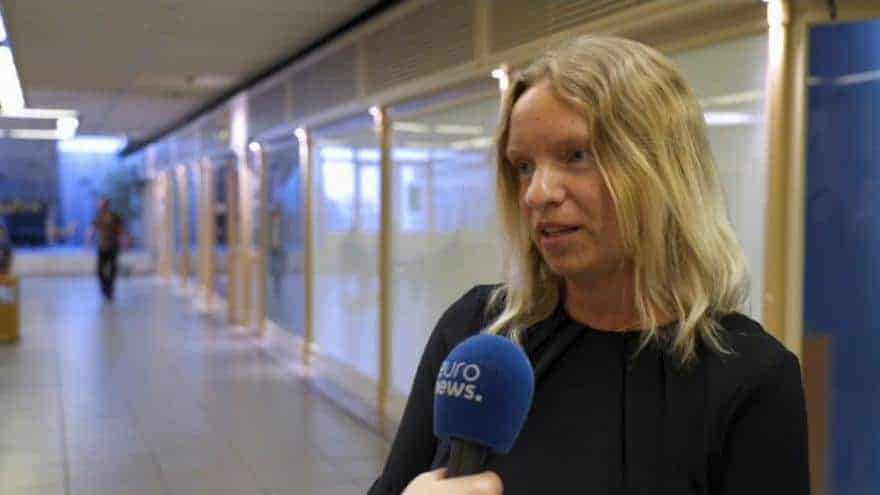 Pantelis Varnava, husband of Pilatus Bank whistle-blower Maria Efimova, is seeking legal advice on whether to contest a request for his extradition to Cyprus to face charges of embezzling a company his wife worked for 7 years ago. Maria Efimova told this website this morning that her husband is inclined to go to Cyprus as he is confident there is no material evidence against him but she is concerned he would not get a fair trial in that country.
Maria Efimova told this website the Cypriot police want to prosecute Pantelis Varnava for embezzling a Russian-owned fragrance retailer where his wife was employed over 7 years ago. This website has so far been unable to independently confirm the nature of the charges against Maria Efimova's husband. His wife told this website he was not employed and did not work for the retailer where she worked as administrator before their family moved to Ireland in 2014. They moved to Malta some time later.
The Greek authorities never acted on a 2018 request by Cyprus police for her extradition from Greece to Cyprus to answer for charges she embezzled her former employer of around €40,000. The 2018 request for Maria Efimova's extradition included her husband but the Greek authorities did not act on the matter until now.
In a 2018 interview with a Cyprus-based publication, Maria Efimova said about the arrest warrant for her husband: "I cannot understand what my husband has to do with that. He has worked neither for Fragrance Distribution nor for Pilatus Bank."
Cyprus's 2018 request from for Maria Efimova's extradition came at the same time as a request issued by Malta's police to bring her here to answer charges that she cheated Pilatus Bank owner Ali Sadr Hashemi Nejad of less than €2,000 worth of flight tickets for herself and her family. At the time Maria Efimova said she had been verbally authorised by her employer to purchase the tickets on the company's account.
Greek authorities at the time processed Malta's extradition request which Maria Efimova contested in Greek courts. The courts ruled the extradition would not be allowed for fear Maria Efimova would be denied a fair trial in Malta.
In a tweet last night Maria Efimova said that "the corrupt of Malta and Cyprus (joined) forces once again".
Speaking to this website last night Maria Efimova said she was now concerned her husband would not get a fair trial in Cyprus either even though she finds it hard to imagine on what basis anyone can be convicted of embezzling a company they never had anything to do with. At the time Pantelis Varnava worked for the Bank of Cyprus, a commercial bank.
Maria Efimova was the subject of multiple newspaper reports in Cyprus in early 2018 that reported she was wanted in Malta for the murder of Daphne Caruana Galizia. A newspaper investigation by the Cyprus Mail found at the time that the stories were planted by a lawyer reportedly acting on instructions from Malta. The Cyprus media regulator eventually found against and penalised news organisations that carried the false reports.
A source that has followed closely the case of Maria Efimova in Cyprus told this website that the Cyprus Mail is now owned by Andreas Neocleous who deleted reports carried by the publication investigating cases of corruption his law firm was involved in immediately upon purchasing the newspaper.
The new ownership of the Cyprus Mail also deleted a January 2018 interview that the newspaper conducted with Maria Efimova. A web-archive version of the deleted report is still available.
The Cyprus analyst speaking to this website this morning said there have been "several cases of politicians conspiring with oligarchs to fabricate charges against people they dislike. They pay hefty bribes to achieve this usually as a form of harassment for potential witnesses. It would not surprise me if this case has at its background a conspiracy to issue bogus charges in order to intimidate Pantelis Varnava and to discredit Maria Efimova."
This arrest is happening at the time of a renewed effort in Malta to put pressure on Maria Efimova. The police have just issued charges against her that she lied to the Egrant inquiry. The inquiry closed in June 2018 but the case against Maria Efimova has only been filed now, more than two years later. Charges were also issued against former-FIAU whistle-blower Jonathan Ferris. But contrary to specific advice by the author of the Egrant inquiry report, then Magistrate Aaron Bugeja, no charges have been issued against Karl Cini, the key witness at the heart of the Egrant affair.
The Malta police have been unable to formally notify Maria Efimova of the charges and the case against her cannot start before they manage to reach her.
The effort to smoke Maria Efimova out in January 2018 suggested her detractors believed she was living in Cyprus at the time, which explains the fake news stories about Malta's investigators wanting to charge her for killing Daphne Caruana Galizia.
Having already failed to have her extradited on Malta's request it is unlikely that the Greek police would try once more to process any country's extradition request against her which may explain the attempt to have her husband moved to Cyprus in the hope that Maria Efimova might leave the relative safety of Greece to a country from which she is likelier to be dragged back to Malta.
Maria Efimova had given herself up to the Greek authorities in 2018 on the same day that her former boss in Malta, Ali Sadr Hashemi Nejad, the owner of Pilatus Bank, was arrested in the United States. Ali Sadr has since been found guilty by a jury in New York of crimes happening before Pilatus Bank was opened but was released before sentencing when US prosecutors owned up to Brady violations in the case. Brady violations are situations where prosecutors do not share potentially exculpatory evidence they possess with the accused's defence.
Since Ali Sadr Hashemi Nejad's release, there seems to be a renewed effort to put pressure on Maria Efimova after an extended period of relative calm when Ali Sadr looked like he was facing a lifetime in US federal prisons. During this time, Maria Efimova raised funds in order to authenticate documents in her possession from her time working at Pilatus Bank which she argued would corroborate information she gave to the Egrant inquiry.
But after the surprise outcome of the Ali Sadr trial in New York, Maria Efimova has gone in hiding again after publicly saying that she was extremely concerned for her safety after Ali Sadr's release.
Her concern at the time now appears to have been justified as complaints made now about alleged occurrences happening over 7 years ago are being used in an apparent effort to force her to come out of hiding. Maria Efimova's whistle-blowing brought down Pilatus Bank that was eventually shut down by the European Central Bank. However, no charges have ever been issued against any of the owners, directors or employees of Pilatus Bank. Maria Efimova may indeed be the key to any prosecutor's case against the perpetrators of the crime that have already brought about the closure of the bank.