Frank Hornig for German news magazine Spiegel published this article headlined "The billion-dollar business with the golden passports".
Here's a link to the original piece.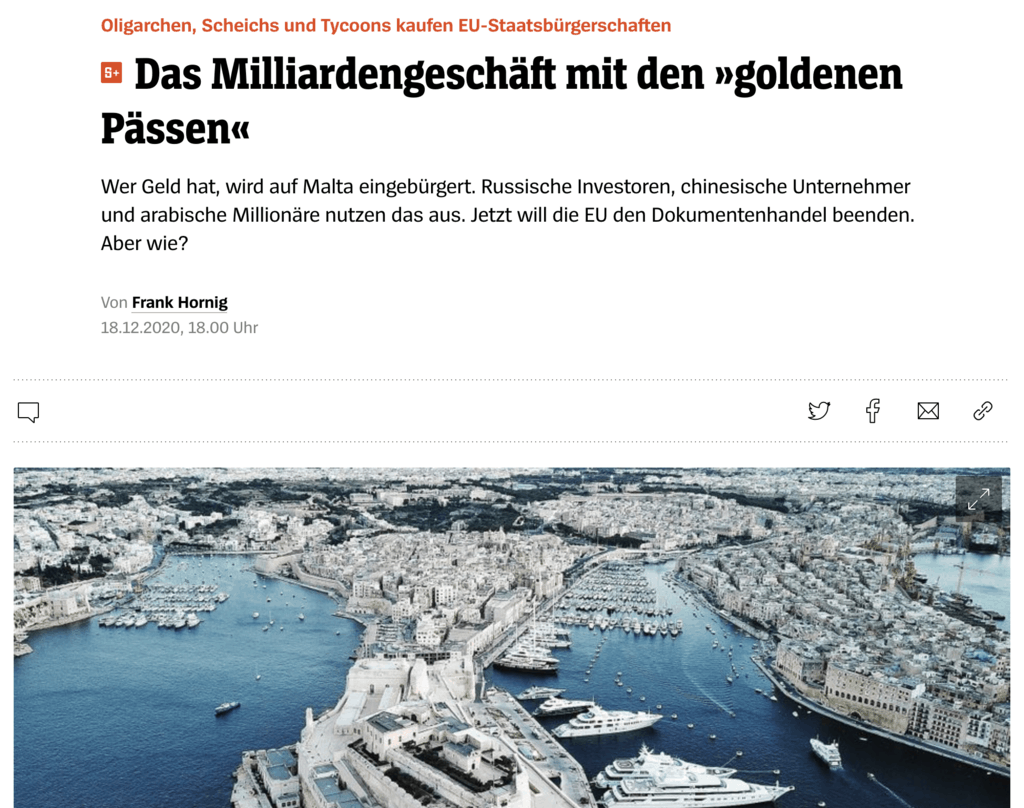 For his article, Hornig interviewed me in view of my reporting on Malta's passport scheme: "When Manuel Delia wanted to visit his new fellow citizens in Malta, he experienced one surprise after the other. 'I ran through the residential areas and showed people photos of their new neighbours,' says Delia. There were pictures of Russian investors, Chinese entrepreneurs and Arab millionaires who have one thing in common: They all got a Maltese EU passport for a lot of money.
"'Do you know this man?' he would then ask people. 'He's supposed to live here.' Nothing, in almost every case."
Hornig recalls how the address of a new Ukrainian resident, led me to a small apartment in a farming village. When I knocked on the door, it was opened by a Maltese farmer who had never heard of the Ukrainian.
"And when he checked the address of a Russian tycoon, he found a jammed basement. The millionaire allegedly lived there with the owner of a building conglomerate from the United Arab Emirates in a kind of basement flat-share."
The Spiegel article is prompted by the EU Commission's October 20th announcement that it had started infringement proceedings against Cyprus and Malta.
"The deadline for comments expires this weekend. If Malta does not satisfy the Commission, the issue will probably end up before the European Court of Justice. But is the case as straightforward as it seems at first glance? It is about the right of every EU country to determine for itself who is or can become a citizen. It is also about the controlled immigration of coveted high achievers and investors on the American or Canadian model. But at the same time, it is about the fear that the golden passports will not only attract impeccable entrepreneurs who want to escape an unfree, impoverished homeland. But also a seedy clientele: tax evaders, economic criminals, dictator sons, terrorists."
Frank Hornig quotes Christian Kälin, the "Passport King": Certainly, there are sometimes shady people who it would be better not to naturalize, says Kälin. "But that's a tiny minority, and they're not our clients. By far the vast majority are actually ideal EU citizens."
Frank Hornig recalls how Daphne Caruana Galizia criticized those who profited from the sale of passports before her murder in 2017: "These bandits probably think that we are all as stupid, greedy, backwards-looking and as corrupt as our tribal princes." The government only looks at the income and does not see "the massive damage to reputation".
The Spiegel reporter refers to articles appearing on this website and elsewhere naming an Israeli who has been sued in the USA for fraud and money laundering, a Chinese man accused of billions in tax evasion by US investigators and Egyptian who confessed to his fraudulent activities.
Typically the Maltese government ignored questions from Spiegel: "They did not respond to a catalogue of questions and further follow-up."