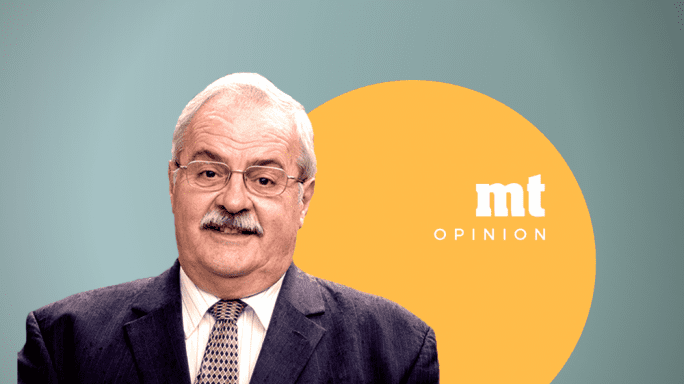 This article is about Michael Falzon. That's not the mild Labour minister from Sliema who likes fireworks, but the former PN minister exposed by journalists for dodging taxes and, probably, stashing bribes he collected when he was a government minister.
He is lapping at the ankles of Mario Azzopardi the playwright like a man-whore, transparently excited at the prospect of watching Azzopardi's play demonising Daphne Caruana Galizia. Hi argument, such as it is, is that he believes in free speech and no play should be censored. I believe that too by the way and I argued yesterday why no play has been censored here. In fact, Mario Azzopardi promises his play will be showing withstanding anyone's opinion of it.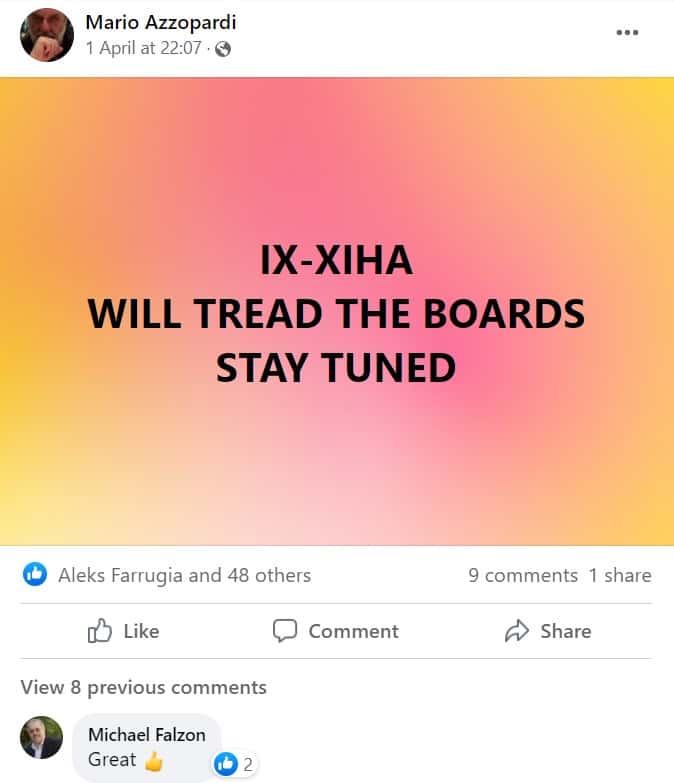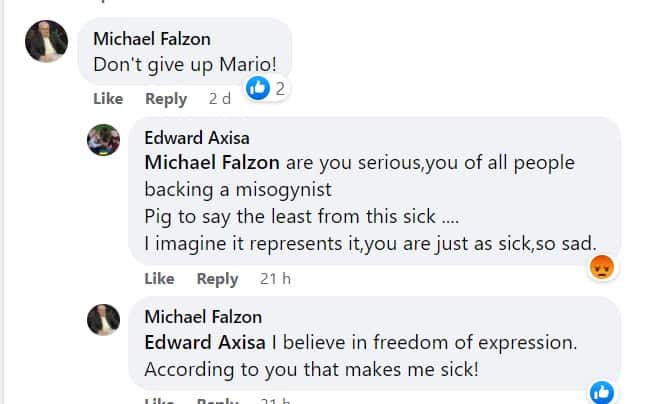 Michael Falzon could not be less interested in free speech. His only interest is in the vilification of Daphne Caruana Galizia an activity he was happy to indulge in when she was still alive and is not about to stop doing now.
Why does he hate her so? Because it did not matter to Daphne Caruana Galizia that Michael Falzon was a PN minister. She worked as a journalist and had never been her job to give ministers an easy time.
In 1989 Daphne was just starting out in journalism. One of her very first assignments was interviewing Michael Falzon who was public works minister at the time. She confronted him with complaints by residents about the mess left in their streets by poorly regulated construction developers. (plus ça change). He replied with a complaint that people are so arrogant these days they complain about everything. (plus c'est la même chose). Daphne Caruana Galizia responded with a double spread title on The Sunday Times: "An Era of Arrogant Citizens".
In an article she posted 5 weeks before she was killed Daphne Caruana Galizia recalled that incident from the beginning of her career when she spotted a Michael Falzon comment on her website: "Insulting the messenger while ignoring the message is just like Daphne. Her arrogance has no limits." Irony and memory were top drawer tools in Daphne Caruana Galizia's enormous arsenal.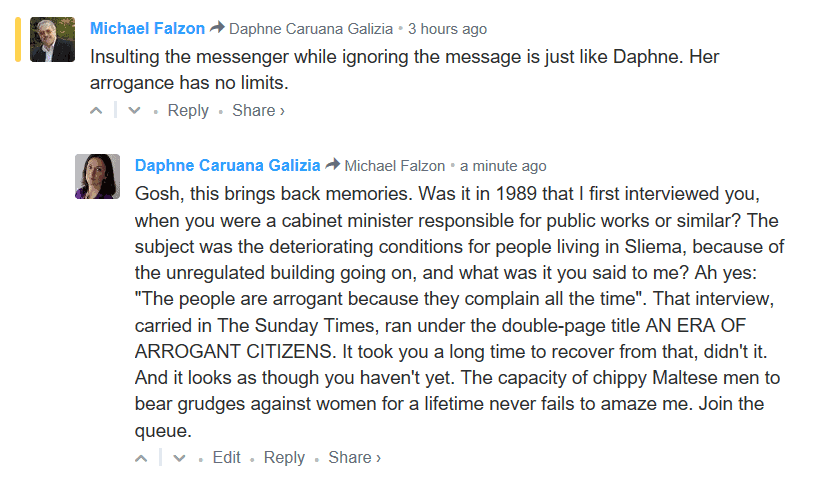 On the eve of the election that saw Adrian Delia made PN leader, Michael Falzon volunteered an article targeting Daphne Caruana Galizia. The exorcism of Daphne Caruana Galizia was the central policy objective of Adrian Delia's PN leadership campaign. I'm sorry about using the noun exorcism but it accurately illustrates the way Adrian Delia and his campaign spoke of their intentions for her.
These self-described PN stalwarts took up as their own the decades old accusation from the Labour Party that Daphne Caruana Galizia was in the business of spreading hate.
Daphne Caruana Galizia responded characteristically eloquently. She wasn't the one spreading hate. Michael Falzon was, and he must have felt he had good reasons to do it. Daphne Caruana Galizia's son Matthew had been part of the ICIJ team responsible for the Swiss Leaks that had exposed Michael Falzon's secret stash of €500,000 hidden from the Maltese tax man. The same leaks had exposed Ninu Zammit's money as well and proved to those whose faith in politicians verges on the religious, that corruption is not the exclusive purview of the Labour Party.
Both Michael Falzon and Ninu Zammit had been ministers in Eddie Fenech Adami's government, both were involved in the construction and energy sectors, and both were caught with money they should never have had.
Having been caught lying and his denials about secret Swiss accounts exposed as falsehood, Michael Falzon had the audacity to apologise admitting to tax evasion but not to corruption. He said he had made the money in private work before he first became minister.
As Daphne Caruana Galizia pointed out there would have been no way of checking if his claims were true because before anyone could look at when he deposited the money, he repatriated the money thanks to a tax amnesty. That's sins of the past washed away by government clemency.
Armed with a rock-solid guarantee he could enjoy the money he swindled with impunity, he quickly shed his initial mortification and gave Joseph Muscat a helping hand with his excited and enthusiastic participation in the onslaught of anti-corruption figures. Michael Falzon worked to convince PN councillors he was one of them and he was speaking in their political interest when he was publicly flogging Daphne Caruana Galizia, Joseph Muscat's biggest nightmare.
The hatred, logically, extended to Simon Busuttil who did all a party leader in opposition could do to Ninu Zammit and Michael Falzon when he found out about their secret stashes abroad: throw them out of the PN, and say that had he been prime minister he would have made them pay for their crimes.
You see, that's being negative.
Michael Falzon still criticises the PN for its negativity. Here he is writing this week that Bernard Grech lost these elections (not because Labour won, but) because there's Repubblika.
Indulge me this unforgivable self-reference. Nobody forgets the buses came late in the summer of 2010, but Michael Falzon expects people to forget his reasons for hating and blaming people who fight corruption and expect ethical conduct in public life (Daphne Caruana Galizia then, Repubblika now). It is because when he was in public life, he at best hid money from the tax man sitting next to him at Cabinet meetings (that was John Dalli who was even more rotten than he was), and at worst he took kickbacks for public works contracts.
Now, for doing her job and pointing his corruption and everybody else's out no matter their party, Daphne continues to be repaid by the cross-party alliance of political criminals in which Michael Falzon has a minor role. Killing her for doing her job wasn't enough. Michael Falzon wants to see her memory vilified on stage with lies, the repeated lies that he helped spread right up to the last days before she was killed.
There was a time I had respect for Michael Falzon, his wit, his easy charm, his intellect. Perhaps I was biased because when I was younger, I felt that people who openly admitted they were atheists were rare and I was easily seduced by that. I admit I even rather liked his arrogance which I mistook for intellectual self-confidence rather than a mask under which to hide his greed and the green sickness of living with the secret of his grotesque hypocrisy.
There was and there remains nothing good about the complicity of Nationalists in the Labour Party's campaign to vilify Daphne Caruana Galizia. But I am grateful that evil campaign, still ongoing, exposes the true colours of evil men (for evil remains a male-dominated profession), no matter what flag they profess to fly.