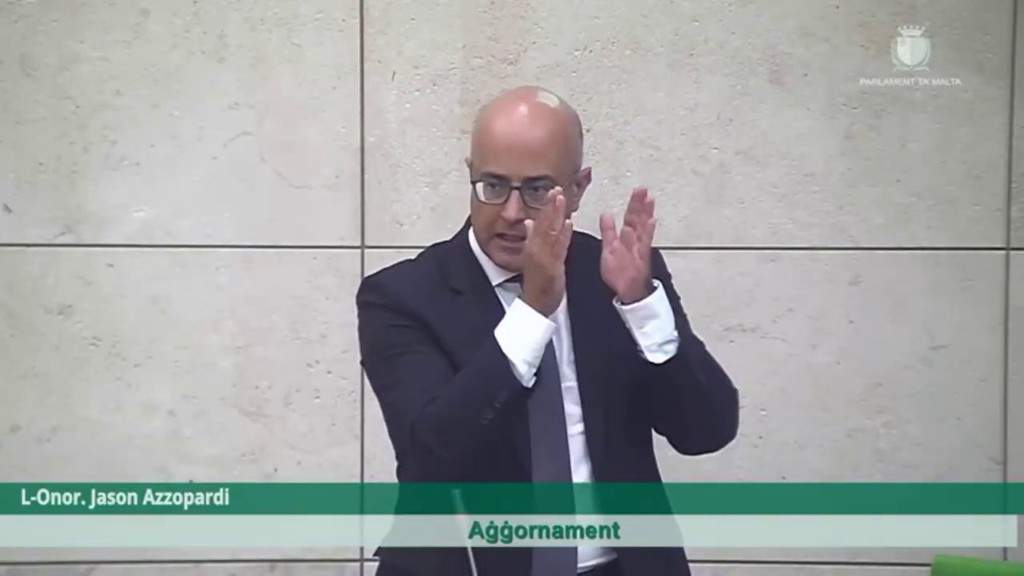 There's a quote on Lovin Malta of a Labour politician branding PN MP Eve Borg Bonello "the new Jason Azzopardi". Apparently in the few days since Borg Bonello made it to Parliament, Borg Bonello has referred to Joseph Muscat as a "criminal" and she recalled that Cyrus Engerer has been convicted of revenge porn.
For saying these things Eve Borg Bonello is being branded a "firebrand", a "bête noire", or worst of all in the lexicon of insults that PL central can produce, "like Jason Azzopardi".
Nikita Alamango who heads Labour's women wing says "I hope that politics changes and that we stop insulting people. Unfortunately, the youngest MP has already started insulting others."
The only reason Joseph Muscat is entitled to feel offended when described as a "criminal" is that no one has charged him in a court with a crime and no one has convicted him. But a criminal becomes worthy of that name when they commit a crime not when they're convicted for it. Presumption of innocence is a matter for courts. It has no bearing on the truth.
In any case an eventual conviction may or may not be a matter of time. Enough facts are known for Eve Borg Bonello to be entitled to her conclusions. Joseph Muscat has received lavish gifts from Yorgen Fenech when the police had told him they suspect Fenech ordered Daphne Caruana Galizia killed. He conspired with Keith Schembri and Yorgen Fenech on the nights of their arrests. He lied to Parliament and to the public about Konrad Mizzi's declaration of assets. He received payments within days of quitting as prime minister from the company to whom he flipped 3 public hospitals when he was in office.
These are facts. Not describing as a criminal the person these facts are ascribed to, when that person was Malta's prime minister, is criminal.
Cyrus Engerer has a criminal conviction to his name, confirmed on appeal. So, he has no right even to pretend to be insulted when he's being reminded of that.
In a slimy Facebook post Cyrus Engerer patronised Eve Borg Bonello who is new to politics by telling her that "politics teaches you to speak less and listen more." That quote is a corruption from Lin-Manuel Miranda's musical on Alexander Hamilton. The full quote is "Talk less. Smile More. Don't let them know what you're against or what you're for." This is political advice from the villain in the story. Sounds right.
Cyrus Engerer wants politicians to talk less. About him. He would like that wouldn't he. Did politics teach him not to distribute home-made porn pics of his ex-boyfriends to metaphorically fuck them over?
And Labour politicians want Opposition MPs to talk less and speak only in praise of the government, to redefine "opposition" as a form of priesthood in a religion where criminals in or close to the government are ever hungry goods.
Here's the thing. The Nationalist Party under Bernard Grech has proven about as much in thrall of Labour's narrative as it had been under Adrian Delia. It seems that under this Labour Party hegemony, even Opposition politicians need to have their opinions approved by the Labour Party before they can express them. Since Simon Busuttil left, the PN has been led by people who fervently abide by the diktats handed down over One TV.
Jason Azzopardi was, notoriously, defiant of this servile attitude. Eve Borg Bonello, perhaps – Labour suggests – because she's new to the game, seems not to have yet gotten the memo. Don't be like Jason Azzopardi. Don't speak badly of criminals in politics. Make sure Labour politicians and pundits become your biggest fans.
It is the job of Opposition MPs to disabuse government politicians of the notion that they can get away with their crimes simply by imposing everybody's silence on them. The first people in this country to break omertàimposed by criminals on or around the government's front bench should be the politicians elected for the express purpose of facing them in Parliament.
It should not make a difference if Jason Azzopardi the individual has made it to Parliament or not. All MPs who are not ministers can tell themselves that they did a good day's work when they act in a way that forces ministers to relive the chill Jason Azzopardi drove right up their spines just by clearing his throat to speak. All MPs who are not on the government's front bench will only have done their job if they don't let criminals get away with their crimes, no matter how much time passes, no matter how many elections go by.
Which reminds me, can the PN please confirm that it has placed on top of the agenda of the only Parliamentary committee it controls the continuation of the Electrogas investigation?