*WARNING* Contents Include Previously Undisclosed Secret Document
Fresh from her claim that she was 'more sorry' than Daphne Caruana Galizia's own family when the journalist was brutally assassinated, Michelle Muscat is now indulging in a public display of grief towards her 'dear friend', the wife of Shinzo Abe, the former prime minister of Japan who was recently shot dead.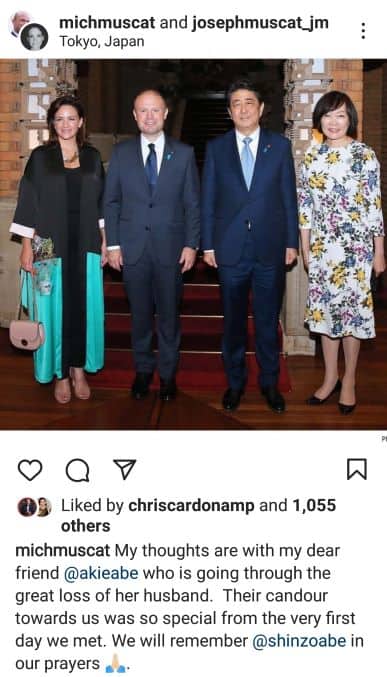 Clad in a culturally condescending kimono, Michelle Muscat's prayers might have some sway if it weren't for the fact that her own husband, disgraced ex-prime minister, Joseph Muscat, aka Man of the Year in Organised Crime and Corruption, was singled out by the Public Inquiry as responsible for creating the culture of impunity that enabled the assassination of Daphne Caruana Galizia.
With this round his neck, Michelle Muscat's aforementioned husband still took it upon himself to describe Daphne as 'becoming irrelevant' when she was murdered. So irrelevant that he and his partner-in-crime, Keith Schembri, were on the blower to Yorgen Fenech the night he was planning to escape arrest on his luxury yacht. So irrelevant that Muscat resisted the Public Inquiry until right at the last minute when he and his criminal government were forced to do so. So irrelevant that Muscat described Malta as 'being tarnished from Bidnija' 5 months before Daphne was horrifically assassinated there.
But there's Michelle, Muscat's doting wife, forever standing loyal and dutiful by his side. That's what gangster molls do, isn't it, when they're not showering gifts on the heads of their loving servants, lapping up the booty of omertà. That's what gangster molls do, isn't it, when they're not displaying heart-rending sympathy for other people's dead husbands in an attempt to bring fawning adulation on themselves. It's the sheep in Japanese clothing crying wolf to focus attention on their own good deeds, their bountiful altruism and abundant humanity.
I mean, who could forget Michelle Muscat being nominated as Volunteer of the Year 2017, less than 2 months after Daphne was murdered? In order to win this title, Mrs Muscat had to sign her own nomination. She had to volunteer herself as the best of the best. She had to dry out her swimming cossie and squelch off her flippers, remove all evidence of her exploitation of prisoners and that nasty little Egrant, and use her dainty diamond-studded fingers to sign her own name as the most deserving candidate. Bless.
Blessed is how you could describe Mrs Muscat's infinitely charitable foundation, Marigold, with its miraculous ability to bypass red tape. She was on a running streak. When her husband was the Capo at Castille, the OPM simply couldn't stop chucking money at Michelle's 'charity'. On a par with Russian funders and Boris Johnson's Tory Party, the OPM, with Michelle's husband at the helm, was Marigold's biggest donor. Indeed, according to an analysis carried out by the Shift News, Joseph Muscat himself was 'the single greatest Ministerial donor' between mid-2017 and 2019 until he got unceremoniously removed from office.
Comes in handy to have husbands in high places because they, and you, have their dirty fingers in a whole range of unsavoury pies. Vitals, Electrogas, Pilatus Bank, Nexia BT, the Montenegro Wind Farm, football clubs, bitcoin, gambling, massage parlours, passport selling, pushbacks, kickbacks – there's too many to choose from on this infinite smorgasboard of scandals. And there's the American University of Malta, of course, with its finger-lickin' array of fake goodies to select from.
Along with its dearth of students, its secret deals, its massive financial debts, its dodgy new president and its government-subsidised relocation to Smart City, the AUM is very selective when it comes to its charitable pursuits. Why this generous donation to Michelle Muscat's 'good cause' remained confidential is anyone's guess, especially as it was going to be registered so 'properly' in the books.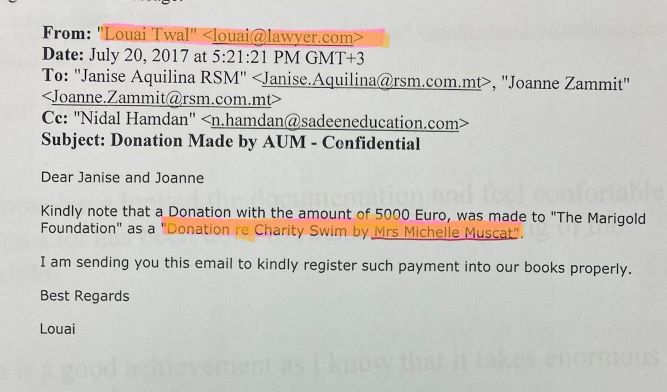 It leaves you wondering how much the AUM coughed up following Michelle Muscat's record-breaking swim 2 years later. How much is too much when it comes to Olympic Golds?
Holy crap, @Michelle_Muscat swimming time is up there with the world greats. We know she swam 14 km because from @TelevisionMalta to @marigoldmalta boasted about it: pic.twitter.com/tRpW4e3b5S

— BugM (@bugdavem) July 14, 2019