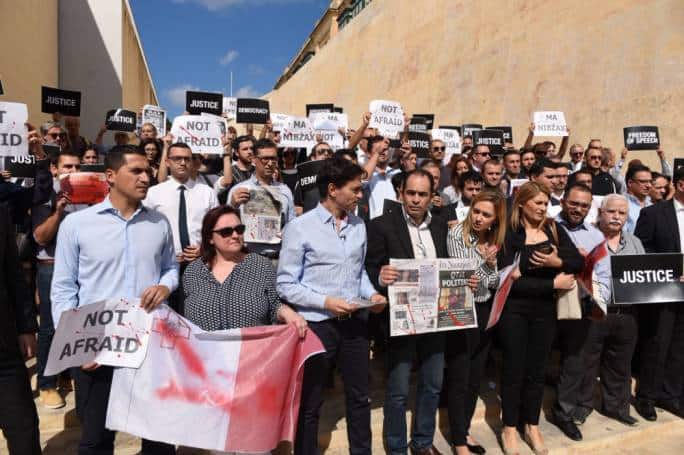 Malta's failure to adopt the recommendations of the Daphne Caruana Galizia has forced the country's press freedom ranking further down.
The Reporters Without Borders' world rankings published today on World Press Freedom Day rank Malta an abysmal 84th in the world. Greece is the only EU country with a ranking lower than Malta's. Ireland and Scandinavian countries as well as former Soviet republics Lithuania and Estonia, together with Portugal occupy the top 9 ranked countries with the freest press in the world.
Malta's ranking is also remarkably behind Hungary's a country which has actively cracked down on press freedom over the past years.
Reporters Without Borders said that in Malta, journalists must cope with a highly polarised environment under the strong influence of political parties. In 2021, a public inquiry into the assassination of journalist Daphne Caruana Galizia was concluded, listing a comprehensive set of reforms the government has been reluctant to implement.
RSF's country profile for Malta notes that the ruling Labour Party wields a strong influence over the public broadcaster and uses public advertising to exert pressure on private media. Many politicians select specific journalists for exclusive interviews, while those considered "hostile" are ignored, including within the party media.
RSF said that on almost every issue of public interest, Maltese society suffers from deep polarization. Reporting on certain topics such as migration or abortion remains unpopular and incites abuse towards journalists covering these topics. Very few journalists from minority groups work for the mainstream media. Investigative reporting is carried out by a handful of journalists, almost exclusively men.
The worldwide press freedom lobby recalled that full justice is yet to be served for the 2017 assassination of Daphne Caruana Galizia. In 2022, two hitmen pleaded guilty and were sentenced to 40 years in prison. Earlier, one of the perpetrators and the middleman were pardoned in exchange for information. But the mastermind and others involved in the crime, have yet to be convicted. Although the public inquiry recognized that "the state has to shoulder responsibility for the assassination because it created an atmosphere of impunity", the resulting recommendations have not been implemented.