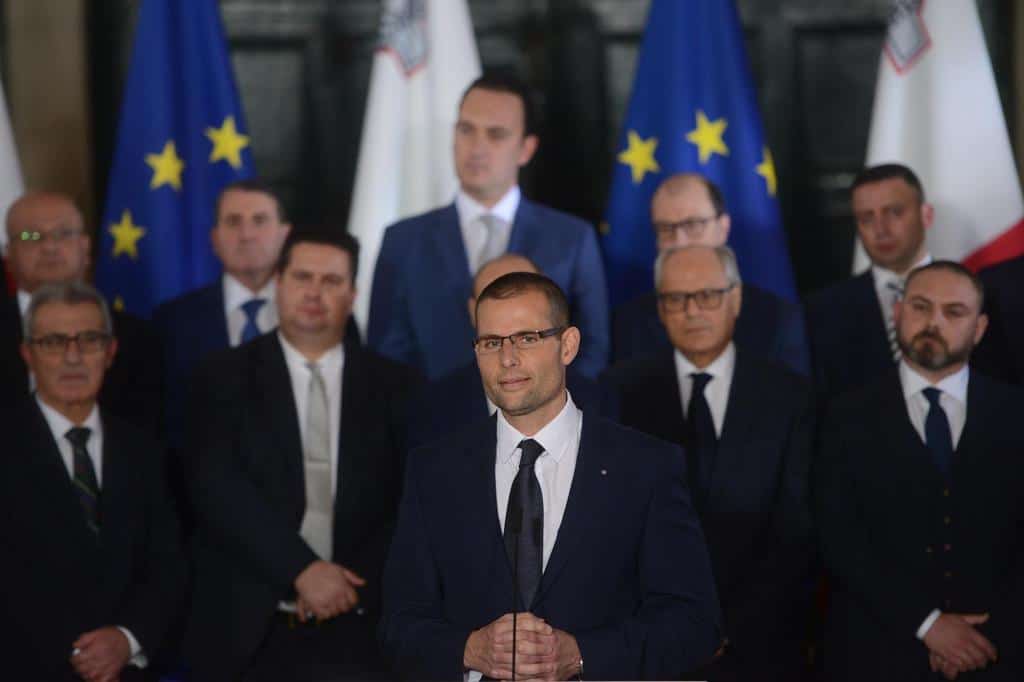 'Due to the fast-changing pace of the political landscape, the fortunes of a politician or political group can change drastically just in the course of a single week.'

– Attributed to Harold Wilson, 1964.
The new incomplete 'important artery' in Gozo's road network, inaugurated with much pageantry by the Prime Minister about a fortnight ago was ripped apart after a few days of rain early this week. The 800-metre road which cost €2 million, according to Gozo Minister Clint Camilleri as part of a massive infrastructural project for Gozo, was heavily damaged by the rain. Parts of the tarmacked road looked more like sodden biscuits.
The Knights of St. John built Valletta five centuries ago and the streets have faced centuries of rain but they are still intact and dry a few minutes after heavy rains. Maybe Infrastructure Malta should read how the Romans built their roads which have outlived the now standard billboard saying: 'We built a road'.
Justyne Caruana, former Minister for Gozo, resigned after it emerged her husband Silvio Valletta had been on several holidays, all expenses paid by Yorgen Fenech. Fenech and Valletta were so close that Fenech's children called him 'uncle Silvio.' Justyne is back, now as Minister for Education, replacing the disastrous Owen Bonnici. Robert Abela defended her appointment: "I am informed that soon after her resignation as Gozo Minister, she separated from her husband. It is crystal clear she had no involvement. So, I had no problems with reinstating her, because she is capable."
Frankly, few people can really say what she is capable of: a lawyer? Educator? Self-proclaimed queen of Gozo? She is certainly skilled at labelling reporters. Will it be part of the curriculum to brand journalists as 'snakes'?
Silvio Parnis has had enough of Robert Abela. In an anything but subtle attack on the Prime Minister, Parnis — very popular in his 4th district — said Prime Minister Robert Abela "hurt me, my family, my friends and those around me."
He continued: "I feel as though my political career has ended. How am I expected to contest an election if I cannot help people? How can I contest an election when I'm up against two horses who can still serve people?" What was Silvio Parnis doing before he became parliamentary secretary? Why did he collect a salary at all?
Robert Abela, earlier in the week said after a meeting with the health authorities it was decided that the forced closure of bars and social clubs will be extended for "the coming weeks". Bars and social clubs were forced to shut at the end of October as Malta grappled with a growing second wave of covid-19 infections, with new cases recorded averaging 120 daily.
He still stressed that everything was under control. Yet, he also said that given the amount of new cases and not to put the country's health services under stress, the legal notice ordering the closures will be extended. "It's not worth taking the risk to compromise the health services," he said. Replying to the public's questions on Facebook, Robert Abela said that there were things which could have been done better (read my article 'With hindsight') but the government had done its best to retain a balance.
The CEO of the Malta Financial Services Authority (MFSA) Joe Cuschieri has resigned. Cuschieri was the subject of a review by an independent panel after it was known that he had flown to Las Vegas with businessman Yorgen Fenech in 2018. Finance Minister Clyde Caruana accepted his resignation. He was informed about the decision by the Board of Governors of the MFSA.
Prime Minister Robert Abela had defended the former MFSA chief Joe Cuschieri, saying that he could not see any conflict of interest. "From what I have read and been told so far, there exists no conflict of interest."
It has since emerged that Edwina Licari, the MFSA's general counsel, who is also a member of the FIAU board, and Charlene Bianco Farrugia, Keith Schembri's former personal assistant, had also gone on the trip.
Then Robert Abela had to deal with another headache. Edward Scicluna had announced, during the 2020 Budget speech, that all workers would be getting an extra day of leave. Minister Carmelo Abela confirmed this and said that this should be considered as having entered into force as from 1st January 2021.
But the Prime Minister had to withdraw the promise made by Edward Scicluna and admitted that there will be no additional leave as from January 2021. Questioned by Net TV, Abela tried to deny that this was promised in the budget, but the TV station broadcast Scicluna's reference to the extra day during his speech. Another U-turn. But having seen so many of these, what's surprising about another one?
Even more headaches. Robert Abela now has one of his top Ministers – Justice supremo Edward Zammit Lewis – dodging questions on a holiday at Yorgen Fenech's Hilton Hotel in France. Joseph Muscat had been too. Sources told Lovin Malta that the holiday was partly funded by the man charged with ordering the killing of Daphne Caruana Galizia's murder.
Muscat and Zammit Lewis have confirmed that they went on holiday to Évian-Les-Bains in France with their respective families. Zammit Lewis and Muscat stayed at the Hilton Hotel, which is owned by Fenech's Tumas Group, within the high-market holiday town nestled on the shores of Lake Geneva. With One News having a field day on Jason Azzopardi's three day stay at the Tel Aviv Hilton, Robert Abela will now have to try and wiggle out of this one. Good luck with that.
Yet another hell of a week.