The following is the fourth part of a series first published in Italian as a concluding chapter of Daphne Caruana Galizia, Un Omicidio di Stato (Strade Blu Mondadori, 2020), the Italian edition of Murder on the Malta Express: Who Killed Daphne Caruana Galizia(MidSea Books, 2019 and Silvertail Books, 2019).
Hurry Up and Kill Her (Part 4)
Thousands now gathered around the dozens who visited the protest site in front of the Great Siege Memorial opposite the court building in Valletta nearly every day to lay flowers and candles in protest demanding justice and the hundreds who met at monthly vigils to keep up the protest over two years of hopelessness.
First came the people who had supported the cause from their homes but had given up hope of real change. Until then Joseph Muscat seemed indestructible. Now that his bastions were cracking, more people felt they could – should – come out for the last push.
Then came people who had been afraid. In crowds of few hundreds they feared being spotted by the cameras, volunteering for retribution like lambs to the slaughter. Now they felt safety in much greater numbers.
Then, perhaps surprisingly, came people, few in number perhaps but loud and clear in their determination to be noticed, who had voted for Joseph Muscat in 2017 in that early snap election ostensibly called because of Daphne Caruana Galizia's "biggest lie in Maltese political history".
There were left-wing activists from Moviment Graffitti, a long-established protest movement whose pathological dislike of the Nationalist Party and anyone they perceived to be tolerant, let alone supportive, of it including, significantly, Daphne Caruana Galizia, was eclipsed by their disgust now that Keith Schembri declared he could not defend himself from accusations of corruption without incriminating himself.
Crowds swelled. And Labour Party grandees were watching. They no longer felt invulnerable. If some people who had voted Labour in 2017 were protesting now, an unfamiliar sense of insecurity about the future set in.
On 19 November, 8 days after his arrest, Melvyn Theuma's name finally made it to the newspapers. Reporters had waited months to tell the story of the taxi-driver middleman who dictated his will the day after the Degiorgios were arrested. They had waited interminable days to say that the man held by the police worked at Yorgen Fenech's hotel.
Malta's press decided that morning to take the narrative away from the grasp of Joseph Muscat. Like them he had known for months that Yorgen Fenech was a suspect. Like them he knew that the moment Melvyn Theuma was arrested and demanded immunity to turn state's evidence, the game for Yorgen Fenech was up.
And like them, Joseph Muscat knew that once the game for Yorgen Fenech was up, his grip on power was looking weaker by the hour. The prime minister's problem was Yorgen Fenech's motivation for wanting Daphne Caruana Galizia dead.
Yorgen Fenech had Daphne killed because he did not want her to find out he owned 17 Black. He did not want her to find out he committed to pay Keith Schembri and Konrad Mizzi thousands of euro a day in exchange for the power station contract.
At the risk of stating the obvious, that also meant Keith Schembri and Konrad Mizzi agreed to receive thousands of euro a day in exchange for the power station contract. Daphne Caruana Galizia had been right about that. And Joseph Muscat had been wrong to deny it. He had been wrong to keep them in government after the Panama Papers. He had been wrong to demonise Daphne and brand her the biggest liar in Maltese political history.
In a tweet on 20 November, Daphne's son Andrew Caruana Galizia summarised a complex argument in a simple syllogism: "If Joseph Muscat hadn't protected Keith Schembri and Konrad Mizzi in 2016 my mother would still be alive. He has blood on his hands."
Joseph Muscat knew this was a political death sentence, but that does not mean he accepted his fate or that he was going to give up without a fight.
After Melvyn Theuma's name was outed in the press, Joseph Muscat announced he would advise the president to grant the "middleman" immunity from prosecution. He tried to place himself at the head of a storm he could not control.
Deciding on immunity to turn state's evidence is one of the many powers that Malta's prime minister enjoys in the quasi-absolutist constitution of Malta. In most cases the prime minister is a neutral party. In the case of Daphne Caruana Galizia that's far from being true. Joseph Muscat made it abundantly clear that he was not consulting cabinet over pardoning Melvyn Theuma. He was taking the decision alone and only he would have to carry responsibility for it. They were the words of a man in denial.
Yorgen Fenech was watching this. He held out hope until he saw Joseph Muscat on camera, now looking gaunt, underweight, pale, his voice faltering and his glare betraying panic, announce he had given Melvyn Theuma immunity from prosecution. The enemy, as Yorgen Fenech would have seen it, was no longer at the gates. They had broken through.
Yorgen Fenech surrendered his business shareholding to his wife and his directorships to his brother and he made ready to run. But the boat trip to liberty would prove very short. He had left his escape too late.
At a few minutes after 8am of 20 November, minutes after news of the interception of Yorgen Fenech's Giò by an armed forces patrol boat, the local press shared with the public another piece of information it had been aware of for some time. Yorgen Fenech was a suspect in the murder of Daphne Caruana Galizia. A few minutes later the police confirmed he was under arrest.
While the police readied charges, Yorgen Fenech was released by the police under warning not to try to leave the country. This was stunning given that he had been arrested trying to escape. But it would take 10 days for the police and the prosecutor to bring charges against the man they had suspected for 18 months of being involved in the murder, way beyond the 48-hour limit before they must decide between release or charges in court.
During those 10 days the world's press descended on Malta. It looked like the story that had opened when Daphne Caruana Galizia was killed two years earlier was now reaching a neat dénouement. The plot arc was hurtling inexorably towards a conclusion.
As if with the cooperation of a screen-writer with an eye for spectacle, the world's news cameras grabbed footage of a cast of actors embroiled in a three-way drama that would make the last three-way shoot-out in The Good, the Bad and the Ugly look a bit wooden, frankly.
There was Joseph Muscat giving daily press briefings on the front steps of his office in a very public meltdown. He was a ghost of his former self but a ghost who thought it was still alive. His 'briefings' effectively were the sort of thing you'd expect from the police or the prosecutor: updates on the status of the investigation, hints at what the detained witness was saying, possible legal avenues for the state, that sort of thing. None of that was the right thing to do for a prime minister.
It was already quite mad that since the week of Daphne's killing the police had not made a single public statement about the case. Now the prime minister "with blood on his hands" seemed to be running the investigation and filtering out what information he would give to the public. Daphne's family were outraged but used uncharacteristic understatement: there ought not to be political interference in a criminal investigation. Bewildered by Joseph Muscat's behaviour, the press were lapping it up.
They also had the spectacle of Yorgen Fenech roaming the streets hours after his spectacular arrest. He was a caricature of a mafia don. Smirking through his sunglasses he smoked through the corner of his mouth, exuding utterly unjustified self-confidence. He was chased down the streets of Valletta by a press gaggle of correspondents from the BBC, Reuters, RAI, ARD and many others. In spite of the fact that he was not in a position to rule out spending the rest of his life in prison he couldn't help showing he was enjoying all the attention. "The truth will come out," he told journalists. Quite.
And then there were two of Daphne's sons Matthew and Paul appearing in the streets, sometimes themselves leading thousands of people in protest, roaring their anger while still managing to articulate arguments speaking with the irrefutable clarity and economy of their mother's style of writing.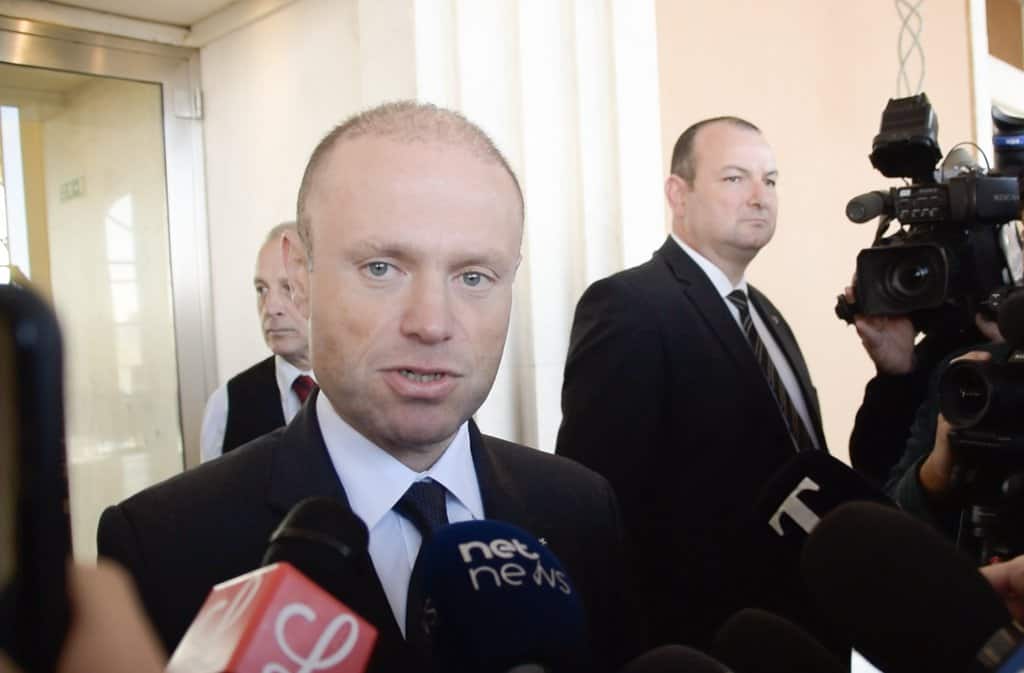 Continues tomorrow.