The following is the fifth part of a series first published in Italian as a concluding chapter of Daphne Caruana Galizia, Un Omicidio di Stato (Strade Blu Mondadori, 2020), the Italian edition of Murder on the Malta Express: Who Killed Daphne Caruana Galizia(MidSea Books, 2019 and Silvertail Books, 2019).
Hurry Up and Kill Her (Part 5)
In the meantime, thousands of protesters in Valletta completed the drama. On 20 November a large crowd gathered outside the Parliament building. Their anger was palpable. Justice Minister Owen Bonnici thought it might be a good idea to defy the crowd. He got in the back seat of his limo and instructed his driver to drive, slowly, through the crowd. He was, predictably, trapped there with people shouting all manner of abuse at him. The police surrounded the car allowing protesters to shout all the abuse they could come up with but not to cause anyone any physical harm.
Owen Bonnici was an easy target for the anger of protesters. He proudly and publicly insisted he was the one to order the daily removal of flowers and candles and messages in the protest outside the Great Siege Memorial branding the protest items as "rubbish". The following January the Constitutional Court would find that decision was a breach of the right of free speech.
But Owen Bonnici that evening in Parliament hoped to cast himself in the role of a martyr. As it happened, his driver drove out of the crowd with barely a scratch on the official car. The only injury: a police inspector who was hurt when the minister's car drove over her foot.
In the meantime, Joseph Muscat was being challenged with a fresh question. He had decided alone to give immunity to Melvyn Theuma to testify against Yorgen Fenech. But did the matter end there? Yorgen Fenech's references to "the truth" hinted he had a version of the story to tell and in that version, he would not be the ultimate baddie. He was particularly explicit about being able to give evidence on rampant corruption within the government and that in that story the ultimate baddie would be Keith Schembri, the prime minister's chief of staff.
To put pressure on the government to grant him immunity, Yorgen Fenech played another card. Stories emerged in the press that in calmer times Joseph Muscat had accepted lavish gifts from Yorgen Fenech. The press was regaled with photos of a rather tacky and bejewelled Rolex that Joseph Muscat accepted from Yorgen Fenech. That gift was worth tens of thousands of euro. Another story was about bottles of Chateau Petrus worth thousands that Yorgen Fenech gifted to Joseph Muscat at a private birthday party at the prime minister's official summer residence in Girgenti.
Joseph Muscat said it was all within the rules. That was doubtful. But it was certainly stomach-churning stuff, not unlike the golden telephone passed around the table when Michael Corleone visited the dying government of Cuba before Castro came to town.
What if Yorgen Fenech was in a position to testify he too had been a mere middleman? What if he was part of a committee who decided Daphne would be killed and was the only one exposed so far simply because he happened to be the one around the table to know a taxi-driver that could organise an assassination? What if Yorgen Fenech could point fingers at someone even closer to Joseph Muscat? Would Joseph Muscat still be the one to decide alone if Yorgen Fenech would be given immunity to testify against even bigger fish? Fish so big they could swallow Joseph Muscat whole.
"I shelter no one," Joseph Muscat told a reporter looking at him in the eyes. That sounded categorical but it also wasn't true. He had sheltered Keith Schembri and Konrad Mizzi since early 2016. He was still sheltering them. Though now the wind was proving too strong even for his tent.
Joseph Muscat needed to shore up support. On the weekend of the 23 and 24 November he turned to his parliamentary group and got out of them a unanimous resolution of support. They had full confidence in him, they said, and would back any decision he took about his future. Whether they all meant it or not is beside the point. Joseph Muscat was negotiating for his political survival and the home front, at least for now, was suppressing its nerves and backing him.
But even as he struggled to get on top of things, the police appeared to have felt liberated from whatever shackles had held them back for two years. Chris Cardona spent Saturday 23 November answering tough questions from the police. There's no public record of what was said in that meeting but it is reasonable to assume the brothel-creeping minister was asked about his assertions about not knowing the assassins when there was strong evidence to the contrary.
In May 2018 Cardona had dropped his libel case against Daphne Caruana Galizia about her reporting into his brothel visits. But that year he was forced to retract denials he had met one of the Degiorgio brothers on multiple occasions. Later we would learn that Alfred "The Bean" Degiorgio's daughter was an intern in Chris Cardona's ministry during the summer of 2017 right before il-Fulu and another two assassins killed Daphne.
Chris Cardona "suspended himself" from his role of minister while he was being questioned by the police. No charges were filed so he stepped back into his office a few days later.
The drama would roll on. On Monday 25 November Joseph Muscat cancelled his public engagements. In the evening journalists spotted his car outside his family home in the north of the island. There was another car there, Keith Schembri's. Whatever they discussed took them all night, almost until the morning of the next day.
At another of Joseph Muscat's now daily briefings, on Tuesday 26, the embattled prime minister informed the press that Keith Schembri had resigned. "I take responsibility for the fact that I have kept him as chief of staff, yes… he has now decided to move on. It's a conversation we've had for some time… he had signalled to me that it was a matter of time."
But by then the press knew more than Joseph Muscat was prepared to tell them. Keith Schembri's resignation was handed in at dawn. It wasn't yet time for breakfast when Keith Schembri was under arrest and being interrogated at police headquarters.
Joseph Muscat had lost his creator. Keith Schembri had designed Joseph Muscat's rise to fame. He had been the power behind his throne. At least formally they parted ways after they kept an all-night vigil together in Joseph Muscat's home. The image of a couple praying before the arrest of one of them is almost certainly misleading. The image of a pair of crooks building the story they would tell the cops is likely closer to the mark.
With Keith Schembri gone, Konrad Mizzi could no longer survive. He did not last the day. That afternoon he handed in his resignation as Tourism Minister still protesting his innocence. But before he resigned he signed a contract with the tourism agency that reported to him appointing himself a consultant of whoever would succeed him as minister paying himself a bigger salary than the one he was giving up. Naturally this umpteenth but final act of robbery was kept secret until it was discovered by journalists and disclosed to a nation unable to be shocked any more.
Joseph Muscat may have secured a unanimous vote of support from his parliamentary group. But his closest allies were falling away fast.
The longest aria in this cheap opera of collapse would be played out two days later.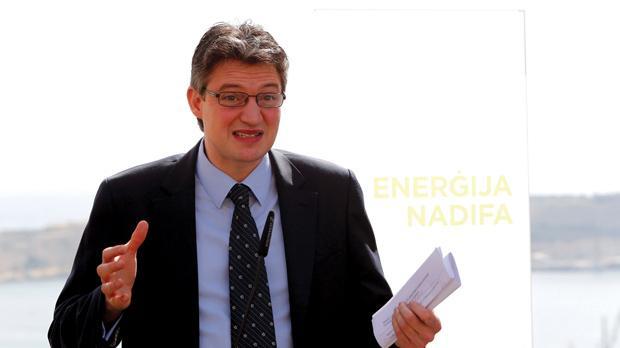 Continues tomorrow.