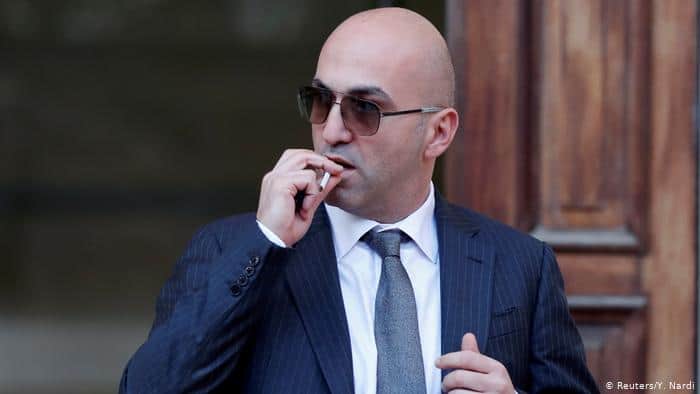 Email correspondence between Yorgen Fenech and his publicist Chris Mifsud at MPS shows that the man who would be charged for ordering the killing of Daphne Caruana Galizia hired UK lawyers ACK Law to consider "picking a victim" to stop reporting and commentary in Malta that could damage the business of his business empire.
Yorgen Fenech says in the email that lawyer Susan Aslan identified me, Manuel Delia, as "pretty much the easiest win" and the "ideal first case" for a massive lawsuit in the UK asking for "an absurd figure" in damages. The choice of Manuel Delia as "the ideal first case" to be made an example of and picked out as a victim was because my reporting (or "allegations" as Yorgen Fenech calls them) are "repeated, personal, continuous and to add insult to injury never gave TG (Tumas Group) or YF (Yorgen Fenech) the opportunity to evaluate his evidence etc etc."
Yorgen Fenech also tells his publicist that his lawyer "also realised he (Manuel Delia) is not loved by the PN leadership", another reason that would make me the ideal first case.
Other less likely candidates listed in the email included David Casa but the lawyer at ACK Law was "concerned the EPP will involve itself and turn Brussels guns blazing". The lawyers also considered Times of Malta because of their Parliamentary reporting noting that the reporting would be protected from libel suits in Malta but possibly not in the UK. An article by Lovin Malta that was considered for a lawsuit was dismissed by Yorgen Fenech because, he told his publicist, Yorgen Fenech did not want to be seen as bullying that organisation. "Again," Yorgen Fenech said about suing Lovin Malta, "this is for me off the cards."
On the reporting and commentary of this website, however, Yorgen Fenech said "Manuel Delia – of course – 9 red flags – 6 hands down, so many it's pretty much the easiest win."
Yorgen Fenech went on to brief his publicist Chris Mifsud about his lawyer's legal strategy.
"Minimum damages of 1% of balance sheet would still be super rough," Yorgen Fenech said about his plans for his lawsuit against me. "Since its banks (financing) she says they would review facilities obtained in the previous 5 years with UK lenders." Yorgen Fenech explains that that figure would amount to £72 million.
Yorgen Fenech said his lawyer told him that if he chooses to sue Lovin Malta he would be looking for £6.6 million. If he were to sue David Casa or Times of Malta he would be asking for £20 million. If he were to sue me, Manuel Delia, it would be for "an absurd figure".
Since in these calculations, £20 million is not "absurd" but the figure they would pursue from me would be, it is reasonable to presume they would be looking to sue me for more. Though this is not entirely clear from the email correspondence it is not unreasonable to discern that Yorgen Fenech and the Tumas Group intended to sue me in the UK for something north of £70 million. Needless to say, anything north of €7,000 would likely have been ruinous.
Yorgen Fenech says in his email to his publicist that Susan Aslan advised him "not to proceed for the time being. She is conscious this would cripple businesses and would probably mean jail for (David Casa) and (Manuel Delia). A journalist or a politician in jail is the last thing we want to have on our lap plus let's face it," Yorgen Fenech goes on, "we are not vindictive people and although I'm the main target I still don't have that much hatred or spite to take these extreme measures."
Yorgen Fenech, however, also told his publicist he was hoping the issue of 17 Black of which he had just been exposed as an owner in a Reuters report, would be forgotten by Christmas. "Locally, jgħaddi l-Milied u tgħaddi," Yorgen Fenech wrote, partly in Maltese.
At no point in his correspondence with his publicist did Yorgen Fenech suggest that Reuter's findings that he owned 17 Black had been untruthful. Indeed Yorgen Fenech quotes his lawyers saying that "she thinks Reuters reported honestly and, although it is not totally correct in at least 5 cases, they did not seek to be sensational and avoided insinuations or allegations."
When the story came out this website commented extensively that the fact that Yorgen Fenech was shown to be the owner of 17 Black meant that he should be investigated for any possible connection to the murder of Daphne Caruana Galizia as the Electrogas contract could have been a possible motive for the murder.
This reporting, according to Yorgen Fenech's email to his publicist, was creating "noise" that "is going to be a permanent issue and in that case (his lawyer told him) she saw no alternative but to 'pick a victim' and sue for libel in London."
In response to this email, publicist Chris Mifsud wrote to Yorgen Fenech that he was "in good hands" with respect to the lawyers that he was using in the UK and "of course, yes, your reputation and balance sheet damage needs to be contained and you have the right to protect it as every citizen done, and so you should."
It is perhaps still necessary to point out that if this plan went ahead before Yorgen Fenech was arrested and charged for murder, there could have been no way for me to defend the case in a UK court let alone live down an outstanding liability in any amount like the figures Yorgen Fenech had in mind. Apart from financial ruin and, in the opinion of Yorgen Fenech's lawyer, prison, this website and all my journalistic work since then would have likely been permanently silenced.
It is also perhaps still necessary to point out that my isolation made me an ideal candidate to be made an example of and eliminated from the media landscape demanding that justice is served on Yorgen Fenech. Although clearly, David Casa was also in Yorgen Fenech's sights, his status as an MEP was of some concern to his lawyers, while a case against Times of Malta was considered as possibly complicated because in Malta its reporting was protected by Parliamentary privilege, while a case against Lovin Malta would have been seen as bullying.
On the other hand, a UK case against me for "an absurd figure", Yorgen Fenech appeared to have decided, would not have caused him PR problems, not even with the PN.
I have been aware of this 2019 communication between Yorgen Fenech and his publicist for some time but I was asked not to write about it until now.
Testifying in court this morning in the compilation of evidence against Yorgen Fenech, Matthew Caruana Galizia provided the court with information regarding this email correspondence.