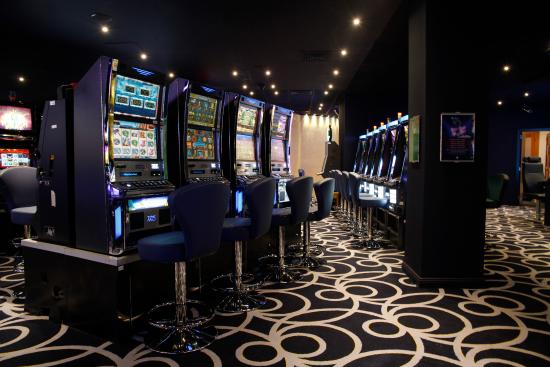 Leading supplier of slot machines and casino games Novomatic has "paused" services to the Tumas Group's casinos Portomaso and Oracle after a court ruled that Yorgen Fenech and other senior officials of the Tumas Group have a case to answer in charges of using the casinos for money laundering.
Sources within the Tumas Group told this website that Austria-based Novomatic informed the Tumas Group it was pausing their business relationship "due to the current legal situation of the Tumas Group and therefore also the Tumas Gaming Group".
The decision also includes a pause on the supply of spare parts.
The decision comes after evidence heard in court this week suggests that the owners of Portomaso and Oracle manipulated games to arrange for jackpots paid our to gamers of their choice.
On Monday Times of Malta's court reporter quoted the evidence given by the police detailed chats between Yorgen Fenech and Tumas Group official Patrick Demanuele. 'Don't forget those €80,000' Fenech tells Demanuele in one chat.  'He's going to Oracle each day. We'd better hit a jackpot….Then take €10K and go have a good holiday.'
This website commented on Monday that the word "jackpot" (and in other parts of the conversation the term "bonus") suggests winnings from playing at slot machines. Slot machines are sealed by the gaming regulator, the MGA, which is the guarantor to players that the games are fair and the odds are as they appear on the tin. In other words, players are assured that there are no faceless gremlins inside the machines that decide whether they should win or not.
This website commented that if slot machines are indeed being manipulated in spite of the MGA's guarantees, the matter needs to be seriously investigated.
The answer to that comment came from Yorgen Fenech's unofficial mouthpiece Simon Mercieca who wrote in his blog a response to this website describing the commentary on the court report as "fake news".
It was indeed Simon Mercieca who first referred to Novomatic. From his blog post: "In truth, the Oracle Casino – the one owned by Fenech is operated by the Austrian company Novamatic. Why would Novamatic be interested in changing an outcome from a slot machine or manipulate its machines to make Yorgen Fenech's friends win a game? Is this company so stupid to risk its reputation? Has the inspector in question, investigated and questioned the administrators of this Australian company before issuing charges against Yorgen Fenech?"
In spite of Simon Mercieca's assurances that "Manuel Delia either does not know how a casino operates or else wants to deceive," the suppliers referred to by Simon Mercieca as a guarantee of the fairness of games supplied by the Tumas Group's casinos has in the last hours stopped doing so.