The following is a speech given by Lizzie Eldridge at a vigil held at the Scottish Parliament by Scottish PEN last Sunday.
Thank you for coming here this evening on the 5-year anniversary of the assassination of Daphne Caruana Galizia. It's 5 years since Daphne was brutally assassinated in a car bomb just outside her home in Malta. Since then –  amidst all the corruption that's been exposed as a result of her work and in the aftermath of her horrific murder – protest movements demanding justice for Daphne have intensified in their strength and their force, refusing to give up and sustaining continual pressure on the Maltese government.
Tonight, from Scotland, I'd like to salute my friends and fellow activists in Malta:
the incredible women of Occupy Justice who have been there from the start
the fearless members of the anti-corruption NGO, Repubblika
and, most of all, I'd like to send our love and solidarity to Daphne's family who have been fighting for justice since the moment she was killed. Their integrity, their dignity, and their tenacity are astounding.
Their tireless efforts helped ensure there was a Public Inquiry into Daphne's assassination. This was resisted by the Maltese government until right at the last minute when they had no choice. Its report was published well over a year ago. It stated categorically that the Maltese State must bear responsibility for Daphne's assassination. It said, in black and white, that the disgraced ex-Prime Minister, Joseph Muscat, created the culture of impunity which enabled Daphne's killing. Despite this, Muscat – with his title of Man of the Year in Organised Crime and Corruption – remains free as do many others who are implicated directly or indirectly in Daphne's murder.
Last Friday, 2 days ago, 2 cold-blooded hitmen pleaded guilty to their part in Daphne's assassination. While this is a step towards justice, it is far from the end. There are many – many – implicated in Daphne's killing. All of them must be caught and put on trial. Every single one.
The Maltese government – who pertain to welcome the sentencing of the hitmen – have pretty much ignored the recommendations of the Public Inquiry. They have made no commitment to ensuring the safety of journalists in Malta, protecting freedom of expression or safeguarding rule of law. The Maltese Prime Minister, Robert Abela, has refused to meet with the media freedom NGOs currently in Malta. Scottish PEN is one of 36 NGOs who've signed a statement denouncing the Maltese government's 'lack of ambition and transparency in its press freedom reforms.' This statement is very clear. It says:
'The lack of political will to initiate the effective and systemic reform that is needed casts doubt on whether Malta's political class has drawn any lessons from Caruana Galizia's assassination.'
Describing Malta as a mafia state is NOT an exaggeration. As Daphne said, in the final words she wrote in her blog only moments before she was killed: 'There are crooks everywhere you look now. The situation is desperate.'
Our presence here tonight sends a strong and clear message to the Maltese Government from the people of Scotland. We are here and we're not going anywhere. We are here to demand that all those involved in Daphne's assassination are caught and brought to justice. We are here to tell the Maltese Government that we will never look away. We will never forget. Our voices will get louder and louder until we have full justice for Daphne and for her stories which exposed the rampant scale of corruption and was the reason she was murdered.
Our presence here tonight sends a strong and clear message to our fellow activists in Malta and internationally. We are here, right beside you and with you, standing shoulder to shoulder and hand in hand. We are not going anywhere. We are here and we will always be here until we've achieved what we're fighting for – full justice for Daphne Caruana Galizia.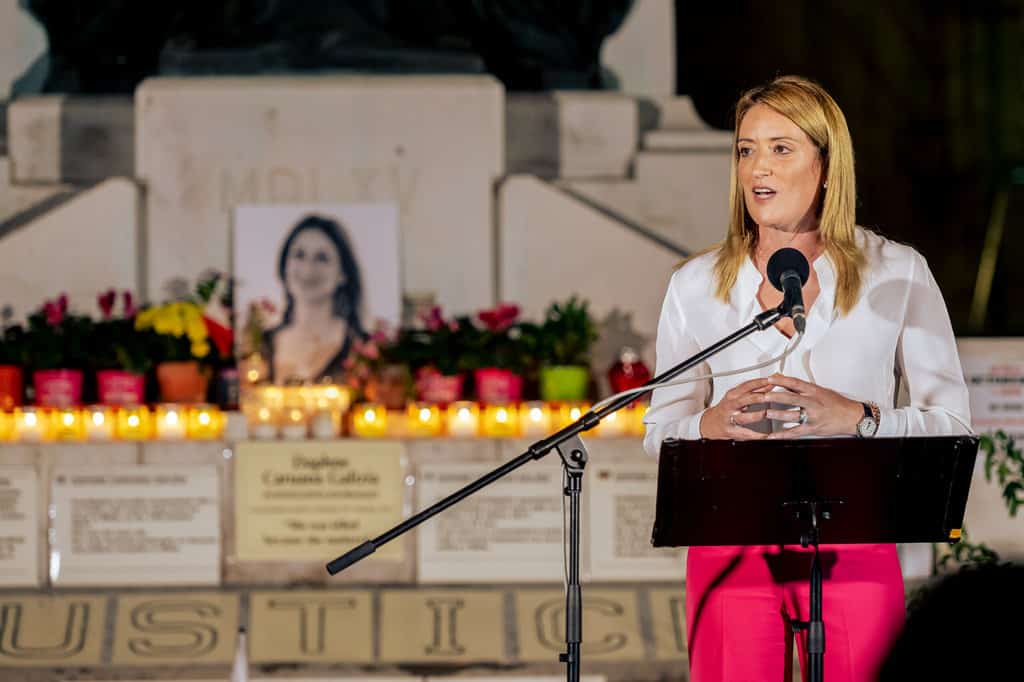 Lizzie Eldridge read out a message sent to those present at the vigil in Edinburgh from the President of the European Parliament Roberta Metsola.
Thank you for organising this event today. That people are gathering in Scotland to honour the memory of a Maltese journalist is testament to her global reach, to how many lives she touched and sends a powerful message of support and solidarity to all those still fighting for justice for Daphne Caruana Galizia, five years after she was executed in broad daylight on a quiet road outside her home.
Thank you for standing up. Thank you for remembering her work and the legacy of a fiercely courageous journalist who spoke truth to power. Daphne was a tough, funny, clever writer. Her pen was sharper than most, with her ability to burst the most over-inflated egos with one carefully written sentence infuriating the bully boys. They simply could not handle that she was not afraid of them.
As an investigative journalist, she changed Malta forever. But today I also remember Daphne the mother, the daughter, the sister, the wife – the woman who stood up to the mafia and refused to back down.
Journalists are the lifeblood of our democracy. They should never have to fear for their lives or be forced to waste time and money on frivolous lawsuits. This is why the European Parliament has been calling for an anti-SLAPP directive – a Daphne law to support journalists and we will get there.
Please remember her, please remember what she lived and was killed for and please keep standing with those demanding justice. Daphne deserves justice.
Roberta Metsola, President of the European Parliament