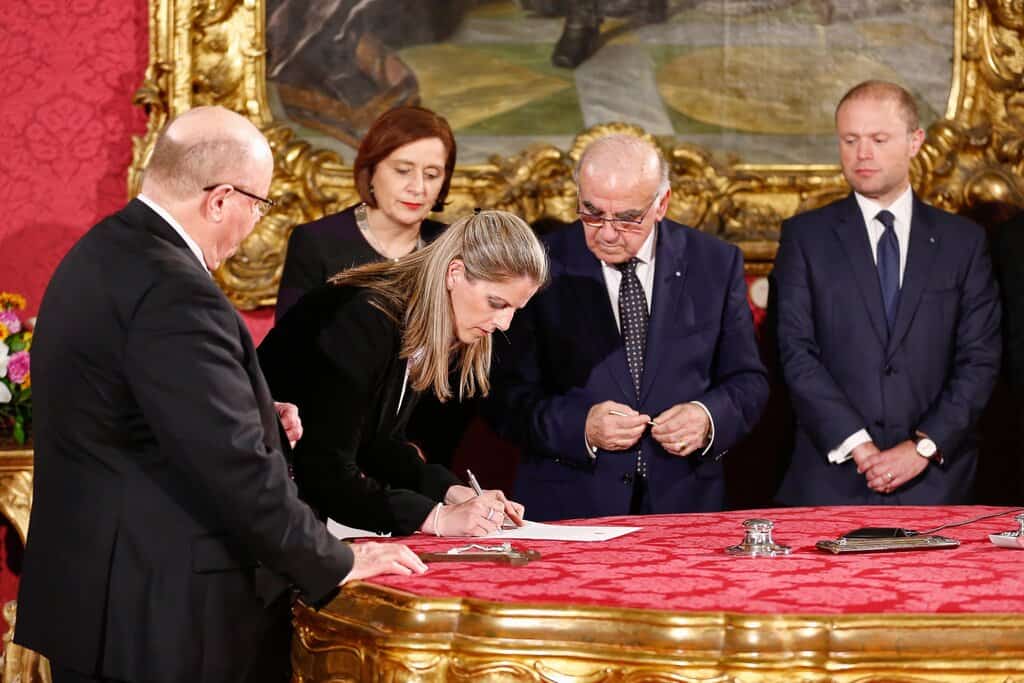 Judge Ian Spiteri Bailey handed down a rare order for Repubblika's proceedings in the magistrates court challenging police chief Angelo Gafà for failing to prosecute the owner and directors of the defunct Pilatus Bank to move to a different magistrate.
Interim measures on claims on grounds of fair hearing are rarely given as acknowledged by Judge Spiteri Bailey in his decision today. An interim measure is an intervention by a court reviewing a human rights complaint to intervene before deciding if a breach of human rights has actually occurred. This happens in cases were prejudice to fundamental rights is likely.
Repubblika filed a case in the constitutional court after Magistrate Nadine Lia, daughter in law of Labour Party and Joseph Muscat lawyer Pawlu Lia, rejected three consecutive requests to recuse herself from hearing the case brought against the police.
Pawlu Lia represented Joseph Muscat at the inquiry into the Egrant scandal that looked into claims that he received illicit payments made through Pilatus Bank. A subsequent inquiry into crimes committed at Pilatus Bank found new evidence that led it to recommend a reopening of the Egrant inquiry.
Repubblika's Robert Aquilina complained that Pawlu Lia approached him to warn him off challenging his daughter in law. In one of her written decisions rejecting Repubblika's calls for her recusal, Magistrate Nadine Lia referred to the incident providing an alternative description of the incident even though she did not hear submissions on the subject.
This detail was one of the considerations cited by Judge Ian Spiteri Bailey today that led him to decide Magistrate Nadine Lia should have recused herself from the case. The judge also said it was reasonable for Repubblika to fear it was not getting a fair hearing considering the different interpretation about what happened in open court when Magistrate Nadine Lia was reported by those present, including the author of this website, to have stormed out of her own court refusing to hear submissions by Repubblika's lawyer Jason Azzopardi. Magistrate Lia's interpretation of events was that Repubblika had not asked to make submissions at all, a fact contradicted by reporters present in the room at the time.
Judge Ian Spiteri Bailey recalled how on four preceding occasions Magistrate Nadine Lia recused herself from hearing cases were her personal background might give the impression that justice was not being served. The judge commented that her decision not to recuse herself in Repubblika's case was inconsistent with her otherwise correct past behaviour. She should have recused herself at Repubblika's first request, the judge commented, and having missed that opportunity she should have given up the case at their second or third request.
The judge ordered the court administration to take Repubblika's case against the police chief away from Magistrate Nadine Lia and to assign it to another magistrate.
Repubblika's case will continue to examine the merits of the complaint on whether the NGO's right to a fair hearing has been prejudiced.
Repubblika was represented in this case by Jason Azzopardi.