Statement by #occupyjustice: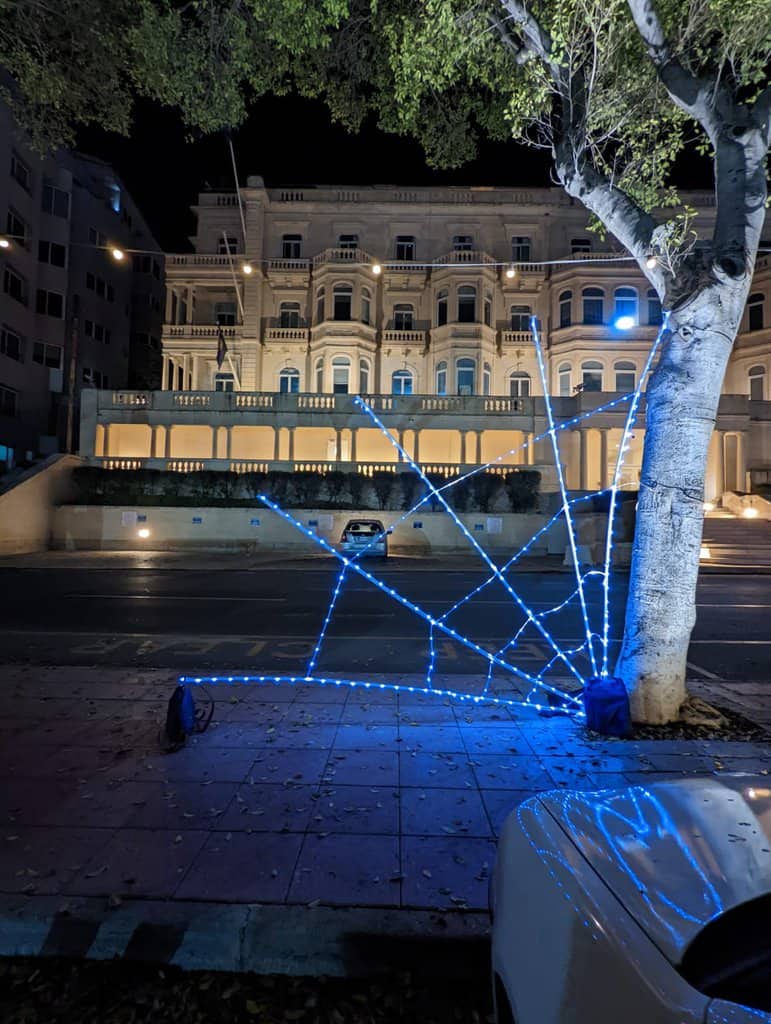 The Web of Corruption is no Halloween Stunt
Earlier tonight, #occupyjustice activists set up an illuminated spider's web outside the office of the now-defunct Pilatus Bank in Ta' Xbiex. Yet this was no Halloween prank.
Over six years have passed since investigative journalist Daphne Caruana Galizia began her investigations into the Pilatus Bank and, yet, the State is still protecting all those involved in setting up this money-laundering outfit, as well as all those who used its services to launder their ill-gotten gains.
It's also been almost two years since the expensive and lengthy magisterial Pilatus Bank inquiry found "irrefutable evidence" of money laundering, as well as evidence of trading-in-influence by Keith Schembri, the former, disgraced  Chief of Staff of the disgraced, ex-Prime Minister Joseph Muscat. Yet, despite all this, Attorney General Victoria Buttigieg, to this day, has failed to act against the five individuals identified in the inquiry conclusions.
Moreover, Magistrate Nadine Lia's recent astonishing refusal to recuse herself, in Repubblika's case against the Police Commissioner, Angelo Gafà, and the Attorney General, was great cause for concern; and despite a ruling by the Constitutional Court, which described her judgement as severely lacking, she is still digging her heels in and not doing the honourable thing by resigning.
#occupyjustice asks why both the Police Commissioner and the Attorney General have both failed to take action in all this time, to the extent of allowing one of the suspect money-launderers of Pilatus Bank to appear in court and leave Malta unchallenged, even if there was an arrest warrant issued on his name.
The general public is being hoodwinked into thinking that all is as it should be, and that the wheels of justice are well-oiled and working smoothly.  But the only thing being spun at an alarming rate is the web of corruption, which started in Castille, led by Joseph Muscat and his cronies, and has now spread to reach and ensnare many institutions, creating a stranglehold on justice and the rule of law.
The spiders have enjoyed impunity for far too long. Their tricks resulted in treats for themselves and their cronies.  They must be stopped. The cobwebs of corruption must be brushed away, in order for us all to have the good governance we have been denied, and so that Malta's once-good reputation is restored after years of filth.
This is our nation, this is our home, and we are the people.
We expect better.
We deserve better.
We demand better.