'When They Come Undone', a 2020 co-production of Repubblika, #occupyjustice, and manueldelia.com, was awarded the Best Editorial or Opinion Piece Award at the first IĠM Awards to be held in three years recognising the best journalistic works between 2020 and 2022.
The jury panel which selected the film that won this category reported that "there was a significant number of entries in the Opinion/Editorial Award. Comment is free, as they say. But we were guided by the guidelines on which journalists submitted their own works 'most relevant and impactful opinion piece.' And the ones which were shortlisted were both relevant and impactful as well as very well structured."
Louiselle Vassallo and myself as co-directors of the film received the award last night in an evening where the best work in the industry was recognised after a selection process that filtered over 300 submissions.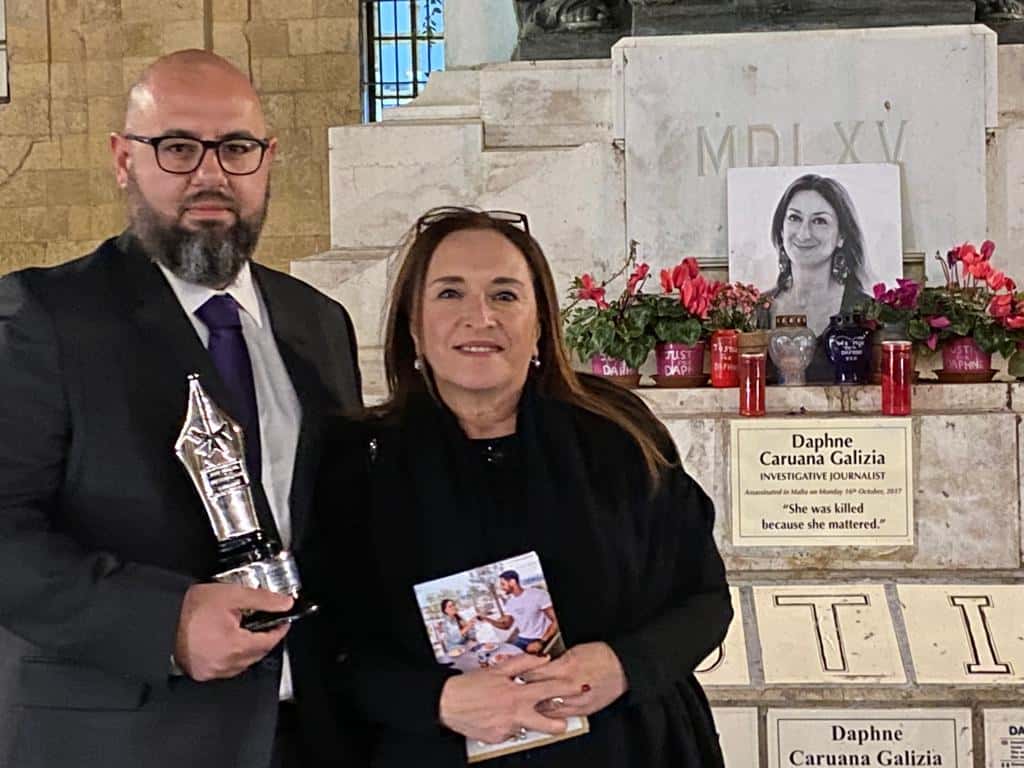 Louiselle and I yesterday saluted investigative journalists for their work and dedicated the award to Daphne Caruana Galizia whose journalism brought down a government two years after she was killed and which continues to resonate and influence Malta's politics and current affairs.
'When They Come Undone' tells the story of the protests organised by the three co-producing organisations in 2019 that brought about the downfall of Joseph Muscat and his government. You can watch the documentary again here.
The other awards handed out yesterday went to:
Best investigation: Jacob Borg, Ivan Martin and Matthew Vella
Online journalism: Jacob Borg
Audiovisual Journalism Award – Footage: Karl Andrew Micallef & Fiona Galea Debono
Audiovisual journalism (current affairs): Karl Andrew Micallef & Mark Laurence Zammit
Print journalism (news): Matthew Vella
Features journalism (online/TV/radio: Karl Andrew Micallef & Mark Laurence Zammit
Features journalism (print): Darrin Zammit Lupi
Photojournalism (news/current affairs): Darrin Zammit Lupi, Miguela Xuereb
Photojournalism: Jonathan Borg
Audio journalism: Charmaine Attard
Human interest: Sarah Carabott & Karl Andrew Micallef
Sports journalism (Print/online): Simon Peter Farrugia
Sports journalism (Online/TV/radio): Lovin Malta
Sports photography: Dominic Aquilina
Specialised journalism: Kevin Saliba
Upcoming journalist: Nicole Meilak
Best use of Maltese language (print): Sephora Francalanza
Best use of Maltese language (broadcast): Claire Preca Tarum, Liam Carter
Best story promoting rights of people with a disability: Malta Daily
Our sincere congratulations go to all award winning colleagues.
Though jury panels found that "winners excelled in their task to follow their stories diligently and then present them in ways that impressed by their creativity and clarity", reports filed by jurors were scathing about "many of the submissions".
A panel chaired by Ġorġ Mallia which included Ariadne Massa and Evarist Bartolo found many submissions "lacked finish, both in content and style, often showing a lack of investigative spirit". A second panel chaired by Natalino Fenech which included Ian Attard and Michael Schiavone also urged "more work of the winning kind" in a similarly scathing summary.