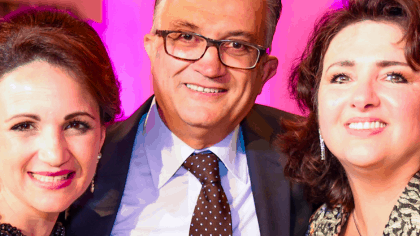 The Court of Appeal has quashed two decisions by a lower court that had found Caroline Muscat liable to pay damages of €10,000 for a series of articles she wrote when she was working at Times of Malta on Patrick Dalli, husband of Minister Helena Dalli.
The stories were published in 2014 and reported on irregular development on properties belonging to Helena and Patrick Dalli through Patrick's commercial activities.
The first court, presided by  Magistrate Francesco Depasquale, ruled that Patrick Dalli was a private person and deserved to be protected by the Courts from the intrusion of journalists. In his decision, Magistrate Depasquale —  rumoured to be about to be elevated to a judgeship — remarked that though Patrick Dalli is married to a Minister, he should not have been treated as a public figure and his behaviour was not subject to the sort of criticism or scrutiny that is fair for public figures.
"The fact his wife chose the path of politics should not condemn [Patrick Dalli] to close scrutiny and public exposure".
 A significant sentence in Magistrate Depasquale 's judgement was that "the family of persons in politics should never be used as a weapon for journalists and the media against the politicians".
 The Appeals Court today found that Patrick Dalli's property and business must be deemed to form part of Helena Dalli's assets. Judge Anthony Ellul said that Patrick Dalli "is married to a public person occupying a very senior government position. Minister Dalli declared that with her husband she owns 99% of PADA Builders Limited".  He added that this means that "Minister Dalli and her husband control the company and are its ultimate beneficial owners. The target was not Patrick Dalli but his wife".
The Appeals Court found that Caroline Muscat's journalism "was in the public interest because the works were happening in a property belonging to Pada Builders Limited that was listed in Minister Dalli's declaration of assets".
The Appeals Court said that the lower court had resorted to "pure speculation" when it agreed with Patrick Dalli's claim that Caroline Muscat intended to besmirch his reputation.
The total damages amounting to €10,000 have been quashed and expenses for both the original lawsuit and the appeal have been charged to Patrick Dalli.
Today's decision is an important landmark for free journalism in Malta. The original decision risked allowing politicians to cover up activities they did not wish to be publicly examined by hiding them in companies in their spouse's name which would then be protected from any journalistic scrutiny because the spouses were "private persons".   The scale of the damages imposed by the first court would also, had it not been for the Appeal Court's intervention, be seen as chillingly prohibitive and would have had the effect of discouraging investigations into the "private" conduct of politicians.
Caroline Muscat 's ultimate victory highlights the fact that the courts have to recognise that investigation into possible misconduct by spouses of public figures, especially where the public figure benefits from that misconduct, are matters of public interest and deserve the protection of the courts.