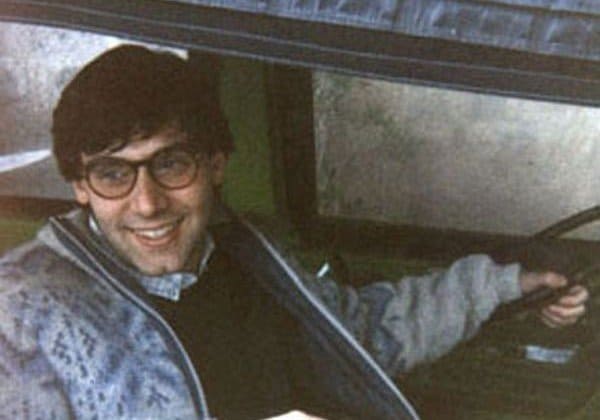 Giancarlo Siani was an Italian crime reporter from Naples, who was killed by the Camorra. On June 10, 1985, three months before he was killed, Siani had revealed that the arrest of Valentino Gionta had been decided by Lorenzo Nuvoletta, head of the Nuvoletta clan, a rival Camorra clan. Siani was preparing a dossier on the Torre Annunziata massacre in August 1984, which left eight people killed and 24 wounded among the Gionata clam allied with the Nuvolettas at the time. After the massacre tensions between the two clans had increased.
Siani was executed in his soft-top Citreon on September 23, 1985, while approaching his Naples apartment. He was killed by a squad of at least 2 men who approached from behind and shot him 10 times in the head. Read more in this Wikipedia entry.
Campaigners continue to remember Giancarlo Siani reminding that the journalist could really be killed because he was left alone as he worked on revealing what the local crime lords had been up to.
Two days after Daphne Caruana Galizia was killed, Italian newspaper Il Manifesto remembered both journalists in a front-page cartoon.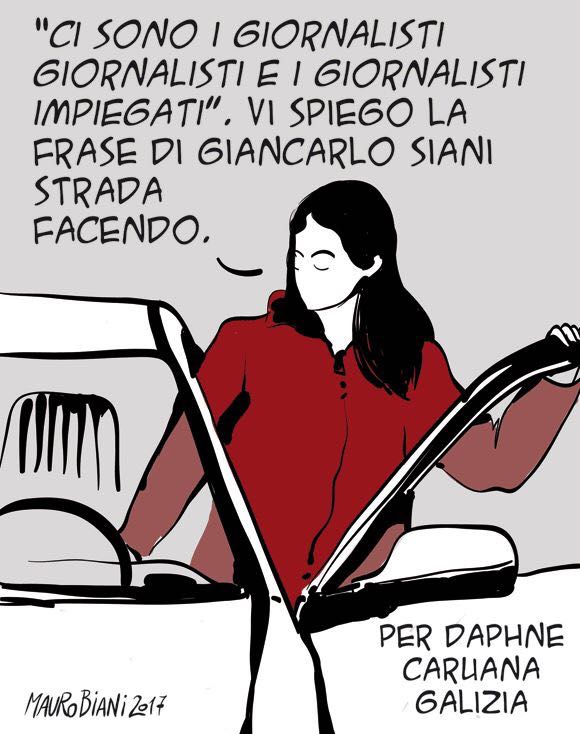 Last week at Daphne's vigil, Giancarlo Siani's brother Paolo. Vicki Anne Cremona read out a Maltese translation of the message. The Italian original follows.
Perché Daphne è morta?
Quando un giornalista viene ucciso e in questo modo, con un'autobomba, non può che essere per il suo lavoro, per quello che sapeva, per quello su cui indagava e scriveva. Ma soprattutto per quello che non aveva ancora scritto, ma sapeva.
Questo deve essere il punto di partenza di tutte le indagini, anche se complesse e difficili.
La procura generale maltese ha formalizzato le accuse e chiesto condanne all'ergastolo per i tre presunti autori materiali dell'omicidio di Daphne Caruana Galizia, ma restano sconosciuti i mandanti.
Le storie dei giornalisti uccisi in Italia sono uguali a quella di Daphne. In tutti i casi, se dopo le prime fasi tutti parlavano di mafia e tutti dicevano cercate nei loro articoli, in quello che dicevano alla radio o alla tv, poi piano piano le indagini si indirizzavano verso altro e quando pure venivano arrestati gli autori materiali i mandanti spesso restavano nel buio, proprio come per Daphne.
È successo così per Peppino Impastato, Mauro Rostagno. E' successo così anche per  Giancarlo.
Come ha sottolineato l'Unesco, non ci si può limitare a commemorare i giornalisti uccisi senza comprendere che essi rappresentano solo la punta dell'iceberg.
Infatti per ogni giornalista ucciso ve ne sono tantissimi che subiscono minacce e intimidazioni.
Penso che oggi la libertà di stampa e di informazione nel nostro Paese siano fortemente minate.
Nessun giornalista può essere lasciato solo. E le istituzioni, oltre che i cittadini, hanno l'obbligo di dimostrare che non lasciano solo o indifeso chi mette a rischio la propria vita per informarli.
E allora ecco che la memoria è importante.
Perché  ci consente di ricordare fatti del passato per cercare di comprenderli, e trarne indicazioni valide anche per il presente.
La memoria è fondamentale per la collettività.
Un Paese senza memoria è un Paese condannato a deperire.
La memoria poi si materializza, nei monumenti, nei simboli, nelle intitolazioni delle strade, delle scuole, e serve a ricordare anche dopo molti anni le vittime delle mafie.
Il nostro è un Paese che tende a ricordare i caduti con corone, celebrazioni, ma senza meditare a sufficienza sul significato di quelle morti ed evitare quindi che ce ne siano altre.
Per questo motivo da 34 anni mi batto nella mia città, Napoli, per ricordare Giancarlo e i giornalisti uccisi e con loro tutte le vittime innocenti della criminalità.
Conosco bene la solitudine, le sofferenze dei familiari di Daphne. Tocca a loro e a tutti noi tenerne vivo il ricordo, per provare a costruire una nuova società libera dalle mafie.
Non siete soli.
Paolo Siani