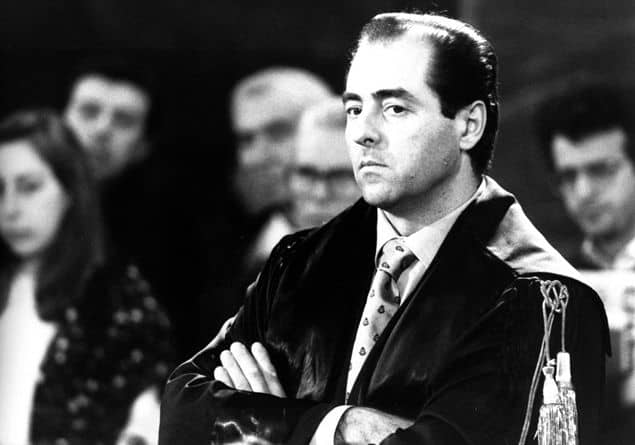 Penal responsibility is personal.
On 17th February 1992, Italian Judge Antonio Di Pietro ordered the arrest of Mario Chiesa for accepting a bribe from a Milan cleaning firm.  It looked like a low-level isolated minor charge.  As it happened, however, Chiesa was a member of the centre-left Italian Socialist Party (PSI), and, PSI's leader Bettino Craxi called Chiesa a "mariuolo" (villain) and a "wild splinter" of a clean party.
Chiesa was upset, there is no honour among thieves, and he decided to spill the beans.  Chiesa started to give information about corruption implicating his erstwhile colleagues, which led to the beginning of the "mani pulite" (clean hands) investigation.  As many as 5,000 public figures fell under suspicion, more than half of Italian MPs were placed under indictment, the so-called "First Republic" died and many political parties disappeared.  The four parties in the 1992 government vanished.  The investigation spread to a Milan judge, eighty financial regulators, three hundred industrialists and entrepreneurs, Fiat, and four hundred city and town councils.  A major source of public anger came from the perception of "stealing money from hospitals as an especially heinous act".
In 1993 the former president of energy company Eni, Gabriele Cagliari, took his own life in gaol.  The infamous Cusani trial saw serious accusations of crimes connected to Enimont (a joint venture between energy companies Eni and Montedison).  Former prime minister Forlani could not remember when questioned about past dealings and Craxi admitted that the PSI had received around US$93 million of illegal funds.  His defence: "everyone was doing this".
There were some historic moments as the trial evolved.  Prosecutor Antonio Di Pietro famously said: "La responsabilità penale è personale, non posso portare in giudizio una persona che si chiami Partito di nome e Comunista di cognome" (Penal responsibility is personal.  I cannot bring to the courts a person with the first name Partito and surname Comunista).
In 1994 Silvio Berlusconi's brother Paolo admitted to corruption crimes.  He was arrested and released.  On 29th July he was arrested again and immediately released.  His brother was the prime minister.  Berlusconi hit back and whilst his companies were being investigated, government "inspectors" were sent to investigate the Milanese judges' office to look for irregularities, starting an all-out war between Di Pietro and Berlusconi.  No irregularities were ever found.  Berlusconi's firm control of the media, and this intimidation, helped spread fear, uncertainty and doubt about the motive of those demanding justice.
In the end the war ended without winners: Di Pietro resigned, Berlusconi never went to gaol due to the expiration of statutory terms, Craxi fled to Tunisia and the whole scandal just fizzled out, deprived of energy and state-sponsored oxygen: it was extinguished by powerful forces.  The multi-headed beast of corruption was not slayed and business and political influences in Italy continue to be a major wound in the country's economic and social progress, majorly hampering the functioning of the country's institutions.
Penal responsibility is personal.
Italy's tangentopoli scandal (the term was born of tangente (kickbacks) and polis, Greek for city) is redolent with the same elements of Malta's own Panamagate.
By cementing themselves together and not voting against Konrad Mizzi, by not breaking ranks, by making unanimous declarations in favour of Muscat, they have a clear, and not coincidental, tactical approach.
To para-phrase Di Pietro "non si può portare in giudizio una persona che si chiami Partito di nome e Laborista di cognome".  Bribes to the Partito Comunista Italiano had been alleged but it could not be established who had individually been responsible and although several PCI members were charged, they had to be acquitted.  As all lawyers know, and goodness knows there are a good few of them in and around Malta's governing party, where there is no local precedent, judges will refer to foreign legal precedent in formulating judgement.
Penal responsibility is personal.
We, the people, the honest, hard-working law-abiding citizens who pay for everything this corrupt cabal legally and illegally pockets, must hold individuals to account.
They have names and surnames.
And we must make sure that our protests identify them individually: Joseph Muscat, Keith Schembri, Yorgen Fenech, Konrad Mizzi, John Dalli, Angelo Farrugia, Lawrence Cutajar, Peter Grech, Adrian Delia, Kurt Farrugia (the infamous Baku visit) and many others.
They must all first individually resign and then they must be investigated, questioned, and where wrong doing is established they must be prosecuted.  It will be our national shame if like Craxi, they flee, if like Paolo Berlusconi, they are released immediately, if like Cagliari they cheat justice.
Financial services are the backbone of our economy.  The criminal sale of passports must stop and the whole stable must be cleaned out, disinfected and fresh hay must be put in.
Dear Malta: do not risk the grave and serious omni-present danger of Tangentopoli II.  It will kill you if you do, just like it killed off Italy.