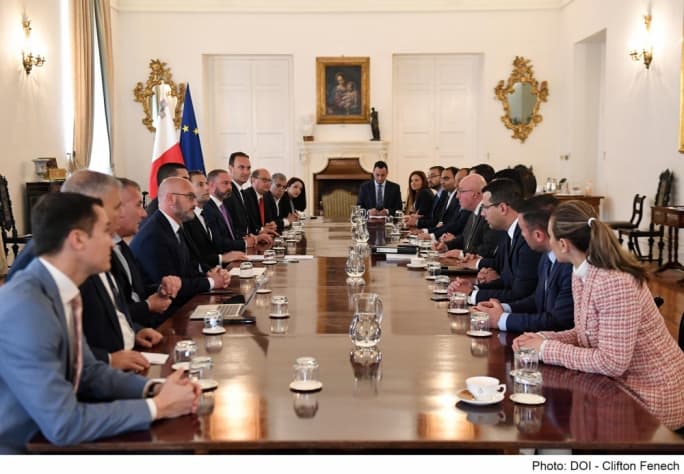 A few days ago, I wrote a piece about the people Robert Abela left out of his government and why I thought those were good decisions. Here I am following up the piece with a list of decisions he took on who to include in the government which I think are wrong.
Owen Bonnici was obvious to everyone, except perhaps to himself judging by his revolting piece in The Malta Independent today. Tyrants in the Kim mould of Pyongyang normally get others to publicly praise their superhuman achievements.
Owen Bonnici cuts out the middleman. He is his own propagandist, the herald in his own train, the spittle that drips from the bell of the trumpet he blows to announce his arrival.
The people have elected him in huge numbers, he says, because he is kind, his legacy, still in the making, providential, his sense of tolerance and understanding in sharp contrast with the unelected Blue Heroes so full of hate.
There was no mention in there of receiving the court's condemnation for speaking of a protest calling for justice for Daphne Caruana Galizia as "żibel" and treating it as such every day for 500 days. No mention of overstepping his powers as Justice Minister to intervene in the Egrant inquiry on behalf of his "clients" (his words, not mine) Joseph and Michelle Muscat. No mention of the disaster that was Valletta 18 the only mitigating component of which was the fact that everyone forgot about it before it was over.
In his article today, Owen Bonnici threatened to intervene in public broadcasting. It is hard to imagine how that North Korean propaganda vehicle can be made worse. They have censored the Pope because remarks he made about corruption were too inconvenient for the government. They have brought in the Jew-baiting neo-Nazis of Imperium Europa to balance out the Pope's remarks about loving our fellow woman and man even if they're black. they prefer 'racialist neo-fascist' but what's in a name? And please don't laugh at their neo-colonising name. It is a racist insult in and of itself.
Not once in those 500 days did the public broadcaster report on Owen Bonnici's censorship of the Daphne protest. They're not going to do it now.
You'd better believe that things can and will get worse. And as if he was taking instructions from Lady Macbeth, Owen Bonnici will be kind and mild, killing democracy softly, because he can smile, and murder while he smiles.
Carmelo Abela is finally out of government (and, incidentally) out of the control of PBS though that particular bubble of fat has jumped from the frying pan into worse. Evarist Bartolo has been retired by the electorate and deprived of the help of his party there was no way for him to find his way back into a Parliamentary seat.
That's the last two foreign ministers of this country unceremoniously exiled from government. They are replaced by Ian Borg, himself an exile from the roads department which he used to transform the island into a concrete jungle.
Few of our most recent foreign ministers filled the criteria required for the job. It is wrong to evaluate someone's performance on a job before they've even started but it's unlikely Ian Borg would have passed a job interview for his position. The idea of Ian Borg – abrasive, sarcastic, haughty, snide, and vulgar – as our top diplomat is hard to digest. If he has the talents required to make a success of the job, he's been hiding them well. Too well.
If you think about it, there's a lot else Robert Abela should have changed in his cabinet but didn't. He had another abrasive, sarcastic, haughty, snide, and vulgar candidate for the foreign office in Silvio Schembri. But he left him at the economy ministry. If we get our foreign policy wrong there's not much more harm to our international reputation that anyone can cause after Joseph Muscat. But more years of incompetence in the economy ministry could spell disaster.
Like Germany on the dawn of a new Cold War with Russia, it is dawning on this country that our dependence on tax-swindling economic sectors is unsustainable in the long term. The old days of comfort are gone. We just can't expect to continue helping tax cheats dodging their dues to other countries for a living. We need alternatives, new economic sectors that can earn us a living in the coming decades.
Silvio Schembri tried his hand at just one thing: blockchain, and he's made a dog's breakfast of it. He is not known to have any backup plan and even if he did, experience shows that there is a proper gulf between his ambition and his ability. He can quip and mock at the expense of some Opposition MP who doesn't have the floor of the House at the time, but he can't draw up an economic policy to save his life. Sadly, that means we all drown.
Byron Camilleri stays on in security and defence, the job that seems to fit his fascistic tendencies like a black leather glove on Herr Otto Flick of the Gestapo. Deaths in custody, fires in detention centres, drownings at sea, exposed push-backs to slave camps in Libya, nothing fazes Byron Camilleri. The only reason Owen Bonnici has a human rights violation on his record is because I could prove I was his victim by signing my name on a poster he ordered thrown away. Byron Camilleri's victims are hanging from a rope or in the bottom of the ocean. Just because they can't sue, it doesn't mean he's not violating human rights more consistently than a smoking habit.
If we've had a mediocre serious of foreign ministers, including Evarist Bartolo, we've had a positively calamitous row of education ministers, including Evarist Bartolo. And Justyne Caruana. And, wait for it, Owen Bonnici.
Clifton Grima has been confirmed as headmaster-in-chief, a job he first got when Justyne Caruana tumbled in disgrace in the last months of the last Parliament. The only logical reaction to the name of Clifton Grima is: 'who?' There's not much that we know of the man except that he's tall. He has used a total of zero opportunities to spell out his vision for education and his own official online biography suggests he's more interested in sports than in education. Don't get me wrong, sports is important. I wish I practiced that realisation more than the facility with which I pronounce it.
But going back to the point about Silvio Schembri having no idea what we're going to do next after the blockchain thing has floundered, you'd have to wonder what Clifton Grima would be planning so that our children are ready for whatever Silvio Schembri is not planning.
One of those buzzwords I dislike for being buzzwords is to make things "future proof". It's meant to be a good thing, that even as time passes something is made to last and not to become redundant too soon. It seems to me that "future proof" for us is a policy immunity to the fact that times change around us and the government cannot milk the PN's economic program from 2004-2013 for much longer.
I've written elsewhere about the new justice minister Jonathan Attard, for years Chris Cardona's right-hand man. Since Chris Cardona is an undeclared fugitive from the law, his assistant should be the least qualified for the post of justice minister. Consider how Jonathan Attard has inherited many of Chris Cardona's posse of canvassers with criminal reputations of an impressive magnitude. The face may be different, the blurring of the line between politics and crime remains as unhelpful as ever.
Gozo Minister Clint Camilleri remains responsible for "wild bird regulation" which is newspeak for license to kill or trap birds without regard either to biodiversity or international law.
Even the last thought flashing through the faint consciousness of a bird on its way down from the sky as it tumbles to its death will be that even after all those speeches from Robert Abela about the greater humility of greater power, some things never change.