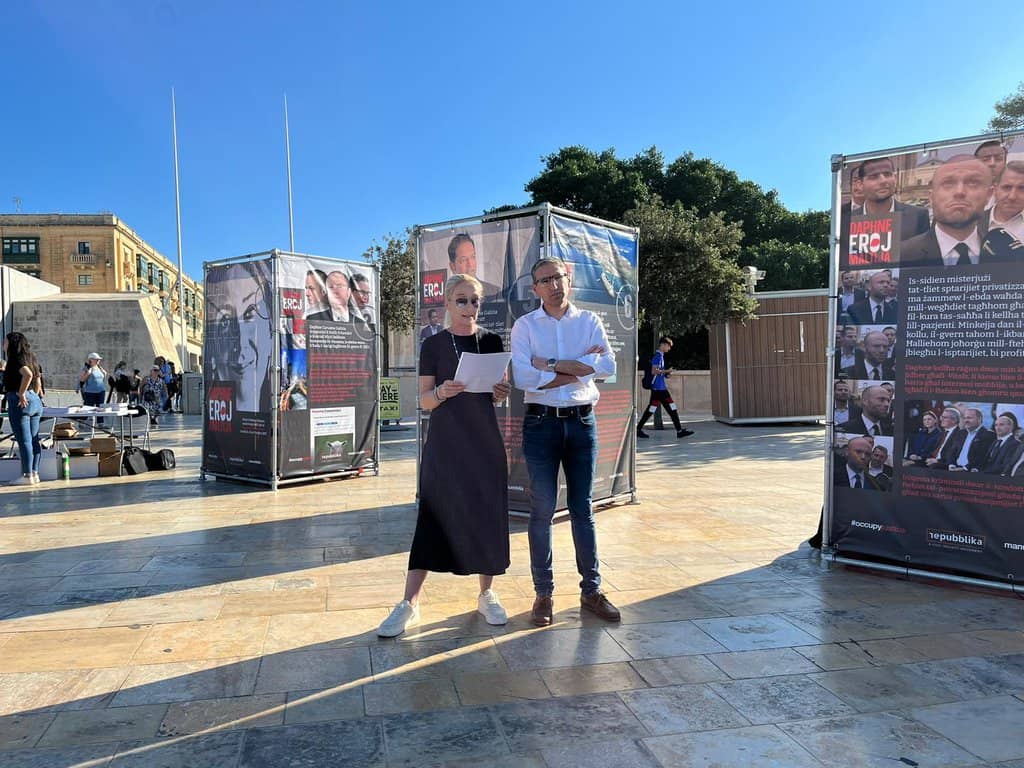 For the past five years we the women of Occupy Justice have campaigned hard calling for justice for Daphne Caruana Galizia and her family. Here we are on the eve of the fifth anniversary of her killing and justice remains elusive.
We may be close to a trial of two of her killers and another one is serving a reduced sentence to help the police. But even in comparison to what we know this is nowhere near where justice should be by now.
Even worse is the failure of the state to act on the crimes Daphne's murder was commissioned to cover up. The Maltese state is unwilling or unable to prosecute criminals with political influence. There's a mixture of complicity and ineptitude and repeatedly in court, crooks like Keith Schembri and Yorgen Fenech are invited to laugh at us and even give reasons to make themselves out to be the victims.
The Maltese state is unwilling or unable to render justice to Daphne the journalist. We will try to do some of that with this exhibition and the documentary we co-produced with Repubblika which is premiering on Wednesday 12th where we're looking at the investigations Daphne was working on right until the moment she was killed. Those stories continued to develop since she died, mostly through the work of other journalists who picked up her torch.
Those stories confirmed Daphne was right. The Maltese state doesn't want to acknowledge it. It would hurt them to admit that Daphne was right when our political leaders, subordinates of Joseph Muscat, had been so, so wrong.
In our own small way, we aim to give Daphne a small portion of the justice she deserves, by recalling her work and underlining just how right she was.
The Maltese state is unwilling to render justice to Daphne the journalist. More than a year ago the public inquiry documented how the Maltese state failed to protect her life and actively created the atmosphere that allowed her killers to reach her. The same political leaders found responsible for running a state that killed a journalist, now want to write laws ostensibly to protect journalists.
They expect us to trust them to empower journalists, to uncover their dalliances and their crimes. They expect us to believe they will unilaterally submit themselves to journalistic scrutiny now, when just five years ago they killed or allowed  others kill Daphne for them.
The Maltese state is unwilling to render justice to Daphne the person. They still avoid using her name as they avoided it when she was alive. They still pretend she never existed and she was never deserving of the attention her powerful work demanded.
In the absence of a proper official recognition of this victim of state failure, we'll remember Daphne, the mother, daughter, wife, sister, aunt, and friend. Archbishop Scicluna will say mass on Sunday 16th in the morning at the Bidnija chapel.
In the afternoon at 3pm, in the hour and the place where Daphne last drew breath, we the women of Occupy Justice will pay silent tribute to Daphne. We will relive the silent horror of her taking, but we will continue to stand in hope that her example and her ultimate sacrifice moves hearts and minds.
To us women Daphne was a particularly shining example. Her voice never trembled in a man's world where men expect women to shut up. She did not mind criticising women in public life who fell short of their responsibilities and sometimes, this was misconstrued as disloyalty to women in general. She's been accused falsely of many things and this was one other falsehood, one other injustice she was made to suffer.
Truth was for her the highest value and she spoke it without fear or favour. But she was warm, kind, and generous and her concern for women suffering at the hands of men was exemplified by more than her journalism. Her quiet support of Dar Merħba Bik shows just that.
It is not insignificant that some exemplary women will be joining us at the events marking this 5th anniversary, particularly the evening of the 16th at our march that starts from behind me at 18:30 and culminates with the vigil in front of the court building.
Maria Falcone is more than the sister of a famous judge killed by the mafia. She is an eminent jurist who has testified in her country and around the world for thirty years of unceasing campaigning mobilising students and teachers to fight the mafia.
Carole Cadwalladr is a brave journalist who stood up to the abuse of our democracies by radicals, extremists, and corrupt interests who were given the space to steal ballots in Western Democracies by giants like Facebook and Google. She was faced by crippling SLAPP suits intended to intimidate her to shut up.
But for the fact that she's alive her story resembles Daphne's in many ways, a sister both professionally and emotionally. Carole Cadwalladr will also be answering questions in a session that should interest anyone who is worried about how democracies around us, including our own, are eroding through manipulation and the abuse of technology. That session is happening at the old university building on Saturday 15th in the evening.
Also joining us on Sunday at our vigil will be the European Parliament's president Roberta Metsola.
Five years ago, under shock at the news of the killing of Daphne, we watched and waited as our political leaders debated whether the murder of a journalist merited a shift in the agenda of parliament for a special discussion. At the time they decided the matter wasn't important enough. That's when Occupy Justice came to be. We realised we could not wait for our politicians to fix the mess they had caused. If we waited for them to clean the mess they'd seek to hide it instead.
Five years later we find that the European Parliament will be discussing how Malta has still not given justice to Daphne and has still not done anything to reverse the toxic atmosphere that killed her. Some Maltese politicians pretend to be shocked by this decision of the European Parliament. For them there are no challenges to discuss. That denial is itself a threat. We are now worse off than we were on the eve of Daphne's killing. Because now we have a government that openly lies by saying they have solved problems they have never accepted existed.
As it was 5 years ago, it falls to us, to call on all women and girls who like Daphne want a better Malta, a democratic Malta where human rights are expected and speech is free, to raise their voices. Please join us at these events over the coming days.
This is our nation, this is our home, and we are the people. We expect better, we deserve better, we demand better.