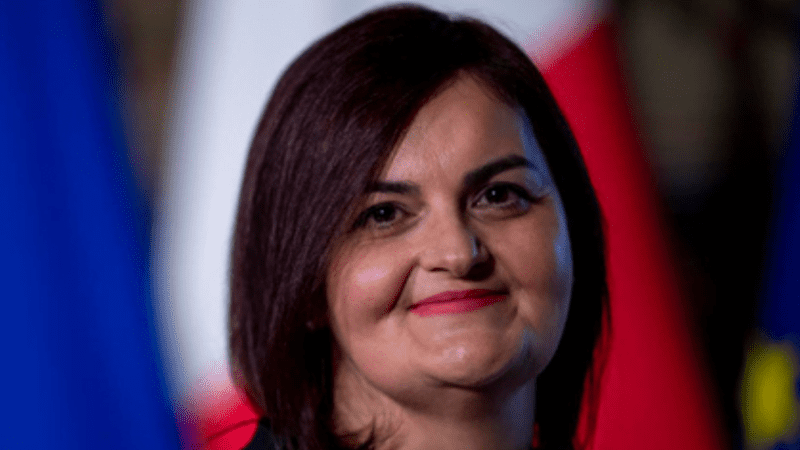 Isn't the sight of Victoria Buttigieg hiding behind hired hands and making a run for it when journalists wanted to ask her questions she had every reason to expect, the most representative picture of how utterly mediocre the government of this country is?
Truly it must be asked, is there no one better than this?
The chief prosecutor should at the very least be one of the most brilliant lawyers alive. She should be cool, calm, rational, erudite, eloquent, competent, persuasive, industrious. She should be fearless, have no hesitation to confront risk, instil fear in criminals and confidence for law-abiding citizens that she's protecting them from criminals. Being the country's chief prosecutor is an impressive job. The occupant in the position should at the very least be impressive.
Victoria Buttigieg is as impressive as a leaky faucet.
Should a person endowed with the very basic qualities required of the foremost prosecutor in the land have any difficulty handling a bunch of pesky journalists and their questions? If she's hired to argue and persuade such exalted benches as the Constitutional Court, the Court of Appeal, the European Court of Justice, the European Court of Human Rights and other august institutions where so much skill is required, why is she unable to give Newsbook, Times of Malta, or Net TV a convincing answer? She didn't even try giving them an unconvincing one.
If she's hired to send to their fate the worst criminals of the country, killers, fraudsters, bosses of organised crime syndicates, people who kill and maim to get their way and who consider the exchange of fire as an occupational hazard, how is she scared of three reporters armed with a notebook?
If our chief prosecutor is hired to look murderers in the eye why can't see bear the dim glance of a man and his book?
You may or may not agree with me that she can't deal with questions on her decisions with respect to Pilatus Bank because any answer she pronounces would confirm that she's covering up for, and colluding with, people she knows have committed very serious crimes.
But whether you agree with that assessment or not surely you cannot help agreeing that her paralysed behaviour in the face of any form of public scrutiny justifies those who like me think she has too much to hide.
And you cannot help agreeing that at the very least this country's chief prosecutor is a spineless coward who runs away from confrontation, when her job requires her to have irrepressible courage and the willingness to arm-wrestle and defeat the criminals who hurt us.
You saw her run to safety and leave you without answers. Do you feel safe knowing she's all you have to protect you from crime?