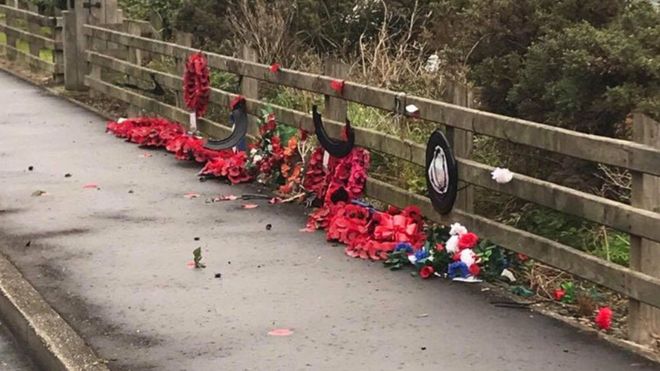 Damage to poppy wreaths at Narrow Water in County Down is being treated as a hate crime by Northern Ireland police.
Eighteen soldiers were killed in two IRA bomb attacks at the site near Warrenpoint, Northern Ireland, in August 1979.
BBC reported that the damage happened on Saturday afternoon and the wreaths have since been replaced.
The chairman of Cliftonville Football Club reacting to allegations that persons returning from a game his club was playing at Warrenpoint said: "we live in a sad society where anyone would get a kick out of desecrating a memorial".
As can be seen from these images the memorial is merely flowers and wreaths that have been placed and kept on the site for the 40 years since the killings.
Although thankfully less so, the presence of British soldiers in Northern Ireland was a matter of deep division and controversy for a long time.
The reason I bring this up is obvious. This week we have established with photographic evidence and confirmed with their own official admission that Malta's government has damaged, stolen and removed wreaths and flowers in a very similar memorial marking the assassination of a journalist in Malta less than a year ago.
Here too that is a hate crime. Hate perpetrated by the government of our very own state.