Once again Joseph Muscat got his staff to argue with journalists, this time from El Pais, why they're justified in sweeping away candles and flowers left in protest in Valletta since Daphne Caruana Galizia's killing.
"According to a spokesperson," reports El Pais, "the problem is that the candles and posters are on the monument dedicated to the Great Siege of Malta, 'which has caused a great offence to many people'."
No similar iron curtain arguments are heard in other places where people mark their demand for justice for journalists elsewhere in Europe.
A passer-by sent in this picture taken this afternoon in Bratislava protesting the killing of Jan Kuciak and his girlfriend Martina Kusnirova.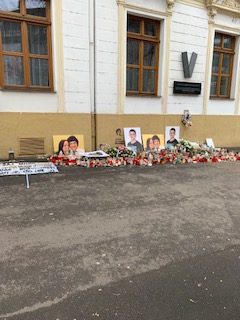 No one is offended by the presence of the protest site and no authority explains to the press of the world why they ban it.
Here is a photo, taken a few days ago at the memorial to, and burial site of, war hero General Jean-Baptiste Kleber in Strasbourg now used by protesters marking the deadly December attacks. No one is offended the memorial in the largest public square in town now also marks something which is not strictly related to the formal dedication of the memorial.
No government spokesperson has to explain why it's taken away every night. In Europe, such a thing would not happen.