(Updated with Editorial Note at 21:50)
Editorial Note: The commentary below alleges that Bishop Grech arranged for the sale of a diocese-owned apartment to be sold to a relative of his. Its author insists they base their claim on multiple sources. However, I was contacted by Fr Eddie Zammit, personal assistant of Bishop Grech and personally a member of the diocese's committee that manages property. Fr Zammit acknowledges that the 'rumour' of the sale has been widespread but it is a complete falsehood. Fr Zammit assures me no such sale has occurred. On the contrary the standing instruction to the property committee during the tenure of Bishop Grech was not to alienate church property.
====
Bishop Mario Grech announced he'll be leaving his post in Victoria and going for a new job in Rome. Joseph Muscat congratulated him in a tweet earlier today.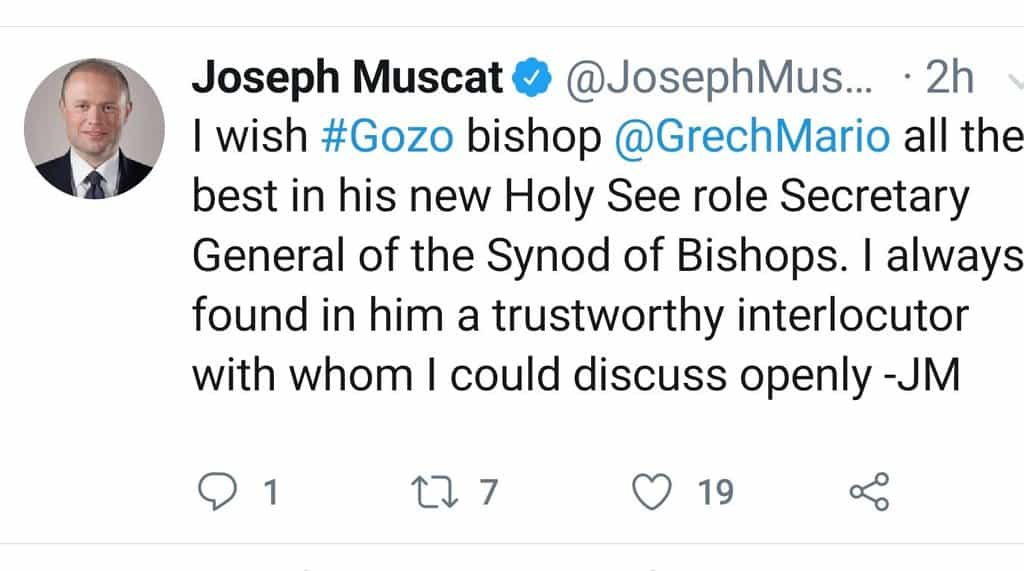 A few months ago I published this guest post about Mario Grech. The author at the time said Mario Grech had two masters, Rome and Castille. In this auspicious day, the author of that guest post wanted to revisit the topic of Monsignor Grech. The author is known to me.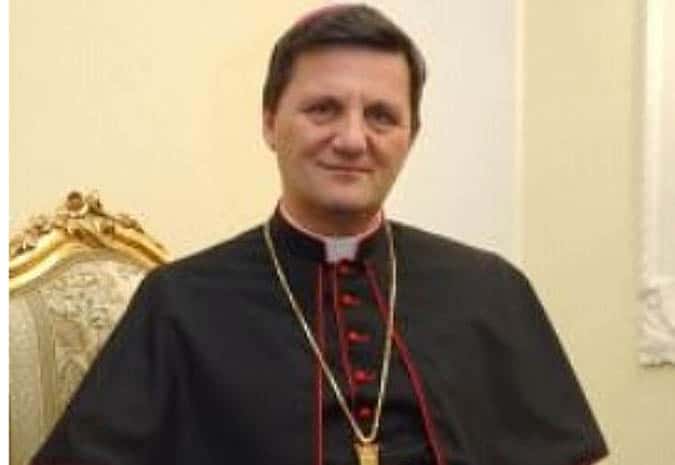 Flattery will get you everywhere
So Mario Grech's hard fought campaign to go places other than Gozo has finally come to a close. The post in Rome that was announced earlier this morning is not his first choice though, for his heart was originally set on succeeding Archbishop Cremona in Malta but a certain Charles Scicluna got in the way of his ambition and he never let him forget it. The faithful of Malta are rejoicing though. The possibility of having him as bishop was haunting them like Banquo's ghost. So when you see Grech's face wreathed in smiles, remember that this is not what he really, really wanted.
Before 2015, the running joke was that Grech spent more time in Malta than in his own diocese. Like all good impresarios he changed tack and embarked on his shameless self-promotion circus in Rome when Scicluna was made Archbishop of Malta. So in actual fact, of the fourteen years as bishop, he spent most of it campaigning for promotion rather than actually taking care of his flock. But that is most unkind for he did take care of his flock, especially those members of the flock very close to his heart. Grech ruled Gozo like an absolute monarch, dishing out largesse and favours like they are going out of fashion while stamping on dissent like the tin pot dictator he is. But I digress.
The good bishop made sure that his loved ones never want for anything while he ruled Gozo and even more so now that he is heading for Rome, even going so far as to sell a wonderful sea-view flat in Marsalforn that belonged to the diocese of Gozo to one of his siblings at a vastly reduced price only a few weeks ago. (See editorial note above). Such pastoral planning is very admirable, isn't it? So many people are grateful to the good bishop for being so merciful towards them. Mercy is such good currency especially if you want to impress the man in white in Rome. So merciful was the good bishop that he refused to listen to the wagging tongues of people regarding sexual impropriety of some of his clergy. Grech was so merciful, towards the perpetrators. And only reluctantly took steps when the murmurings against him got louder and louder.
But the good bishop still wanted his protégés by his side at important liturgical functions and threatened to sue poor bloggers for libel when they pointed out his hypocrisy. Now who else is a fan of libel suits, we wonder? His chum in Castille, the other tin pot dictator with a Napoleonic complex. Lest we forget, Grech is also a bully. Some clergy, on the other hand, will surely never forget his unmerciful behaviour towards them purely for questioning some of his actions. 'Thou shall shalt not commit lèse majesté towards Mario Grech' superseded all the other Commandments given to Moses by the Almighty himself.
But what is the Almighty next to the Emperor of Gozo? He never let anyone forget it even though he waxed lyrical about humility and poverty (what poverty?) all the while living the life of an absolute monarch surrounded by the trappings of authority, imagined or otherwise. Will he refuse to wear scarlet when he is made cardinal, we wonder? Not if he can wear white. So you see, Mario Grech is the personification of a sycophant and courtier.
If you are a cleric reading this, and you feel a twinge of regret for not playing the game and going places, remember this: would you like decent, upstanding people to look at you and think that you have obtained your position, however prestigious it might be, not through merit but because you are an opportunist and a player? I think not.