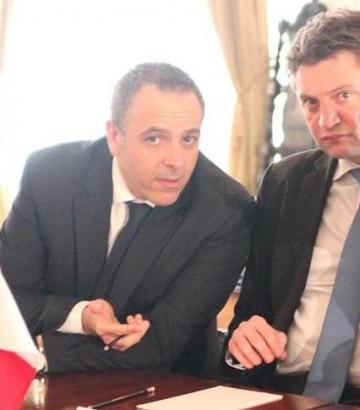 The Times of Malta today quotes Konrad Mizzi saying he regrets setting up a company through Mossack Fonseca in Panama. Of course, he does. If he set it up with any other bent law firm in any other banana republic without a John Doe spilling the beans his political life would have been much easier.
Instead, Konrad Mizzi is growing old in government postponing as far as he can the day when he is no longer in power, when people no longer need him and no longer protect him. He fears his reckoning and regrets the circumstances that put him on the inevitable path towards it.
Quite incidentally Arnold Cassola's back page article says the same of Joseph Muscat. He too is shrinking and ageing but clinging for dear life to the immunity that power gives him. He cannot leave, Arnold Cassola tells us. And it looks very much like he's right.
But just in case he did, Konrad Mizzi is pitching hard to replace him. Why? Because Konrad Mizzi and Joseph Muscat cover for each other. Let one of them go and the other is adrift.
And the trio is not complete without Keith Schembri. His silence is chilling. Only the unblinking white of his eyes is seen in the darkness.
This is significant because it reminds us that we often overestimate the comfort of the impunity they enjoy. We sometimes forget that they know more than we do. And what they know does not comfort them. On the contrary the fear of the discovery of what they know consumes them from the inside out.
Konrad Mizzi says he regrets setting up the Panama company. That means more than it says. Because it's not just about Hearnville and Tillgate. It's about the fact those two companies identified 17 Black and Macbridge as target companies. It's the fact they declared they'd be receiving $5,000 a day from them. It's the fact that 17 Black is owned by Yorgen Fenech.
It's the fact Yorgen Fenech is part-owner of Electrogas. It's the fact that Konrad Mizzi bound the country in a rotten deal with Electrogas.
And then there are other reasons Konrad Mizzi lives in fear. He knows more than we do but he also knows there are others who know more than we do. And not all of them can be trusted to stay sane under the pressure of fear of discovery.
Take Yorgen Fenech. Where has he been the last several months? Is he quite ok? How is he sleeping? How's his blood pressure? How is his concentration at work?
Konrad Mizzi takes comfort in the protection he's afforded while he's in power by the institutions Joseph Muscat captured. A decision like yesterday's by Judge Giovanni Grixti lets Konrad Mizzi walk about with impunity and apparent serenity.
But the way Helena Dalli dropped him the moment she no longer depended on Joseph Muscat's power must surely scare Konrad Mizzi. His serenity is built on tenuous bonds with people who do not like him very much. Honest government ministers who are angry he made them look bad. Dishonest government ministers who are annoyed they were left out of the deals Konrad Mizzi made. Fearful middlemen. Drugs-addled business partners. Prisoners in fear for their life.
When the moon wanes over this principality of darkness, those tenuous bonds will melt in the bright heat of justice.
One day, something's got to give. And Konrad Mizzi will learn the true meaning of regret.