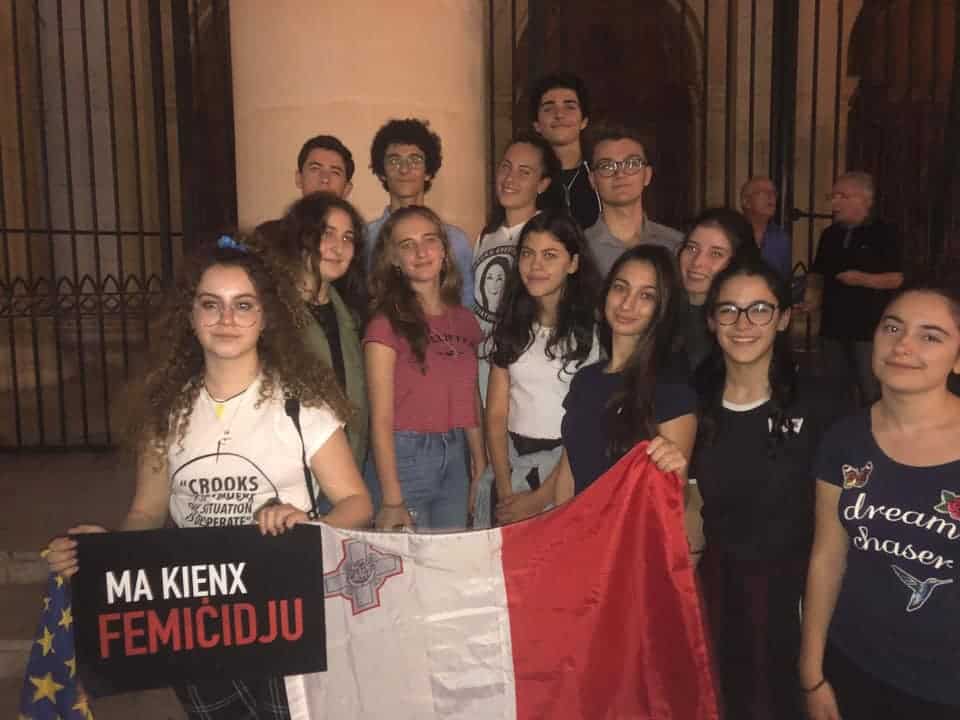 I don't want to get too excited but I've complained before and now that things appear to be changing slowly it would be wrong of me not to remark on them.
For two years of campaigning since October 2017 the general absence of young people in the campaign for truth and justice was painful. With some notable and admirable exceptions, we were clearly not getting across anyone younger than 35.
As usual we blamed them. This is an indifferent generation. This generation takes freedom for granted. This generation is not reading. Bla bla bla.
When of course when there is failure to communicate the fault often lies more with those doing the talking than with those who are somehow expected to be listening.
A few weeks ago, I was called in for a meeting with the KSU, the national union of students. They were planning to make their voice heard over the injustice of Daphne's killing and the impunity that continues to surround this case as anything surrounding her important investigations into corruption and crime within politics.
And they did make their voice heard. They held a very important and very well attended discussion on 15 October about the state of the media in Malta which I was sorry to have missed because I had to be abroad that day. At that meeting the president of KSU, William Farrugia, apologised for the relative silence of his organisation in the past two years. He didn't have to. What matters is that they're speaking up now.
A substantial group of University students marched with us last Wednesday. There was also a strong contingent from St Aloysius College. Many of them were inspired by a talk given to them by Leoluca Orlando the Mayor of Palermo that morning. They would come to listen to him again.
This was no Damascus experience. It was proof that it is incumbent on leaders to provide hope that marching, protesting, debating and participating can bring about results.
When Leoluca Orlando spoke last Wednesday, I felt young as one can when all they feel is what they see with their eyes forgetting the tired decadence of their ageing bodies. Leoluca Orlando was not mourning. He was celebrating. He was not speaking of despair which has no place for a young mind. He was speaking of hope.
If Palermo could rid itself of the mafia, why can't we?
How did Palermo rid itself of the mafia? By wanting to. By no longer thinking it wasn't there and by facing it down melting it in the heat of resistance. By realising it is not inevitable.
Leoluca Orlando said it is not enough to change laws. The change must be cultural. It must come from within. The mafia cannot only be defeated by making it illegal. One must say no to it. One must say no to the promises it makes of security and wealth and power.
Saying no to the mafia is not just about saying no to the bombs and the violence and the ugliness. It is also saying no to the easy money, the networking and influence, the habits and customs of a culture that has forgotten it is corrupt.
Only young people can do that. They are unblemished by the habits of use, by the stuffy fears that nothing ever changes, by the shared error of a society that confuses ethical lethargy and cultural atrophy with the wisdom of experience.
And if inspired and hopeful that they can make a difference, if given the space to take charge and confront the habits of old times, they will come.
And they will lead.
Reading the statement of the Moviment Graffitti last Wednesday moved me. Seeing the leaders of Aditus marching in the streets encouraged me. Hearing the whooping and whistling of young people unwilling to grow up stained by the filthy compromises of our existence quite literally excited me.
We're not there yet. But when young people take over and lead these marches, the corrupt will truly quake in their shoes. Because that day they will see that the culture of greed and compromise that allowed them to run havoc with our country and kill a journalist that denounced them will have been no more.