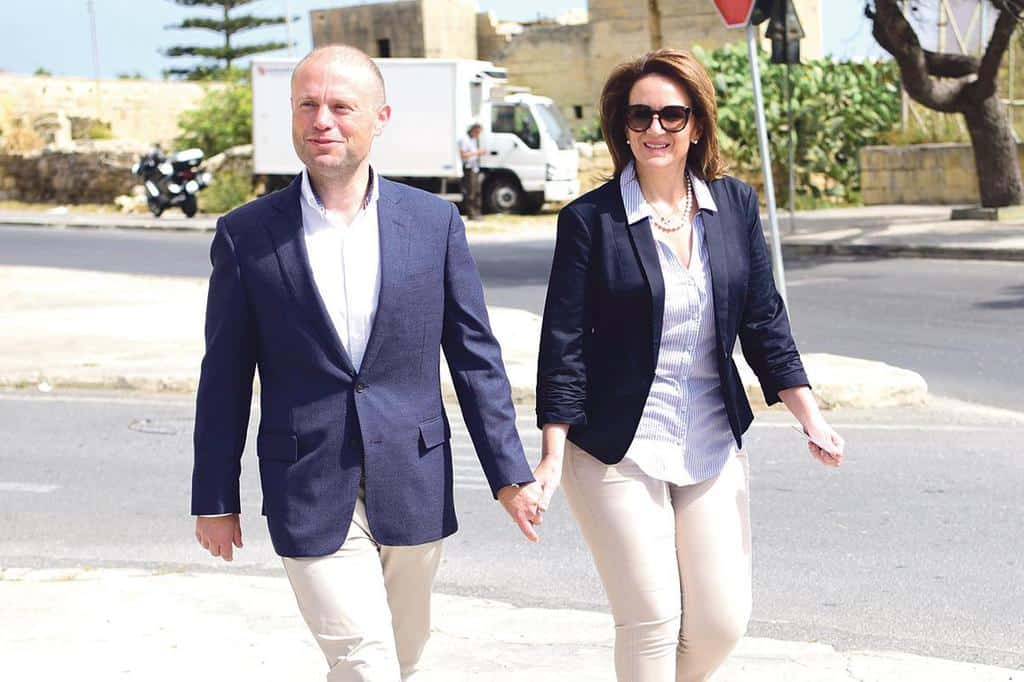 Joseph Muscat, you, crowned as man of the year in organized crime and corruption, resigned in shame from Parliament on Monday 5 October. You had resigned from prime minister in January this year, after a whole month of almost daily protests by civil society led by Repubblika and #occupyjustice. May I remind you Joe, of those four cats and a dozen whores. You descended the stairs to Castille Square, the same place where Simon Busuttil shouted many a time "barra, barra" in front of thousands.
You are the only politician in Maltese political history who dragged your name and your country's name to the filthy deep sewers. So your resignation does not have real value. It was too late and you cannot give Malta back its rule of law and its reputation. The damage you caused to our country under your infamous regime will have to be shouldered by the Maltese citizens for many years to come.
From plans to becoming the next European Council president, you were forced to resign in disgrace on wet January and October evenings, whimpering like a famished dog out of Parliament after a 90 second farewell speech. Garbage, that is your legacy. That is how you will go down in history. And many future generations will curse you for it. It is a legacy of shame.
Your tenure was mired by corruption with issues like the Panama Papers, Electrogas, VGH, and many others still rolling on. You have also been linked to the Caruana Galizia case ever since your former chief of staff and 'brother' Keith Schembri was arrested in connection with the case.
Joseph, you did not stop the conspiracies until Daphne, your nightmare, was eliminated. You kept lying through your teeth up to the present day. You are not the naïve politician who was betrayed by his friends. You are a calculating narcissistic conman. But your turn will come and you will face justice. Believe it. You will.
Doing everything possible to cover up for your crooked criminal friends, Schembri and Mizzi when it was so obvious, makes you complicit. Having the murder of a journalist take place under your watch and one which could have been avoided, makes you complicit. Ensuring that the institutions were under your control to suit your needs, makes you complicit.
More recently, court sittings have revealed that Yorgen Fenech claimed that you were one of three people who knew of the murder after the fact. Fenech also said he discussed the murder during your exclusive birthday party at Girgenti in 2019 where he was invited and gifted you three bottles of the expensive Petrus wine. On another occasion in 2014, Fenech gifted you a limited edition of a Bvlgari watch, worth more than €25,000, commemorating Malta's entry into the EU, as if you had any credit in that.
You spent your seven years as prime minister raping and pillaging your country and fleecing it dry. You spent €2 million in just two years touring the world. That's €60,000 per month. You did not even have the decency to resign from Parliament before the summer recess, but on the day that it reconvened so you could suck another three months' pay off the tax-payer.
You are the only person who, without spending one single euro from your declared €75,000 in your bank account managed to tour the world, twice over, living like a millionaire together with your charitable unemployed wife.
The Shift News revealed last month that your wife had taken control of the Marigold Foundation which was originally set up by the Bank of Valletta for the token sum of €100. No public announcement had been made. The Foundation's most recent audited accounts (2018) show net assets close to €1 million.
Events held by the Marigold Foundation over the years show an increasing focus on your spouse now perpetually surrounded by her aides and friends. Over half the fundraising events organised by the Marigold Foundation consisted of fashion-shows held at your official residences in Villa Francia and Girgenti. In 2015, around the time Michelle announced that she had taken up swimming, the Marigold Foundation also started organising a 'personal swimming challenge for the chairperson', featuring ever more fictitious long-distance swims. She used her influence to seek funding through her husband's connections.
Yorgen Fenech, the suspected mastermind of journalist Daphne Caruana Galizia's assassination, was among those called upon to support the foundation 'by the Prime Minister's wife'.
Joe, your departure from Parliament does not in any way exonerate you from the crimes you committed. Innocent until proven guilty you might say. But not in your case. If not guilty of anything else you are definitely guilty of complicity. As the chief of the criminal cabal you are at last gone. One by one, Daphne Caruana Galizia brought you down. Your arch rival Simon Busuttil who, unlike you, holds a prestigious job as Secretary General of the largest EP group, kept on demanding that you should go. Your resignation was extremely late, but rest assured you will not retreat in the shadows before you face justice.
So no amount of photographs, of you sipping champaign in exotic places, posted by your disgraced spouse, will persuade anyone of your innocence, except maybe a herd of sheep. Even if you leave Malta for some exotic destination, your track record will remain one of a disgraced Prime Minister. The Prime Minister who never served a full term and under whose watch the most horrendous crime this country has ever seen, occurred. All this will haunt you for the rest of your life.
Your departure is most welcome. But we will make it our mission to see that justice is served.