"Not the behaviour of a civilised country." Avvenire journalist Nello Scavo described the scene outside the court building this morning with these words. A bunch of thugs, besmirching the Maltese flag merely by holding it, waited for him to step out of the court building after testifying in the case filed by the police against Neville Gafà.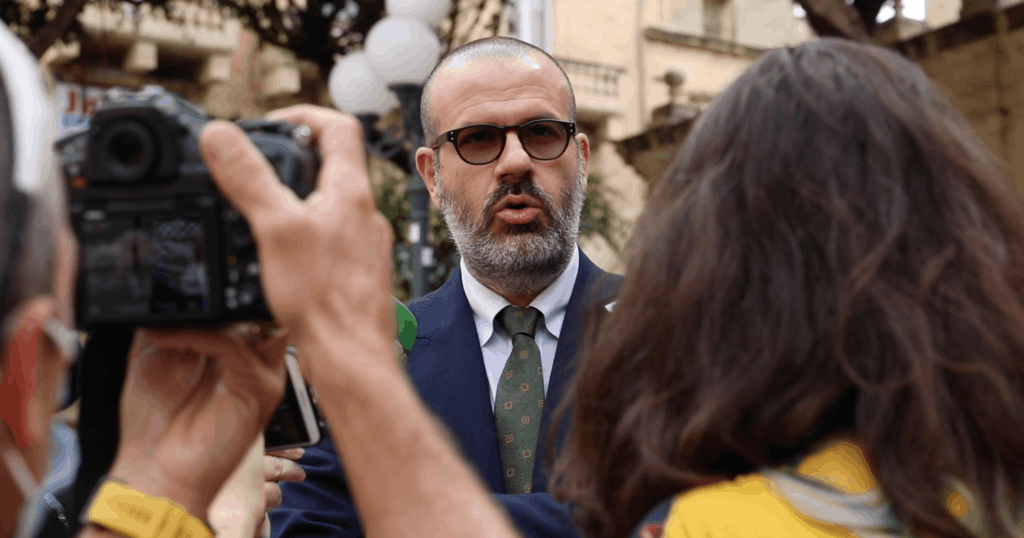 Last June, Neville Gafà tweeted in a post addressed specifically to Nello Scavo: "We will stop you." "Who's we?" asked Nello Scavo. Neville Gafà did not reply. The Italian journalist testified that without asking him, the Italian police reported to the Italian prime minister's office that they decided to enhance security and armed protection for Nello Scavo. And the Italian prime minister's office communicated that decision to the Italian parliament how the Italian state reacted to the threats from Neville Gafà.
In Malta too, the police were concerned. Assistant Police Commissioner Kevin Farrugia who heads the police's cyber-crime unit testified today that immediately they became aware of the tweet they rushed to preserve the tweets to make sure they're not deleted. They started an investigation on the presumption Neville Gafà threatened his victim without waiting for Nello Scavo to file a complaint.
That was commendable behaviour. It's just what journalists need to know happens when they are bullied in this way. Later, when speaking to the local press, the Italian journalist thanked the Maltese police for taking the matter seriously.
But the flip side was a bunch of fascist goons that stood outside the court building threatening him and those with him. I stood by Nello Scavo, together with Robert Aquilina who this evening is expected to be elected President of NGO Repubblika. We were called "stronzi" and "assassini" and all manner of threats and insults.
To coin a phrase, I'm not a shrinking violet. They got a few "mur tnejjek" from me back until the ever more sensible Robert Aquilina pulled me away.
But this is life here in Malta where a journalist dares tell a government gorilla like Neville Gafà they will not stop reporting crimes perpetrated by the Maltese government on the high seas just because he wants us to.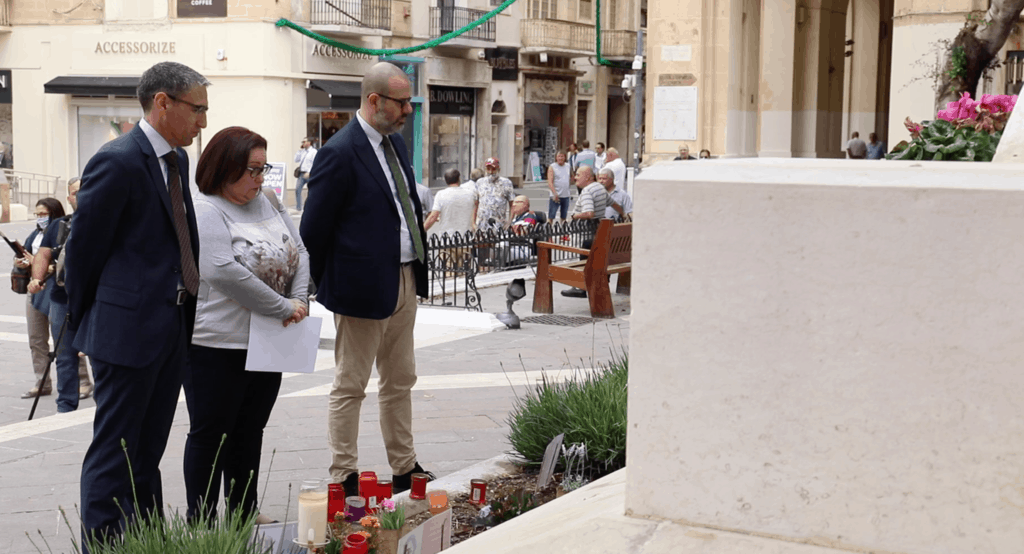 We're nearing the third anniversary of the killing of Daphne Caruana Galizia. Nello Scavo visited the protest memorial in Valletta, greeting two of Daphne's sisters, and spoke to local journalists about the fact that Daphne is brought up in Italian journalism constantly, every day. He told local reporters Daphne inspired young people to join the profession. He mentors them and they tell him how they read Daphne's writing and find inspiration and lessons in the skills of the trade.
But in the face of that shouting in the street, mobilised by Neville Gafà, an agent of Joseph Muscat's regime and a tool of Robert Abela's, the memory of Daphne is more than an inspiration. It is a warning.
Journalists in Malta are not safe. Those of us who write things the government does not appreciate cannot move freely in the street without risking coming across a hired mob calling us names and threatening us. This behaviour is considered normal. The only comeback we can give is shouting back at people holding the Maltese flag as if they were working for it.
The conduct of the police in the case of Nello Scavo is commendable. Whatever the outcome of this specific case and the decision taken at the last expected sitting on 15 October, it was clear in the courtroom the police took the matter seriously, investigated it, provided Nello Scavo, the victim, with the support he was entitled to and sought to secure a conviction to uphold the law.
Another positive thing was that Magistrate Charmaine Galea this morning not only recognised Nello Scavo parte civile as the victim in this case. Nello Scavo's newspaper Avvenire and his union, the Federazione Nazionale Stampa Italiana, sent their lawyer to the case and he was recognised by the court as acting for his clients parte civile in the case as well. That's a lesson for us in this business in Malta. Nello Scavo did not stand alone in court. He was backed by his newspaper, and the organisation representing his colleagues in the profession.
You attack one of us. You'll find the rest of us standing by them. And we don't have to shout and threaten in the street. Our solidarity is made of words, thought through, written and spoken without anger and without hate. But firm and determined.
NGO Repubblika also attended the hearing as observers this morning. We care for all those who risk their lives to reveal the truth. We were too late for Daphne. But we won't make that mistake again.
We have miles to go yet. This is still a country where a journalist has been killed and yet, within 10 metres of a protest memorial marking her violent passing, a group of bullies showed up to threaten other journalists.
This is not on.
Follow here, if you will, remarks delivered by Nello Scavo after this morning's court session. In separate posts I will also be uploading scripts of messages delivered this morning by Sylvana Debono, President of the Maltese press institute and Robert Aquilina for Repubblika.