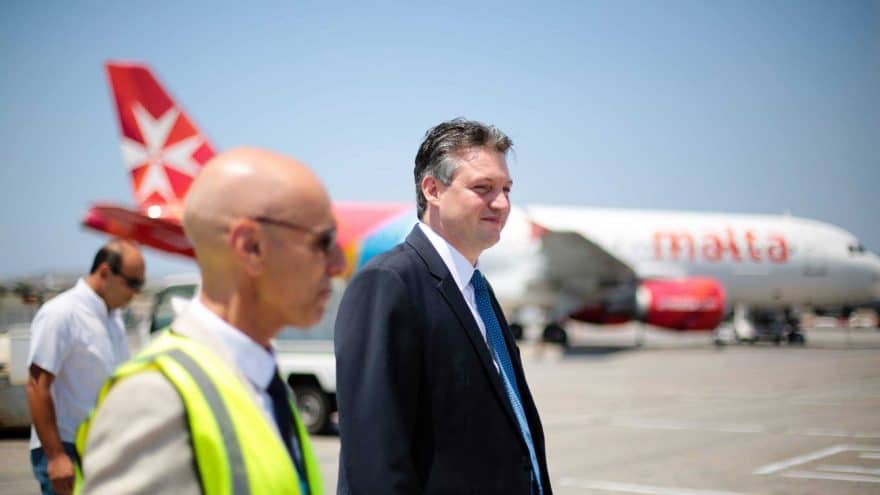 The national airline Air Malta has sold its name and its brand to its shareholder, the government of Malta, for €21 million in a series of transactions seen as a likely last-ditch attempt to cover up state aid to the ailing airline.
Now that Malta's government owns the Air Malta brand it should also be able to transfer it to one of the other companies owned wholly or partly by the State if the national airline is declared bankrupt and forced to fold.
The transfer of the ownership of Air Malta's brand away from the company that operates the airline has been conducted in a series of transactions that started in March 2019 and was completed about a year ago. The government has not announced this transfer and the official government website only provides details about the names of directors it has appointed to run the board of the company that now owns Air Malta's brand.
In March 2019 Air Malta set up a subsidiary company called IP Holding Limited transferring to that subsidiary, run by Air Malta's Chairman Charles Mangion, the intellectual property of Air Malta's name and brand. The other government-appointed director is Nancy Caruana, the permanent secretary in the ministry responsible for IP Holding.
IP Holding Limited was then transferred to the government in two tranches. A first transfer worth €8 million was made in September 2019 and a final transfer worth €13 million was made in April 2020.
The final transfer occurred after Air Malta's auditors RSM certified the estimation of the value of Air Malta's brand prepared by UK-based Brand Finance, an expert company specialised in attributing financial value to business brands.
Having already been stripped of its London airport landing slots, Air Malta is now a loss-making empty shell on the brink of bankruptcy. It can no longer revert to its assets because anything of value has been taken away.
The forced sale of Air Malta's brand appears to have been devised during Konrad Mizzi's last year as government minister. He lost political responsibility for Air Malta when he resigned in disgrace in November 2019.
The fact that Air Malta no longer owns its own name and the goodwill of its brand has been kept under wraps.