Silvio Zammit: …with a guaranteed proposal to lift the ban.

Lobbyist: You can guarantee a lift of the ban? Is that what you said?

Silvio Zammit: The proposal, the proposal, ok, and I can make you as well high-level meetings to end the rumours, and obviously these rumours will give you the guarantee that lifting will be proposed. If you think that this first meeting is going to be carried out, or …. then yes we have to pay ten million.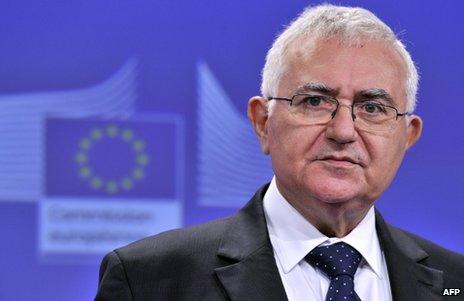 John Dalli's reaction to Repubblika including his photo with the 'criminals' who the NGO urged Commissioner of Police Angelo Gafà to investigate and arraign in court, was the proverbial teacup storm.
He said he was offended for having been labelled as a criminal. Robert Aquilina's reply to his statement silenced him. Let's take a look at some of the reasons why Repubblika chose to include the disgraced former EU Commissioner in their 'criminal' list and hung his photo against the Police HQ gate.
John Dalli, in the seventies and early eighties was an accountant with Wrangler, a jeans manufacturing company. Then he ventured into politics.  He was first elected to the House of Representatives of Malta in 1987 on behalf of the Nationalist Party, and since then he was re-elected in five successive elections. He has served as Parliamentary Secretary for Industry, Minister of Economic Affairs, Minister of Finance and Minister of Foreign Affairs and Investment Promotion.
In February 2004, Dalli contested the election for the leadership of the Nationalist Party but lost to Lawrence Gonzi, who was appointed prime minister. In the new cabinet, Dalli was appointed Minister of Foreign Affairs and Investment Promotion. He resigned after serving for just three months from April to July 2004 following allegations of corruption in the awarding of contracts for medical equipment and airline ticketing. Dalli remained a backbench MP and was very critical about what was going on within the party.
Dalli was re-elected to the House of Representatives in the March 2008 general election and returned to the cabinet as Minister for Social Policy. His portfolio included health, the elderly, employment and training, housing and industrial relations. He resigned as minister and as Member of Parliament on 10 February 2010 on his appointment as European Commissioner.
In 2012, the European Union anti-fraud office found out that Silvio Zammit, an associate of John Dalli, attempted to facilitate a bribe from a Swedish smokeless tobacco company in exchange for lifting an EU-wide ban on the product. The snus company Swedish Match rejected the offer as improper and reported it to the European Commission. In October 2012, the European Anti-fraud Office (OLAF) delivered a report to the President of the Commission on accusations that John Dalli's associate (Silvio Zammit) had asked for €60 million from the main producer of Swedish snus in return for Dalli's help in changing European tobacco regulations.
On the morrow, Dalli was forced to resign by Commission President José Manuel Barroso. Dalli insisted that he did not resign, but in an interview given in October 2012 to New Europe, he confirmed that Barroso asked him for his resignation and alleged that the Tobacco lobby was involved in the case. Dalli denied any knowledge of the alleged bribery.
In December 2012, Dalli instituted a case in the European Court of Justice (ECJ) against the Commission to annul the decision by Barroso to force his resignation.  In July 2014, the ECJ held a public session to hear witnesses in the case. Barroso was called as a witness in the proceedings. In May 2015, the action was dismissed, and Dalli was ordered to pay all costs.
Former Police Commissioner John Rizzo was planning to arrest and interrogate Dalli on his return to Malta from Brussels – he had done so already before his departure, holding him in a cell – and to arraign him on fraud charges in connection with the snus tobacco bribery case.
John Dalli did not return to Malta claiming he was sick.
When Joseph Muscat was elected prime minister, the first thing he did was sack Rizzo from his post and replaced him with the compliant Peter Paul Zammit who was not even a police officer at the time but a legal procurator. The first thing PP Zammit did as new Police Commissioner was declare that he did not have a case against Dalli. John Dalli's sickness, thank God, disappeared and he returned to Malta cured. Prime Minister Muscat appointed him as his consultant on health policy.
In the summer of 2016, Giovanni Kessler's OLAF delivered a report on Dalli to Maltese authorities. Former Malta Police Chief John Rizzo had already said that there was enough evidence against Dalli, and that he could not explain why criminal charges were not brought against him. In May 2017, the Maltese police said investigations into Dalli were ongoing.
Meanwhile Silvio Zammit was charged in relation to the snus case which led to the resignation of Dalli as European Health Commissioner when the OLAF investigation concluded there was "unambiguous circumstantial evidence" showing that Mr Zammit requested a large sum of money from the Swedish tobacco company to lift an EU ban on snus.
Speaking about the case, the present Commissioner of Police Angelo Gafà noted that he had already testified in parliament. He highlighted that his position back then remained the same to date and that he believes that Dalli should be prosecuted. Without mentioning any names, Gafà remarked that the person who is already facing criminal proceedings has a vital role in the possible prosecution of the disgraced EU Commissioner.
He said that the case was being evaluated in the context of the ongoing criminal proceedings and the looming deadline for the statute of limitations. Yet to date John Dalli is free to spew hatred against a slain journalist, calling her a lying terrorist.
Daphne Caruana Galizia, the journalist who John Dalli defines as a 'perverted criminal terrorist' had exposed in 2015 the Ponzi scheme which was allegedly run by fraudster Marie Eloise Corbin Klein, who operated under a number of aliases, in this case as Lady Bird. The woman was investigated by the FBI for having allegedly scammed Americans out of some $600,000 by posing as a Christian missionary and convincing them to invest their savings into an "African mining project".
But the money was siphoned into two Maltese companies – Tyre Ltd and Corporate Group both owned by John Dalli's daughters, Louise Dalli and Claire Gauci Borda. The companies were registered at John Dalli's home address in Portomaso.  The New York Times ran a story about the fraud and how the police in Malta were refusing to cooperate by investigating after him. The newspaper reported that Dalli defrauded investors in South Carolina out of at least $1.5 million.
Dalli's daughters are facing charges of money laundering, misappropriation of funds, fraud, making a false declaration to a public authority and the falsification and use of documents. During a recent sitting the prosecuting police inspector declared that the case had been handed over to them and they were not yet in control of facts and evidence which had to be presented.
The court was also told that the Attorney General was unaware of these problems.  The inspector also admitted that the prosecution has a number of sealed boxes of evidence but conceded in court it did not know what the boxes contained or whether their contents were relevant to the case.
Presiding magistrate Caroline Farrugia Frendo deplored the fact the defendants were brought to court without either the Attorney General or the police being aware of what evidence was yet to be presented. She ordered a full list of witnesses to be presented to court at the next sitting.
So concluding, yes, Repubblika was right. Hanging John Dalli's photo amongst other 'criminals' was not criminal after all.