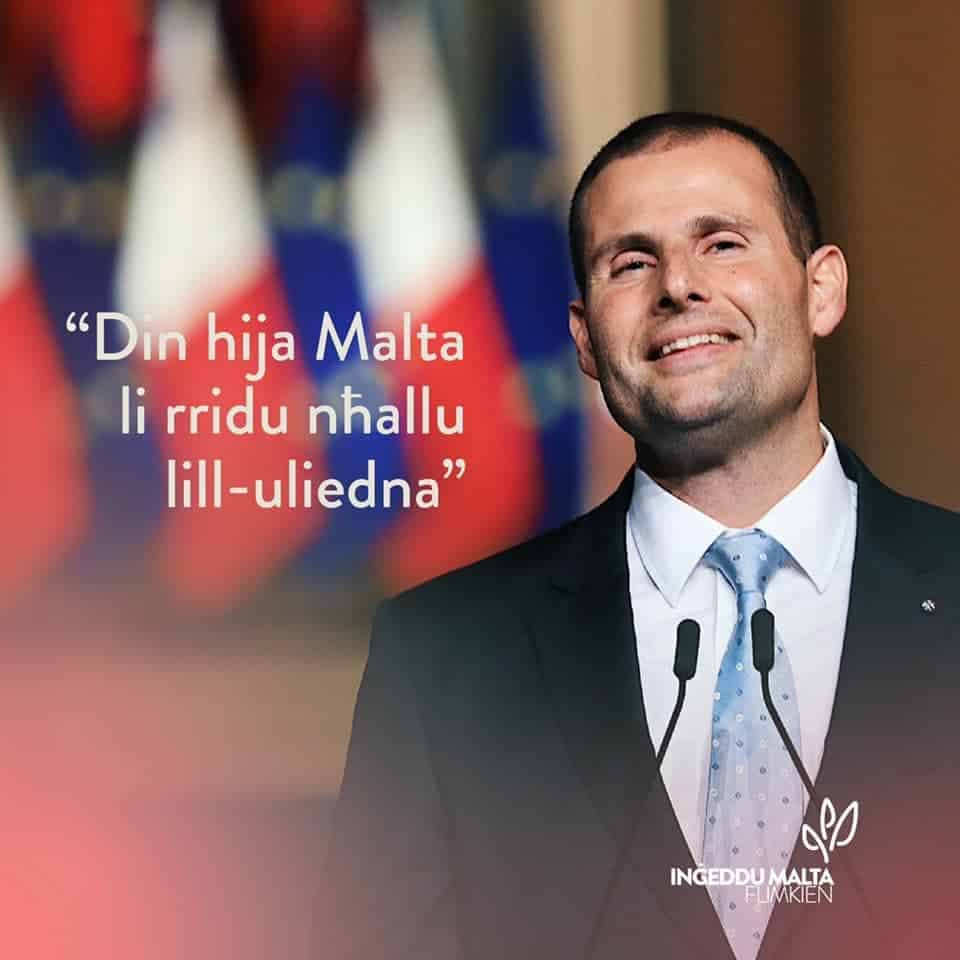 It is said that Josef Stalin once ripped all the feathers off a live chicken as a lesson to his followers. He then sat the chicken on the floor a short distance away. The chicken was suffering immensely but yet when Stalin tossed some wheat toward it, the chicken followed him around. "This is how easy it is to govern stupid people, they will follow you no matter how much pain you cause them, as long as you throw them a treat once in a while."
The theme chosen by the Finance Minister for the 2022 Budget was 'The Malta we want for our children.' As usual the PL government is impressive at creating and using buzz words. Robert Abela said he was "working for a Malta in which we want to live today. However, it must also be the strong country that allows our children to reach their aspirations." He continued: "The beauty about being in politics is to work to make a difference in the quality of life of youths, the elderly and families. The aim should be the benefits we want to create for today and for future generations. Discussions must always be focused on ideas and the future."
Beautiful words. Fiction that falsely defies the future.
Let us see what a couple of days after the lengthy budget speech our children and their children will face. They will get a grey listed state due to the corruption that ruled uncontested for the past seven years. During the budget speech, the finance minister had three sentences to cover this. Three sentences telling our heirs that the government is planning to address the situation. But I am sure that our youths want a respected country not one on the same level as Zimbabwe and Botswana.
A Maltese national who owns a bank account in Poland was informed that he will no longer be able to use the bank, or his account's card, in anything Malta-related as of the end of October. "I never imagined that Malta's grey listing would have an effect on something so commonly used by many – if many international banks implement such a policy, this is going to have a major negative impact on our tourism sector," the man told Lovin Malta shortly after receiving the message from Getin Bank which is part of Noble Bank SA. Its message refers to Malta as a "high-risk jurisdiction".
The national debt which now stands at €7 billion will be increasing by another €5 billion in the next three years which means the national debt will be 62% of the Gross Domestic Product. By 2024 each person in Malta will have a debt of €24,000. The apologists will say that this is because of covid. But they know that this is not the case, because according to the government covid cost Malta €1.5 billion and not €5 billion. So one might ask, where did the difference go? It went on consultancies and on public relations exercises. It went into the pockets of the selected few who are receiving thousands of euro in salaries for doing nothing, except trolling in favour of the government and against the Opposition and journalists.
Karl Stagno Navarra, the 'journalist' who doctored a video which was presented by the police in court against a PN MP, has declared that his trashcan programme takes him ten hours to prepare. Mr Stagno Navarra is employed full time by Air Malta and is paid somewhere in the region of €60,000 per annum. So the question is in order – at what time does he go to work every day?
The deficit has now reached €1.6 billion, more than double of what had been predicted by the government. Clyde Caruana's borrowing calculations went haywire and now Malta has the second worst deficit in Europe.
After all the hype that minister Ian Borg managed to muster during the past weeks about an underground transport system, there was not one single word about it in the budget speech. Nobody knows how much the propaganda cost. The same goes for the Marsascala marina. Minister of Transport and Infrastructure Ian Borg has just announced the publication of the government-commissioned studies into the proposed Metro, just a week after the Ministry turned down a Freedom of information request asking for just that. "After a successful week of national discussion on the proposed metro for Malta, Transport Malta has just informed me that for the second week of discussion the studies by Arup are being publicised for viewing," Minister Borg announced.
Our children and their children will inherit an intolerant country where an injured worker is dumped onto a road and left to die because the contractor who employed him did not have a valid working permit for the poor foreign worker. This is the result of the sense of impunity which has taken over Maltese values. This is the legacy that the PL government will leave. It will leave a sadist at the helm of the Corradino Correctional Facility which is run like a feudal village by a tyrant.
They will inherit a country where corrupt politicians work hand in hand with criminals while the police watch without taking any action. A place where money laundering is allowed, unless it's some elderly couple who are dragged to court because they cash cheques for people whose income or pension does not last the month.
Our children will inherit a country where freedom of speech is threatened, where a journalist was assassinated and others made to fear for their lives. A country where the Opposition is not given space on the National broadcaster because this is being run by a staunch Labour supporter. A country where a Member of Parliament is threatened with legal action in a foreign country for a speech he gave in the Maltese Parliament.
No, Mr Prime Minister, this is not what our youths, our children and grandchildren expect. What they really want is to have a country which will have true meritocracy and not requiring support for the labour party merely to function. They are entitled to a country where everyone gets what they deserve, including corrupt politicians. Youths expect to have an integrated education which prepares them for life and not something that breeds parrots repeating what they learn by heart just to pass the exam. And they want good conditions for their educators so that they will receive the best education. Youths expect real work opportunities and not cheap labour, and they expect more than a miserly €500,000 earmarked for workers' training.
Our youths want a Malta where they could afford to buy their own house and not to have to beg the government for social housing, while foreigners buy upmarket properties. They want to enjoy open spaces where they can relax after work or school and not the concrete jungle that you have created. They expect trees and greenery and not grey concrete and black tarmac. They want a work-life balance. They yearn for a government with vision. They covet for strategies for tourism, manufacturing, industries and new economic sectors. They want incentives for the creation of new high paid jobs.
And that, Mr Prime Minister is the meaning of 'what country we wish to leave for our children'.