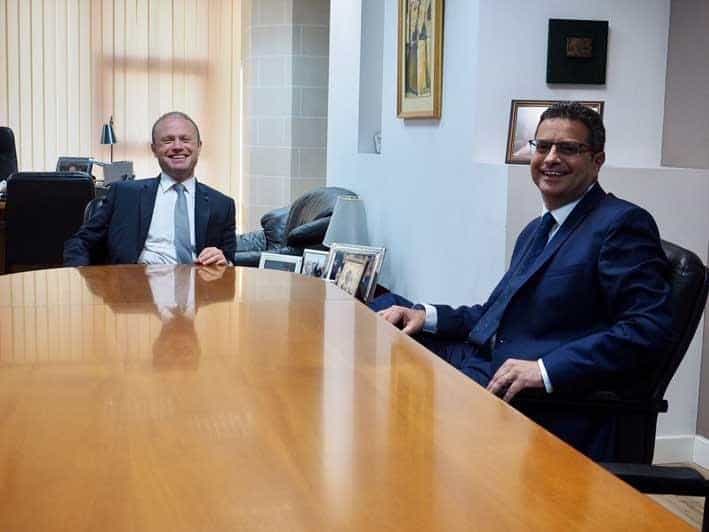 Joseph Muscat has picked Adrian Delia as one of two lawyers to negotiate with the football association on behalf of premier league clubs. Adrian Delia will be working alongside Jean Farrugia, one half of DF Advocates a firm which in the past has denied having close links to former OPM chief of staff Keith Schembri.
Adrian Delia has experience in the footballing world having served as president of top tier team Birkirkara FC for a number of years. His time in football is not without controversy. A due diligence review conducted by a committee hired by the PN found that "he could have and should have handled (an internal investigation into football corruption) much better". A court discarded the evidence given by Adrian Delia at the time as not credible.
Joseph Muscat has taken over the leadership of the association of premier league teams after a contentious vote between the clubs some weeks ago. He only acquired votes from half the member clubs which were enough thanks to abstentions by a number of other clubs.
Joseph Muscat has now hired his former opposite number in Parliament as his lawyer. Adrian Delia was Leader of Opposition from September 2017 until his removal in a PN leadership challenge in October 2020. For most of that time, until Joseph Muscat's resignation in January 2020, he was Joseph Muscat's shadow.
Adrian Delia was frequently criticised for holding back when criticising Joseph Muscat in spite of the fact that the then prime minister had, during Adrian Delia's tenure as his opposite number, been recognised by the OCCRP as the world's 'Man of the Year for Organised Crime and Corruption'.
Lawyers Adrian Delia and Jean Farrugia will also be working with a technical and financial team supporting them. The technical team includes Hibernians team manager Jesmond Abela, known as il-hutch, Joseph Muscat's chief ally in the association of premier league clubs.