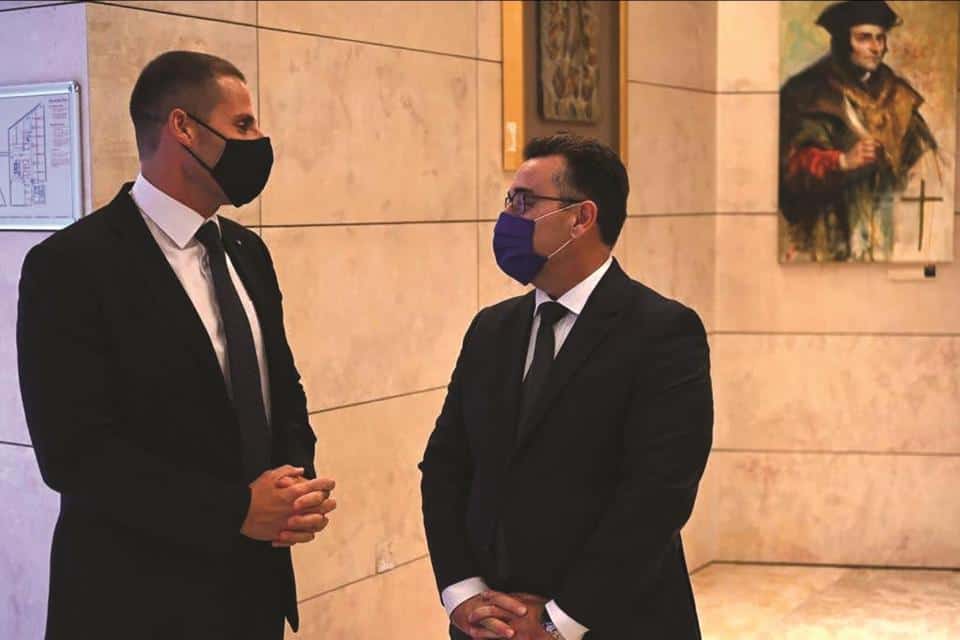 Joseph Muscat is no longer prime minister. He no longer has access to the basic hire and fire power over public officials that he had when he was in office. When he was prime minister he headed a criminal organisation that captured the institutions of the state to pursue its profiteering program. That program and that organisation still exist, but their grip on political power is more indirect than it used to be.
It isn't completely exhausted though.
Consider how yesterday a former prime minister, forced to resign in disgrace just over two years ago, made a public statement lashing out at institutions of the state charging them with acting on the back of public pressure rather than on the basis of law.
He explicitly accused the environment protection agency and the police. He implicitly warned the prosecutor's office and the magistrature they would face the same accusations if they went ahead with the case against Frederick Azzopardi.
He went beyond that. He called for his "thousands" of supporters to mobilise in resistance against the due process of law. Those supporters did not fall from the sky. They are a large network of loyalty developed in the time when Joseph Muscat headed the Labour Party. They are the rump of the Labour Party, held together by One TV and Radio propagandists, coordinated by Labour MPs and senior activists.
This is a state within the state, with its own laws and rules. Joseph Muscat heads an organisation and a power base where the laws of the land do not apply, only his will is in command.
Outside Joseph Muscat's informal but powerful state is the wider circle of the state of Malta, where, in theory, the laws of Malta are applied equally to everyone. The people working in the institutions that Joseph Muscat spat on yesterday and against whom he'll be mobilising crowds as of tomorrow, are agents of that state of Malta.
No one spoke for them yesterday. No one defended the officials at the environment protection agency, and the police, and the prosecutor's office, and the magistrates. As activists we often criticise them for failing to fulfil their duties. As activists we defend them from intimidation, bullying from criminals, the threats they receive, implicit or explicit, intended to prevent them from doing their jobs.
In the face of Joseph Muscat's organisation of legal ambiguity and impunity, not one of the politicians elected to represent and lead the state of Malta spoke out yesterday.
Prime Minister Robert Abela did not say a word. Neither he nor his government said anything in defence of environment officers and police officers being so grotesquely intimidated by a former prime minister. Robert Abela did not warn people facing criminal charges against intimidating state officials to prevent them from doing their job. He did not promise public officers the protection of the state from the angry crowds Joseph Muscat threatened.
Nor, incidentally, did the Leader of the Opposition have anything to say about Joseph Muscat's threats. The Nationalist Party and the Opposition ignored the incident failing to promise enforcement agents their support and their protection in the face of this dangerous discourse.
Joseph Muscat knows that he needs to flex his muscles not so much because of what might happen to Frederick Azzopardi if he is found criminally responsible for uprooting three old carob trees. He must make this noise to discourage other public officials with the responsibility of prosecuting him and his gang for even worse crimes.
He's warning those officials of what they will face should they do their job.
Robert Abela and Bernard Grech help him out. By saying nothing. Their silence tells those officials drumming their fingers on the files with the evidence they have accumulated against Joseph Muscat's criminal gang deciding whether to risk everything or just let things be and wait for their peaceful retirement, that Robert Abela and Bernard Grech, if push came to shove, would walk away and leave them to face Emmanuel Cuschieri's mob alone.
This is how Joseph Muscat wins.