I published a story this morning that annoyed Adrian Delia. He responded by calling me a liar. I published a post that showed I wasn't lying. In the meantime, Times of Malta worked on the story separately and substantially confirmed my reporting including the fact that Joseph Muscat had tipped Adrian Delia as lawyer for the premier league clubs in negotiations with the football association.
Clearly that wasn't enough.
Journalists have spoken to me saying they received emails purportedly from me admitting not taking my medication today, retracting my story about Adrian Delia, and apologising to him.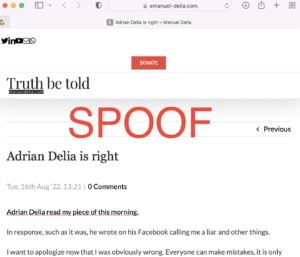 If this is familiar it's because this happened about a year ago when someone the police have never identified spoofed my email account and my website making me look like I was Yorgen Fenech's biggest fan.
Same modus operandi. Same language. Same technology. Even the same hosting service in the USA for the spoof website. And at 15:40 today, as I'm writing this, I got my first anonymous phone call from an "unknown" number.
In other words, it has started again but this time the siege was launched by an Opposition MP, quite possibly frustrated because my reporting has scuppered some plans.
I'm reporting these incidents to the police but after last year's experience I can't say my hopes are high. In the meantime, if you don't want to be confused by misinformation, by the lies of people who need me to speak well of them because they know their credibility is cheaper than mine, if what you read on my website seems strange to you always check the URL is manueldelia.com. Anything else, however similar it reads, is some bastard who's lying to you.