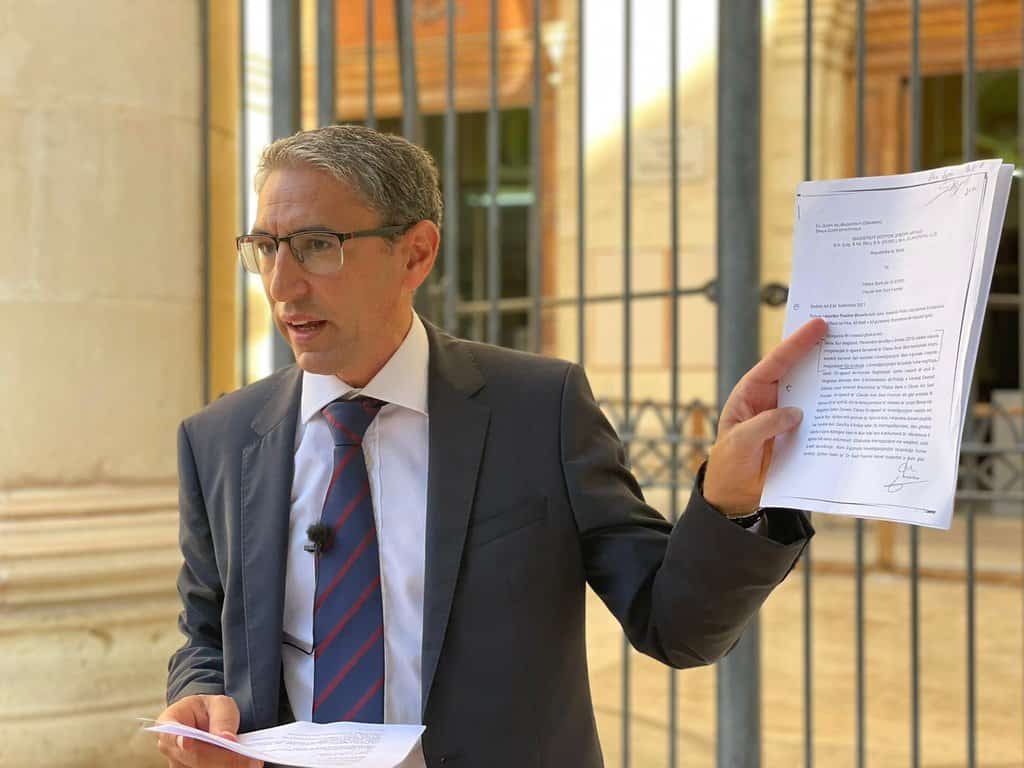 Those protecting Joseph Muscat have been for years trying to keep in the ground the secrets once hidden, poorly, in the safe in the kitchen at Pilatus Bank, in Whitehall Mansions, Ta' Xbiex.
One of Joseph Muscat's most important allies was his personal friend and lawyer Paul Lia. Lia and Muscat come a long way. On the day Joseph Muscat was sworn in as prime minister, Paul Lia was in his house for breakfast before il-Kink drove to the president to kiss hands.
He was by Joseph Muscat's side through thick and thin, through high and low. The Pilatus investigation has always been a low, though not quite as low as when Paul Lia was Joseph Muscat's "I want my lawyer" when the former prime minister was questioned by the police over money he received from the people he sold 3 public hospitals to.
When Daphne Caruana Galizia first broke the Egrant story, Joseph Muscat said he would ignore it. His wife, Michelle, said she would continue "working serenely". Then, late that night, Joseph Muscat revealed he got "his lawyers" to ask for an inquiry into the allegation that Pilatus Bank held evidence a Panama company set up with Keith Schembri's and Konrad Mizzi's by Brian Tonna was held in Joseph Muscat's wife's name.
It turned out Joseph Muscat got Paul Lia to ask for the inquiry on his behalf, effectively designing the parameters within which the Egrant inquiry had to function and limiting the questions it could ask. While he took his sweet time, Police Commissioner Lawrence Cutajar asked for a second post-leporine espresso waiting for the morning to raid the Pilatus Bank office well after any evidence was spirited away through a back door.
At length, the Egrant inquiry drew a blank. An expensive, elaborate, detailed blank.
Too many crimes had been committed at Pilatus Bank for the matter to stop there. A separate inquiry documented these crimes and ordered criminal action against a long list of people. It also found reasons for the Egrant inquiry to re-open and pursue leads it had not been aware of or gave insufficient importance to.
That second inquiry has been ready and gathering dust for more than a year and a half. Repubblika knows it's closed like everybody else does. The bank itself and a middle manager who used to work there have been charged on the basis of that inquiry. Testifying in court in that case the police publicly confirmed the inquiry was closed.
What Repubblika revealed that wasn't in the public domain was that it had learned that there were many other people the inquiry wanted prosecuted but were left alone. Why were they being left alone, Repubblika asked, again, and again?
Until we challenged the police to act. We appeared in front of the magistrate who handles such requests, Nadine Lia.
Lia.
I know that in Malta surnames come up connecting entirely unrelated people. I am not Adrian Delia's cousin.
But Nadine Lia is a Lia by choice. She's married to Paul Lia's son.
Since the day the Egrant scandal erupted, it has been Paul Lia's job to ensure nobody gets to the bottom of what was really happening at Pilatus Bank. That's because in all the murky and muddy business, his most famous client, Joseph Muscat, is alleged to have had dirty secrets hidden there.
Whether it is true or not that Pilatus once handled illicit payments for Joseph Muscat is beside the point. What is beyond doubt is that Paul Lia has represented and continues to represent Joseph Muscat in the legal handling of that allegation. Consider that just over 2 months ago Paul Lia was in court on behalf of Joseph Muscat insisting that Maria Efimova is made to testify in the libel proceedings he is still pursuing against the heirs of Daphne Caruana Galizia, who has since, it needs perhaps pointing out, been killed by car bomb.
Repubblika's president Robert Aquilina in front of court explained to journalists today that Nadine Lia has turned down Repubblika's request to recuse herself from hearing the NGO's challenge to the police to act on the Pilatus inquiry.
It's not just that she's blind to the conflict here. She must show that justice is being done, however convinced she might be that she would be capable of hearing the case and deciding upon it impartially. How can she be seen as impartial on deciding on an order for criminal action against people who might be able to reveal her father-in-law's client's darkest secret?
This is an allegation that has now persisted for 6 years. It is an outstanding forensic question that a magistrate has ruled in the conclusions of an inquiry that merits fresh investigation? And it is precisely those conclusions that Repubblika is insisting in front of Nadine Lia that should no longer be ignored.
But, you know, it's not just about how things seem. It's also about how they are. Incredibly Nadine Lia scheduled a first hearing on a complaint that an inquiry had been ignored for some 18 months, hanging for another 4. She turned down a plea to hear the case urgently.
Then she turned on the police and the attorney general to ask them if they know how Repubblika came by the knowledge of what the inquiry contained as if that had anything to do with the question of the case, which is really whether what Repubblika was saying was true and why had the police and the attorney general ignored the inquiry findings for so long.
And now, to top it all, she has dismissed as "hearsay" Repubblika's claims about the content of the inquiry simply on the basis of the fact that the police and the attorney general said they didn't give Repubblika a copy of the findings. The question she did not ask the police or the attorney general was whether what Repubblika was saying was true.
Nadine Lia even pretended to wonder if the inquiry existed at all, let alone if it was completed, claims Repubblika made not least because they are very much in the public domain and in any case facts she could have easily verified by asking anyone, including the police and the attorney general. If not google.
She couldn't, could she? She's learnt from the best, from her father-in-law, the able Paul Lia, the legendary author of the terms of reference of the Egrant inquiry, never to ask questions you don't already know the answer to. That way you can also avoid asking questions the answer to which would not be helpful to the interests of Joseph Muscat.
This is what we're up against. This is why we fought against Joseph Muscat's take-over of the judiciary which we only managed to halt at the end of a European Court of Justice battle and only after he'd already managed to stuff the bench with quite a few loyalists. Nadine Lia is one.
She's there now serving precisely the purpose for which she was hired. She has turned out to have been a smart investment paid for, ironically, by us. Joseph Muscat has always been business savvy in that way.
Repubblika never promised to succeed in getting to the bottom of the truth they have been hiding so long. We did, however, promise never to stop trying. So here we are.