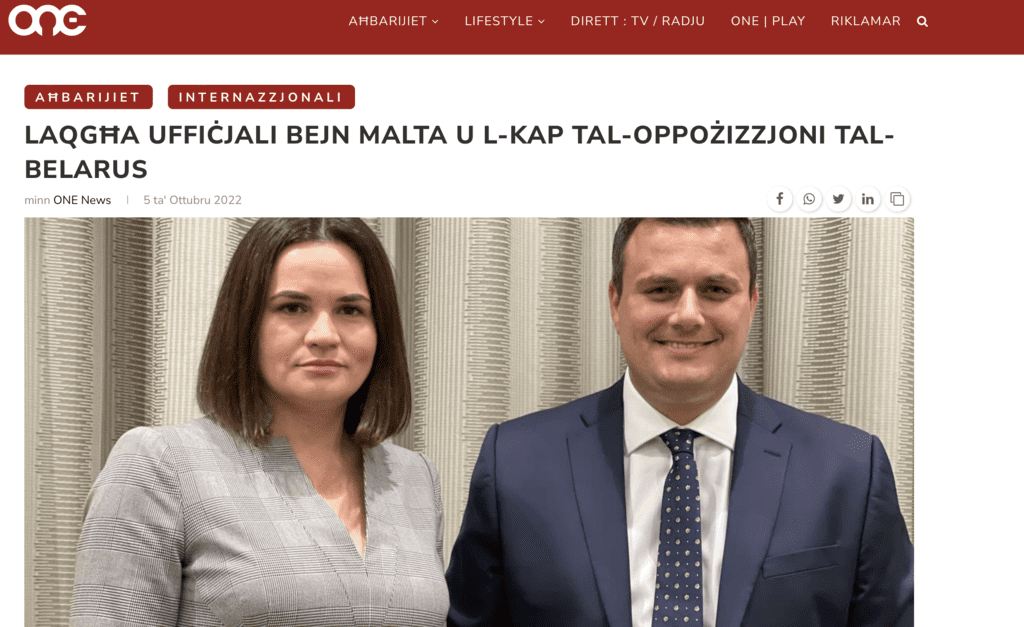 Labour TV reports on this meeting Byron Camilleri had with Belarus opposition leader Sviatlana Tsikhanouskaya. Here's a translation of an extract of the report: "At the meeting they discussed the situation in Belarus and the efforts of the EU, backed by Malta, to keep in touch with that country's civil society to normalise basic rights that are fundamental to any democracy. Minister Camilleri reiterated Malta's support to the efforts for Belarus and the work being done by the OSCE and the Council of Europe."
The bloody hypocrite.
In his own country, Camilleri and his colleagues do not keep in touch with civil society, even to discuss basic rights that are fundamental to democracy. Just yesterday his colleague Jonathan Attard pushed through the first stage in Parliament new laws regulating the free press while insisting he had no need to discuss the drafts with Maltese civil society.
Both ministers and their government ignore recommendations by the OSCE and the Council of Europe or pay lip service to their recommendations with hollow "reforms" designed to have no effect whatsoever.
We are nowhere near the tragedy of Belarus. Our tyranny is nowhere near as effective, our voices far less choked, our lives much safer. Any comparison between the situations in the two countries is unhelpful, verging on the absurd.
But it is yet another symptom of the erosion of our own democracy that we presume to lecture the oppressed opposition of other countries when our example is so depressingly short of the values and the principles we profess to uphold.
Byron Camilleri can lecture Belarusians how democracy works the day he begins to practice what he preaches.