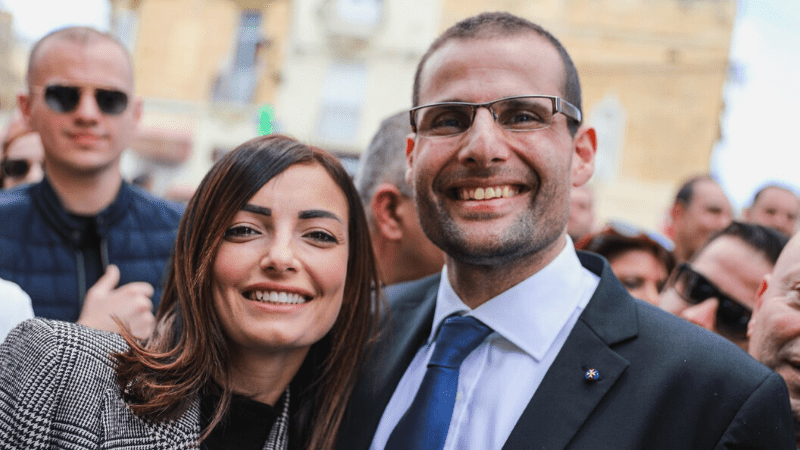 Twenty things that the Rosianne Cutajar-Yorgen Fenech trail of messages published by Mark Camilleri tell us:
They had a romantic and sexual relationship that lasted for a long time and their friendship stayed on after the end of their affair. Her eventual denials about having been the recipient of Yorgen Fenech's generosity appear to be wholly untruthful. I could quote the salacious details, but I don't think they add anything to that simple fact. Except that Rosianne Cutajar repeatedly told Yorgen Fenech he had broken her heart when he stopped their affair and started others.
Yorgen Fenech claims to have used stalker-ware to monitor the WhatsApp account of someone else's phone. At first glance this might even be the account of Keith Schembri's then wife, or of someone else.
Yorgen Fenech believes that his email account had been hacked.
Yorgen Fenech believes that his wife discussed his affair with Rosianne Cutajar with someone who hacked his email.
When Rosianne Cutajar wanted to find out who would be chosen as the next commissioner (it is unclear to me if that's the next "EU commissioner" or the next "police commissioner") she asked Yorgen Fenech to find out for her. He replied that he would get her an answer within the day. It appears then that a junior government minister and MP felt her best way to understand her prime minister's mind was to step outside government and ask a businessman, later more appropriately described as a crime boss.
Rosianne Cutajar received as a gift from Yorgen Fenech a Bulgari bag on 18 June 2019. A week later she spoke at the Parliamentary Assembly of the Council of Europe in defence of Yorgen Fenech. She would eventually be sanctioned for failing to declare her interest to the Parliamentary Assembly.
Rosianne Cutajar discussed with Yorgen Fenech her prospects of promotion if Helena Dalli were to leave cabinet to make EU Commissioner. She didn't fancy her chances which is why she told Yorgen Fenech she "had had enough". In response to this she shared her decision to take a consultancy gig at the Institute for Tourism Studies to bump up her income. She did not feel guilty about this: "I don't care, everyone is greedy."
Yorgen Fenech hated Chris Cardona, and he would punch him in the face if he could see him. Fenech and Cutajar agreed Cardona bungled the Dragonara Casino process. The two agreed Joseph Muscat had been "naive" to enter the deal at such low income for the government.
Rosianne Cutajar never believed Joseph Muscat could fulfil his "obsession" on taking an EU post. "I had long told him it was impossible and that he was being played."
Cutajar and Fenech discussed Konrad Mizzi. Rosianne Cutajar recalls warning Konrad Mizzi not to make "Darren his god". This appears to be a reference to Darren Casha who spent time outside the country avoiding his creditors. "He is not respected by many people," says Cutajar about "Darren". Fenech reacts briefly with "Conman", leaving unclear whether he is referring to Konrad Mizzi or his "god".
Rosianne Cutajar says "it-Tikka" (her friend and canvasser) saw Konrad Mizzi and "Darren" come out of the toilet together. "This is not fitting for Konrad especially if he aspires to be PM". Yorgen Fenech agrees. The conversation appears to imply that Konrad Mizzi was consuming illegal drugs in public places.
Rosianne Cutajar tells Yorgen Fenech she is "with Konrad" only because of him (Fenech) and that she would walk in fire for him (Fenech). "Hurry up and come back (from drug rehabilitation)," Cutajar tells Fenech. "I want you in my life … You know I will never betray you."
Apart from appreciating his qualities as a lover and as an ex-lover, Rosianne Cutajar expresses gratitude to Yorgen Fenech for "helping me in (my) career." She hoped she "would make him even more proud of her". She expressed this explicitly to him in July 2019.
On 2 August 2019 Rosianne Cutajar told Yorgen Fenech "Malta is waiting for you."
On his return on 9 August 2019 Yorgen Fenech told Rosianne Cutajar he "no longer loved the country as he once did."
Late that August Rosianne Cutajar complained that there had been no government reshuffle implicitly complaining she hadn't been promoted. Later she would tell Yorgen Fenech she intended to ask Joseph Muscat about his plans for her so that if being a minister was not likely she'd go back to school.
She complained with Yorgen Fenech that she wasn't allowed to pilot a bill allowing euthanasia "because of the President." Yorgen Fenech added that he thought Joseph Muscat didn't want to introduce euthanasia either, suggesting he was better informed on the prime minister's political opinions than a junior government minister.
Rosianne Cutajar complained to Yorgen Fenech about her financial problems telling him she couldn't keep up with her loans. She did so in the middle of a conversation about a property deal where she tells Fenech she would not charge him any brokerage fees. Yorgen Fenech insisted to pay. They both complained about ungentlemanly conduct of other business associates, and both agree that "the country is sick." "Il-pajjiż marid."
The chat includes the conversation where Rosianne Cutajar thanks Yorgen Fenech for a €9,000 gift ostensibly as gratitude for brokering a property deal. Her conduct in the affair was subsequently sanctioned by the Parliamentary Committee on Standards in Public Life. On receiving the money, Rosianne Cutajar told Yorgen Fenech, "I will always be here for you."
Rosianne Cutajar and Yorgen Fenech discussed what was on TV. They criticised Hugo Chetcuti's son for taking journalists on a boat trip with prostitutes. And they commented on the embarrassment to Julia Farrugia Portelli for having endorsed a law firm that would be exposed by the same journalists for promising passports to someone admitting they have a criminal record. Repubblika would cause an inquiry into the incident to commence.
Those are twenty explicit facts that come out of the WhatsApp messages exchanged between Rosianne Cutajar and Yorgen Fenech in the months right before his arrest and him facing charges for the murder of Daphne Caruana Galizia. They are not the only facts worth noting. There's a chat that appears to have been happening while Rosianne Cutajar sat as a member of the Public Accounts Committee hearing evidence from someone she mocked in her chat with Yorgen Fenech. There are hints of deeper links with Keith Schembri, Konrad Mizzi, and others in government. There's even an implicit admission by Yorgen Fenech that the public's perception of him as a money launderer and minister-briber might be justified to which Rosianne Cutajar does not react.
What is not said in those exchanges is that people in the know were wondering why Yorgen Fenech hadn't been arrested yet even as he was exchanging loving messages with a government junior minister. What is not said in those exchanges is that Rosianne Cutajar was in a privileged position to know Yorgen Fenech ordered the murder of Daphne Caruana Galizia and was willing to speak with him about anything else instead.