It was medal giving day again in Valletta and the campaign of diluting the value of recognition by ridiculing the process continued. It has reached a point where few people care anymore.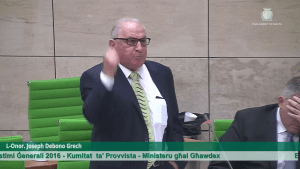 Giving Joe Debono Grech a medal for his service to the republic is so mind boggling that it elicits little more than a chuckle. It's not that he's gruff and uncouth. In that way he is a fossil of the iron curtain machismo of a thuggish politics no one feels nostalgia for.
It's more that he represents that woman-hating violence that has now been decorated by a woman president as if his intimidatory violence on his female colleagues is something to be admired.
"Niġi għalik u nifqak". That is what Joe Debono Grech screamed at MP Marlene Farrugia in Parliament only a few months ago. Literally "I'll come to you and burst you". It's not that he had a momentary slip of unparliamentary language. It is that Joe Debono Grech personified the misogyny of a politics that wants to exclude women. And in his sunset years he got a medal for it.
Here's the eminently understandable reaction of the victim of that singular yet hardly unique episode of abuse.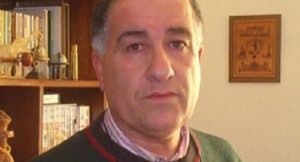 Also decorated yesterday was Charles Flores, who headed what was then called Xandir Malta: the news organisation of the state in the 1980s when even the name of the Opposition Leader – Eddie Fenech Adami – was banned and could not be pronounced like some exile from Ancient Egypt struck of the plinths.
Then there was Leo Brincat rejected by the European Parliament for the Court of Auditors (though appointed anyway to the position by string pulling that ignored the only democratic institution of the EU). Veteran of the Mintoff years, enthusiastic applauder of Dom Mintoff as the loon called for the arming of Labour Party supporters to ensure violent suppression of opposition, and backer of Konrad Mizzi's retention in government. Now decorated by the state.
And then of course the real reason why all this had to happen. National decorations are a diplomatic tool to flatter foreigners. The famous medal to the mysterious Saudi Prince Alwaleed bin Talal, now in prison for corruption, is a classic case of these boot licking decorations. That one went wrong. The value of the great Prince is reportedly melting at an alarming rate.
Yesterday it was Donald Tusk's turn. Joseph Muscat has been cultivating his relationship with Donald Tusk for years, one would suspect with a view to supplant him at the first opportunity. It looks like Joseph Muscat has not altogether given up on a promotion to EU institutions.
But Donald Tusk used the time in Malta to personally pay respects to Daphne Caruana Galizia.
Several posthumous medals were awarded yesterday, one to Francis Ebejer who died 24 years ago. Nothing wrong with that.
But even as she is held in great esteem by the rest of the world, Malta yesterday ignored Daphne Caruana Galizia when granting its honours, persisting in the error perpetrated throughout her great career even after its untimely end.