The Nationalist Party had a good meeting in Ħaż-Żabbar yesterday judging at least from the broad smiles on the photos.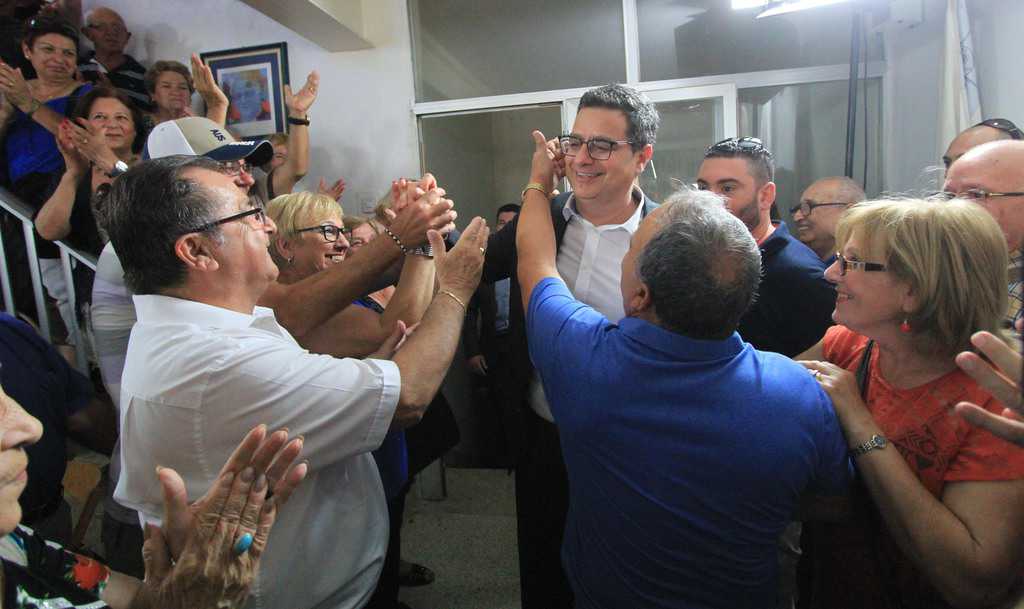 One of the toughest part of being a politician is putting on a brave face. They have breakfast listening to Vesti la Giubba and reading Malta Today before boldly braving the high expectations of their supporters.
A fourth monthly sample in a row confirms that nothing in Joseph Muscat's abysmal record of governance and corruption alienates any of his support. And nothing in Joseph Muscat's abysmal record of governance and corruption rallies support around Adrian Delia.
For every respondent who expressed confidence in Adrian Delia, there were two expressing confidence in Joseph Muscat.
More than nine out of every ten people who voted Labour last year say they would do so again, showing a level of retention unlikely for a government in its first year of its second term.
Only six out of every ten people who voted PN last year say they would do so again.
At least a few PN 2017 voters would vote Labour now. Most would not vote or can't make up their mind.
This is the fourth sample in a row and even at these miserable levels there is no evidence of a trend of improvement, however slow, in the fortunes of the PN.
In spite of privately held theories and rationalisations, Sliema-type Daphne Caruana Galizia readers — the much maligned 'elite' — do not amount to thirty-five per cent of the 2017 PN vote. This is neither geographically specific (the north-south differences in voting intentions of 2017 PN voters are subtle and uncertain) nor culturally limited.
Nor is it, as some privately held theories and rationalisations want to suggest, the product of dissent in the parliamentary group or, even less so, the result of a critical blogger thankfully retired from frontline politics after a certain bus reform.
Nor is it, as some privately held theories and rationalisations insist, the consequence of misguided reporting by a journalist whose life was interrupted before she could be persuaded by a strong interview on The Malta Independent on Sunday that would have had her rehabilitate her erstwhile target.
The gap between the political parties at such a time when Labour is so grotesquely undeserving of the people's trust are in my view due to several reasons. I'll list four.
Firstly, the PN has not perceptibly reversed its loss of capacity to mobilise support. That loss of capacity did not start last year. The 2017 elections were a culmination of a trend that started around 1998 of withering the party's grass roots campaigning ability. Since last year things got worse. Local and street level campaigners, to the extent that they exist, appear more focused on bullying sceptical Nationalist voters into submission than to acquire a single Labour voter to the cause, whatever that may be. And the results are manifest.
Secondly, beyond the categorical anti-abortion or anti-anything that might be construed to be an anticipation of abortion, the PN is flimsy on most matters of policy. It has bought wholesale the notion that the economy is doing well and there is no hint the party has an alternative economic plan the electorate can consider. Issues dropped by Labour are largely dropped by the PN. Whilst the core PN conservative Catholic vote is consolidated (and perhaps some conservative Catholic Labour voters might eventually look for the PN if the abortion issue bubbles up more), environmentalists, social humanitarians, and people who insist on clean and transparent governance find their matters of interest are no longer part of political discourse.
Thirdly, the PN's front bench has nowhere near acquired yet the appearance and the linguistic ability to inspire confidence as a ready to serve Cabinet in waiting. U ejja come on, ethically compromised, professionally over-rated, politically vacuous Edward Scicluna is still a more obvious Finance Minister in people's minds than Kristy Debono. It is hard to imagine what can happen to change that. That people would rather have prostitute-shagging, alcohol-fuelled, assassin-socialising vagabond Chris Cardona over, frankly, anyone else, is truly depressing. But here we are.
Fourthly, the sycophantic and fawning reporting of the party leader on party media is off-putting to anyone but the core vote that would vote PN if an infant was placed there. People who traditionally vote PN but remain sceptical about the party leader are unlikely to be converted by daily reporting of the royal progresses of the Adrian Delia entourage notwithstanding the hugs and kisses. That sort of thing does not work on North Korean TV, it's not going to make much difference here. Certainly not in isolation. To be fair there has been a little movement to some more biting reporting of the government the last few weeks but too little to have had an impact on survey responses yet. And while the media appear to prefer nurturing a fan club rather than a political movement, its use as a means to reach out to some of the 70,000 that form the difference between people who intend to vote Labour over the people who intend to vote PN is utterly squandered.
That's four reasons and none of them include Adrian Delia, his abilities or lack thereof, or even the timeliness of his tax returns. Neither angry finger pointing nor inane and utterly unjustified jubilation in party clubs is going to change the numbers.