Il-Kenniesa's statement: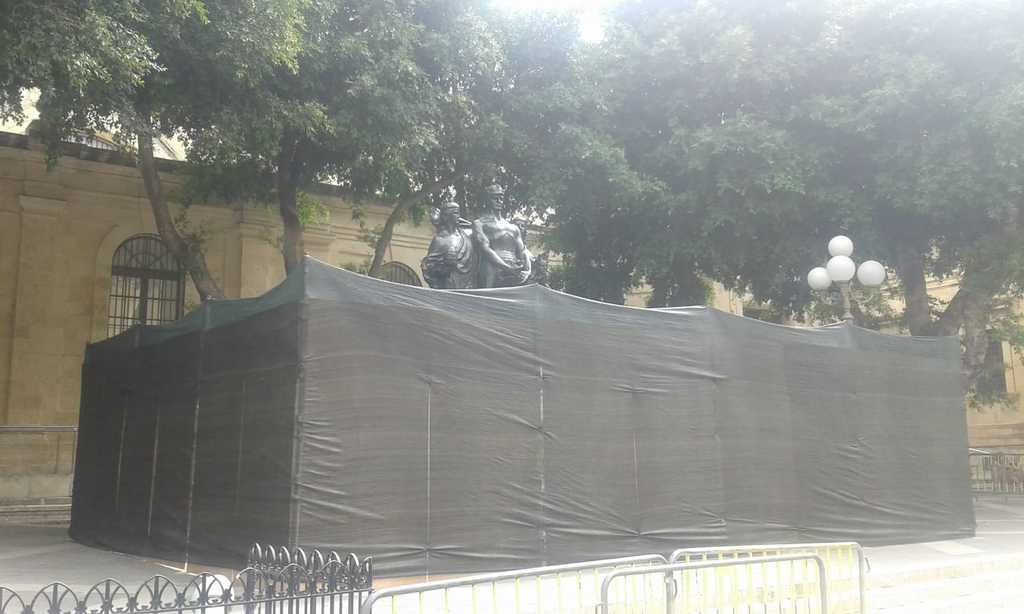 We note that the government has taken the extraordinary step of covering and cordoning-off the 'The Great Siege' Monument, also known as the makeshift memorial for Daphne Caruana Galizia, on Victory Day. The day on which this monument is normally honoured. The official version is that this was done to "restore" the monument.
We do not believe this.
The timing – just weeks before the one year mark of Daphne Caruana Galizia's assassination, and after not one but two "clearings" of the memorial – is suspect at best.
A spontaneous memorial was built by school children who understood the abnormality of a journalist being assassinated in a European country for writing. Those children also understood the importance of keeping Daphne's memory alive.
We do too, as do and should all citizens. This is not a matter of petty or partisan politics. A journalist, mother, sister, wife, aunt, friend and Maltese citizen is dead and we want that person's memory to remain alive. This is the only way to seek justice for her.
We stress that monuments are not defaced or otherwise damaged by placing photos, flowers and candles in the memory of an assassinated journalist.
As is apparent from the photos made public, any "damage" is from wax from the candles that were knocked, swept and kicked over. This by persons vandalising, cleansing or otherwise trying to erase this makeshift memorial, whether acting on instructions or incitement by government officials.
This is not the first time government officials including Joseph Muscat, have tried to discredit or destroy Daphne's memory over the last 10+ months.
It is also not the first time that the government has tried to suppress the people's right to freedom of expression. It is regrettable that, while people call for justice, the government continues to vandalise the memorial, harass or single out activists or persons that dare to speak up.
Removing Daphne's memorial is a cowardly act and a betrayal of our European democratic values.
For this reason, we have tonight set up not one but 7 new memorials for Daphne Caruana Galizia. Each on national monuments honouring democratic principles and values that the government seems adamant to ignore or breach.
Our demands for justice for Daphne Caruana Galizia and our efforts to remind people of the rights and freedoms that continue to be trampled on during our efforts will continue. This government has started a war against its people. We need to fight it together.