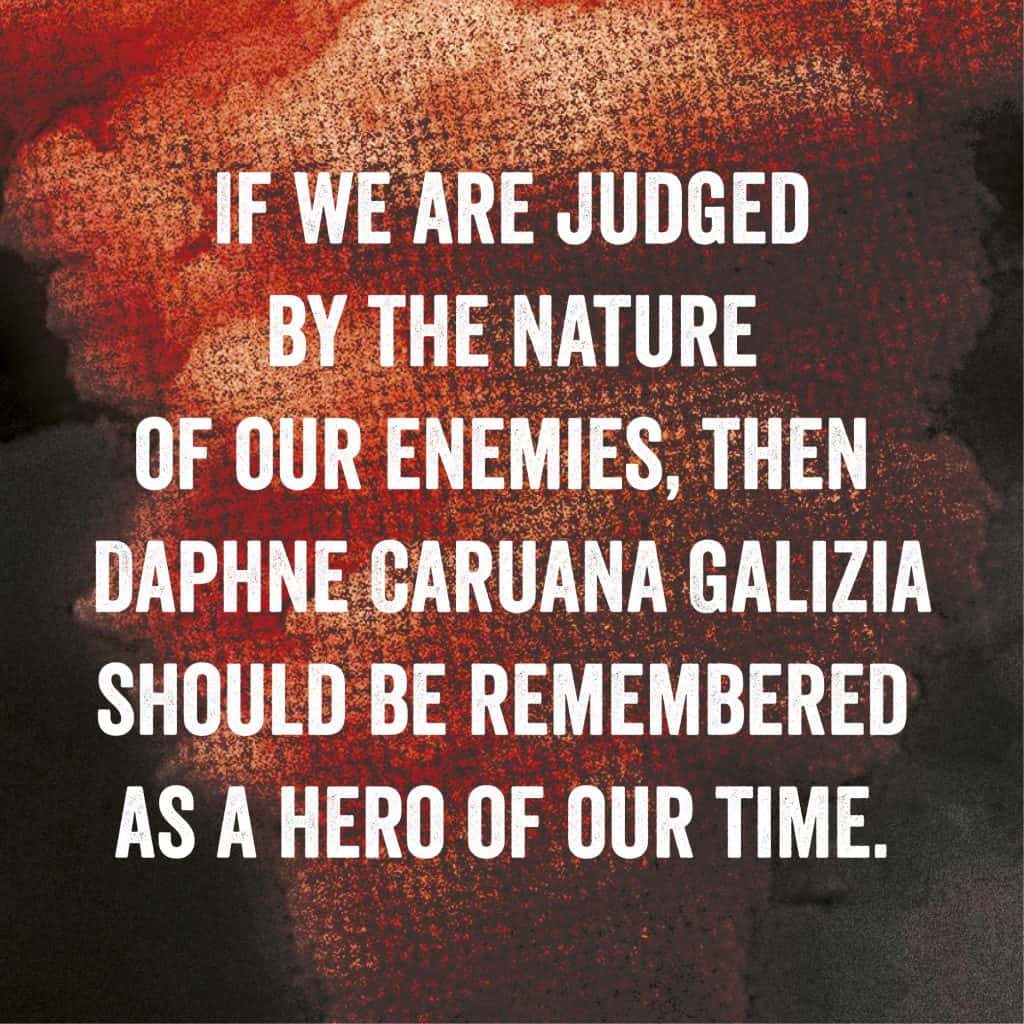 La Repubblica and Daphne Project journalist Carlo Bonini, former BBC Newsnight and Panorama Reporter John Sweeney and myself have co-authored a book telling the story of Daphne Caruana Galizia: her life and work, her assassination and what has happened since then.
Telling the story of Daphne is telling the story of Malta.
During the past two years I have tried to understand as best as I could what happened in my country and why. Even now – especially now – I have more questions than answers. That's not good enough. But it's no reason to stop asking.
And in the Socratic tradition, the best way to understand something is by trying to explain it to others.
It sickens me to crawl close to the idea that something good could ever come out of the killing of a journalist. From such an outrage comes nothing but pain and loss and fear and despair. It is right that we feel those emotions.
But as Daphne once wrote in a very dark moment when she was still with us, working and trying to explain the inexplicable that surrounds us, "the fight against corruption and against the decimation of the rule of law must continue".
When she was still alive, in the last four months or so of her work here, I tried to absorb the lessons she taught me. It was an undeserved privilege she graciously granted me.
I have spent a lot of time since then re-reading many of her writings. At the first reading of Daphne's blog you discover the revelations and the commentary she produced. But reading her writings again – as an apprentice, rather than as a first-time reader – I tried hard to glean the method, the knowledge, the judgement and the wisdom behind her work.
Another undeserved privilege was getting to know brilliant journalists from all over the world who came here to understand Daphne's story to be able to tell it to their rightly incredulous readers and viewers. I had the undeserved privilege of making friends of some of them. And in the case of Carlo and John I had the incredible opportunity of working with them on this book.
Finishing the book took me away from the blog that has been the focus of my output for the last two years. I am sorry for having neglected the blog for a while but I think it was a choice worth making. I hope you will think so too.
The book is out on 14 October. Like this blog, it is my tribute to Daphne. But this time it is shared with two experienced writers and journalists whose skills and experience are enhanced by their relative distance from this story.
We have done our very best to write a book worthy of Daphne's memory.
But the three of us know that from the day following our book's publication, 'the fight against corruption and against the decimation of the rule of law must continue'.
Thank you for your patience. I hope you will find it is justly rewarded.