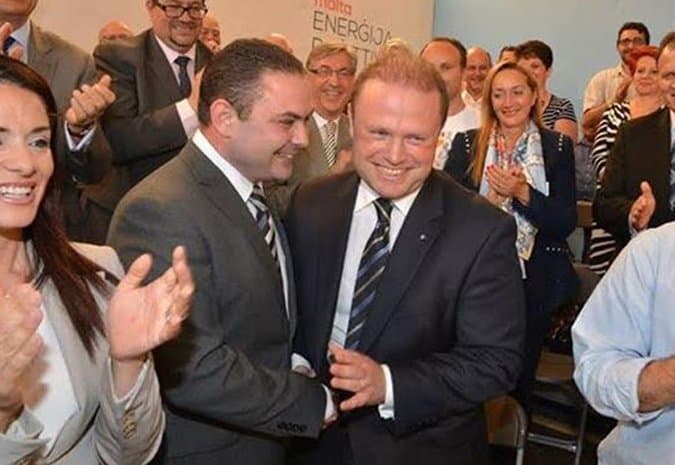 Joseph Muscat says he's against the idea of plea bargains or partial or full immunity for witnesses to turn state's evidence.
He dropped a heavy hint about past experience expecting everyone to remember Meinrad Calleja was not convicted of murder even though Joseph Fenech — the legendary Żeppi l-Ħafi — was given immunity to testify against him.
Of course, Joseph Muscat does not remind us the campaign his then leader Alfred Sant conducted relentlessly to ensure that the mastermind that attempted to assassinate Prime Minister Eddie Fenech Adami's personal assistant Richard Cachia Caruana would not pay for his crime. Meinrad Calleja was a darling of the Labour Party before he was charged with murder, during his tenure in prison as a convict for drug trafficking, and ever since.
Before Daphne Caruana Galizia, Richard Cachia Caruana's was the first ever targeted assassination attempt in Malta. Meinrad Calleja was a notorious drug lord. He had served time in Italy before and would again in Malta.
When Calleja's sister was caught with a big supply of drugs, Meinrad Calleja and his sister's father was head of the Armed Forces of Malta.
In those innocent times that sort of thing was not considered acceptable and the Prime Minister forced the army chief to resign.
Meinrad Calleja blamed Richard Cachia Caruana for his father's humiliation. Of course, as these people are, he would not blame himself and his drug trafficking. So Meinrad Calleja hired Joseph Fenech to kill Richard Cachia Caruana together with lowlifes of his choice that he would hire to help him do the deed.
As he was returning home late at night Richard Cachia Caruana was stabbed in his back. Providentially he did not die and managed to call for help.
Joseph Fenech was the only one to know who the mastermind of the murder was. He was given immunity in order to testify against Meinrad Calleja and against the other two hired alleged assassins. One of the assassins pleaded guilty before the trial and was sent to prison. The other accused pleaded not guilty and was defended at his trial by Anġlu Farrugia, in the trial that would give him the claim to the Deputy Leadership of the Labour Party. Because in this country representing someone who tried to kill a Nationalist pezzonovante makes you a Labour hero.
A politically charged campaign was launched by Labour that wanted people to believe that Joseph Fenech was somehow an agent of the government's interest, even though he had been a key player in the attempted murder of the prime minister's closest advisor.
Labour's campaign worked. The accused who pleaded not guilty was acquitted even though he left his handprint at the murder scene. Meinrad Calleja was acquitted as well.
That was the experience of attempts by the prosecution to secure evidence from accomplices that failed to convict the accused that Joseph Muscat wanted us to think of.
Perhaps he should have spoken about the other case of George Farrugia who had been at the centre of the 'revelations' by Manuel Mallia and Malta Today on the eve of the 2013 elections that came with innuendoes that government Ministers — Austin Gatt primarily — were part of a bribery scandal in the procurement of oil. In case you're not aware and in the interests of disclosure, I was on Austin Gatt's staff at the time.
George Farrugia himself gave gifts to Enemalta officials and was the person who would be most aware of any bribery in the procurement of oil. The police chief at the time — John Rizzo, he who had put a chief justice and two judges in jail for bribery — and the attorney general — Peter Grech the person whose body has since been captured by aliens who impersonate him as chief prosecutor — asked the prime minister of the time, Lawrence Gonzi, for immunity for George Farrugia so that they can get the full story out of him.
Lawrence Gonzi complied knowing that what was being suggested was that George Farrugia could point his finger at Ministers in his government for being corrupt. As it happened George Farrugia confirmed no holder of political office was ever near the process of choosing where fuel is bought from.
But the whole point is Lawrence Gonzi did not use his discretion on whether to allow immunity to be granted to a witness on the basis of how it would effect him politically. We are right to argue that the prime minister should not have this sort of discretion. But what's worse is that Joseph Muscat is abusing his powers to serve his political, perhaps personal, interests.
Consider how in 2014 immunity was showered on anyone who admitted to paying Enemalta employees bribes to have their electricity metres tempered with. Paying a bribe is just as criminal as accepting it. But, in the partisan logic of the Labour government, business owners and householders who could be punished for bribing Enemalta officials could cost them votes. That is how the government of the time — Owen Bonnici front and centre — argued that people who paid bribes but owned up to it were actually "whistleblowers" and would be given immunity to testify against the Enemalta employees.
So to get to the bottom of pilfering electricity Joseph Muscat had no qualms using his authority to allow immunity from prosecution.
But in order to solve the political assassination of Daphne Caruana Galizia, the outrage to democracy that happened under his watch, he is allowing his 'scepticism' as he calls it to hold his hand.
We will never forget the phrase he chose: 'we will leave no stone unturned'. But there's a stone, oozing blood and water, that Joseph Muscat would not turn for fear of what lies beneath.