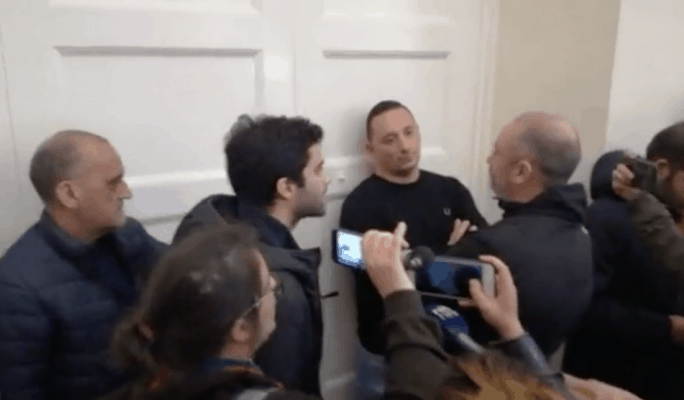 Thursday night, Office of the Prime Minister officials led by the Head of Government Communication Matthew Carbone carefully checked the media credentials of every media member before allowing them into Auberge de Castille for Prime Minister Joseph Muscat's 3am press conference. They presumably wanted to ensure no protestors got inside. Matthew Caruana Galizia, a Pulitzer Prize-winning journalist, was denied access – maybe because of who his mother was, or maybe he didn't have his organisation's press pass on him – I wouldn't know, I wasn't there and I haven't asked him.  His brother Paul, also a journalist but perhaps not such a familiar face to the guys at the door, was allowed in.
Later, we got to see a group of heavies who had no business being at Castille illegally detain all the journalists present. It transpires that none of those people work at Castille, aren't police, army or security services officers, aren't even party officials (not that if they were means it's ok to have them in the building), refused to identify themselves, wore no ID tags (unlike all staffers at OPM) and yet OPM had no problem with them being there and even gave them a task to do. OPM seems to have got a bunch of thugs off the street to do some of its dirty work, committing a criminal offence by holding several people against their will and violating their human rights. Some of these heavies have since been identified, and it shouldn't be difficult to identify the remainder. Someone at OPM knows who they are and invited them in.  In addition, one is supposed to sign a register before entering the building and should be wearing a visitor's numbered tag that's visible at all times. If they didn't register, the soldiers who were on duty and were supposed to handle the register and hand out visitors' passes after normal working hours should be put on a charge.
I expect – no – demand, the police take immediate steps against these heavies, as well as against the person or persons who may have granted them access to a sensitive government building without going through proper procedures and protocols.
Darrin Zammit Lupi is a photojournalist and humanitarian activist who has closely covered the Daphne Caruana Galizia assassination story from the very beginning, and also worked as part of the Daphne Project. His photos have appeared on Reuters, The New York Times, Times of London, Der Spiegel, Le Monde, El Pais, Financial Times, The Guardian, Der Spiegel, La Repubblica, Süddeutsche Zeitung, BBC, CNN and countless others.  He is also a cousin of the late Daphne Caruana Galizia. If you're wondering why you haven't seen him over the past days, he's recently had to take a step back from covering the story because of serious family health issues.