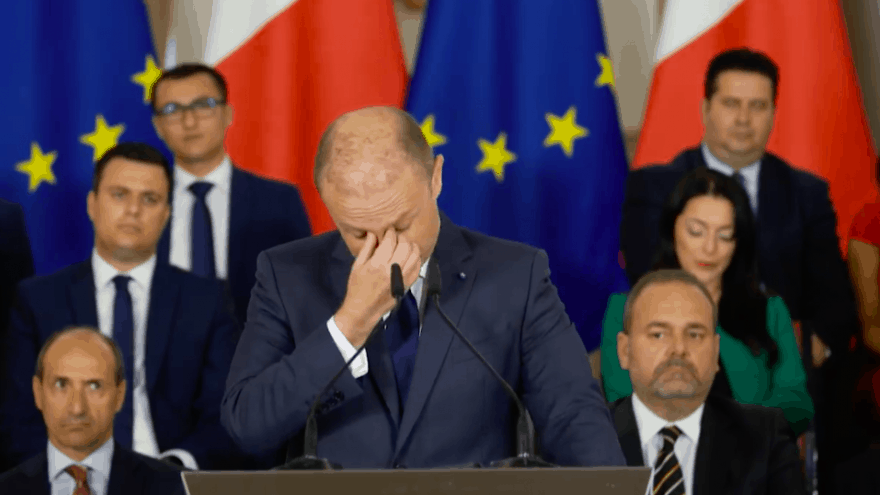 Joseph Muscat spent the last eighteen months pretending to lose his cool because Simon Busuttil forged documents to frame him for a crime.
The day an extract of the report was published last year he made an act of being unable to hold back his emotions and burst into tears in a press conference. For a minute there I remember wondering if he was a victim of a malicious conspiracy after all. It was a very short minute.
A few months after that he pretended to lose his cool at the Parliamentary chamber when he was under enormous pressure when Chris Cardona was caught lying about cavorting with one of Daphne's assassins at a private pool party. Joseph Muscat went into an apoplectic rage charging Simon Busuttil that he was a "fraudster" and saying that if the Egrant report would be published entirely Simon Busuttil would have to escape the country.
Since he saw the Egrant report and we didn't, we were expected to believe this. He was lying. And his performances of fake emotional outburst – the tears and irrepressible rage of an indignant victim – reveal a sociopathic streak that is profoundly disturbing.
That's a reflection on his character. Another reflection on his character is that Joseph Muscat was entirely willing to exploit official secrecy to benefit his personal interest. The power of the state to keep secrets is not there to serve the interests of its officials. Criminal inquiries are kept secret to ensure the police can pursue criminals without first tipping them off. It is not intended to allow the victim to suggest they know things we don't know. It is unacceptable where those 'things' to be true. It is truly blinding that Joseph Muscat was lying about what he knew.
Those who read the report 18 months ago knew Keith Schembri, Konrad Mizzi and Sai Mizzi conspired to defraud the state
In May 2016 Daphne Caruana Galizia could only cite her "journalistic instinct" when she reported her belief that Chen Cheng's departure from Accenture and Sai Mizzi's appointment as Consul in Shanghai could have a sinister connection. The report now shows that evidence was found that Keith Schembri and Konrad Mizzi were setting themselves up in the British Virgin Islands to collect kickbacks from visas sold in China.
We will never completely know the extent of the criminal intent of these people. But in respect of this China fraud Joseph Muscat, Owen Bonnici and Peter Grech have known for 18 months longer than we have. And they did nothing. Quite the contrary. The audacity is, in spite of everything else we know, breath-taking.