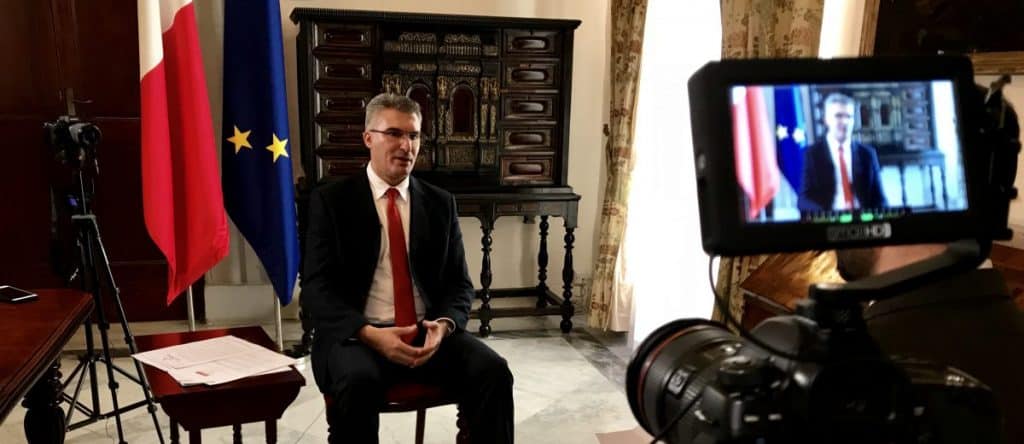 Neville Gafà's testimony this week at the inquiry into the killing of Daphne Caruana Galizia contradicts statements made in 2018 by then Foreign Minister Carmelo Abela. One of them is lying. We need the government to tell us who.
This week Neville Gafà said he held a diplomatic passport. He said he represented Malta in discussions with the Libyan authorities about migration. He said he was on an official mission of the government and was in Libya "for work" when his only job was government official. He said his work led to the saving of thousands of lives that would have otherwise perished in the waters between Libya and Malta.
In November 2018 then Foreign Minister now still a Minister Carmelo Abela told The Malta Independent on Sunday that the government asked Neville Gafà to explain his presence in Libya.  From The Malta Independent on Sunday's report: "Minister Abela said that Gafà is not employed by his ministry, neither does he hold a diplomatic passport."
"Abela said, adding that 'the government had asked Gafà for an explanation'. Gafà told the minister that he was in Libya on a personal trip, in his personal time, had taken time off work and had paid for the trip himself. He was not representing the government at any point."
This declaration was an official government declaration that has never been retracted up till now. Neville Gafà never contradicted the statement until this week.
Minister Carmelo Abela needs to say if he was lied to in November 2018 or if he lied to the public himself. The Foreign Ministry needs to say whether it is or it is not true that Neville Gafà had a diplomatic passport and who took the decision to authorise it.
A diplomatic passport is not a Diner's Club card that lets you jump the queue at passport control. A diplomatic passport gives its holder serious immunities that need to be investigated.
Neville Gafà could have carried cash in his bag collected from bribes for medical visas without inspection by border authorities. He could have carried cash to pay bribes to witnesses in the libel case he brought against his accusers.
If Neville Gafà is lying, which would be in his character and is the likeliest explanation of this contradiction, the impunity with which he continues to do as he pleases must end.
If he had government ministers lie on his behalf they need to speak up if they want to be believed that they are not part of the criminal conspiracies this lies are covering. Carmelo Abela is saying nothing. Evarist Bartolo is saying nothing. Robert Abela is saying nothing.
We know what that means.